Everyone wants something, if you think about it.
…
That's your cue to think about it, if you haven't.
If you have, I'm sure you want something, maybe even right this moment. For me, that's 3 more readers (share with your friends!), the Big Pig from Jack Stack in Kansas City (SO MUCH BARBCUE SAUCE REQUIRED), and a reality show on truTV where Donald Trump and Will Ferrell's Saturday Night Live version of George W. Bush help single moms hit the dating scene. You'd watch, don't deny it.
Oh, speaking of reality shows, I also want college football to start. Like, right now.
Wait…IT DOES START! TODAY!!!!
YEAH LET'S DO THIS THANG
Yet even as college football returns, it should be noted that the theme of wanting…stuff is actually still pertinent (I only use scientific terms). Oregon wants to take that one final step and claim a national title. TCU wants to avenge a loss to Baylor that kept them on the outside looking in of the first College Football Playoff. Baylor wants to avenge getting snubbed by the CFP committee (even though they may have totally deserved it, given how well things went when they were up 20 in the Cotton Bowl to Michigan State and subsequently forced a reporter to come up with the unholy pun "Scary World").
Arkansas and Tennessee want respect as programs on the rise. Georgia and Clemson want respect as programs that won't blow it every single time. Arizona and Texas A&M want to surprise you again. USC and Notre Dame want to disappoint you once more, for old time's sake (I kid, I kid, at least about the Irish. You become Seven-Win Sark, you only upgrade at best to Seven-Shot Sark).
Cardale Jones and JT Barrett want to know who's starting. Connor Cook and Leonard Fournette want to know if they'll have a year that makes them members of the exclusive Heisman fraterninty. Bret Bielema wants to get hot and heavy watching the bowl game against Texas while also enjoying the number seven from Whataburger.
Michigan just wants to contend for a title. Alabama is sick of just contending for a title (and it's only been two years). Ohio State…hell, they won everything last year, they just want a damn appendix that doesn't explode.
And us? We, the people? We want more. If you get specific, we want more playoff football. The first CFP was a roaring success, and it's already got us dreaming of expanding the field. Let's make it eight, 16, 64 teams. Whatever it takes to produce exciting, big-time football that determines a national champion. Bill Hancock and his crew won't be adding additional spots to the playoff any time soon. They also won't be moving those semifinal games off of New Year's Eve (so apologies in advance to the Black Eyed Peas, since this is the only day of the year they still work).
Frankly, that's ok. Because what we truly want, deep down, is just for college football to be back. To roar with thousands of crazed, peppy dreamers like us who know this is our year. To be dazzled by incredible acts of athleticism. To feel the thrill of a big-game Saturday night. To storm the field (and pay the appropriate fines). To revel when our school, our team wins it all.
We want our game back. We got it back. We're never letting go.
Well, maybe for just a little while, BERT looks a little too into this.
BUMP THE LECRAE AND LEGGO
---
 THE STORYLINES
Why won't Ohio State repeat? – This is an excellent question, mostly because, while every indicator leans towards the Buckeyes winning the playoff for a second straight season, there is one bit of evidence that doesn't exactly bode well for the folks in Columbus: history. Going back to the inception of the BCS in 1998, Alabama in 2011-2012 remains the only school to repeat as national champions (the list of "official" national champs is unbelievably fascinating if only for the fact of Bernie Bierman's FIVE titles at MINNESOTA. What a world). Ohio State has to deal with an emerging pack of contenders in the Big Ten led by Michigan State, the unnamed syndrome that ailed Urban Meyer's 2009 Florida Gators, and a much-tougher-than-you'd think Week 1 visit to Virginia Tech after the suspensions of Joey Bosa, Jalin Marshall and Dontre' Wilson.
Which Power 5 conference is poised to get snubbed by the committee this year? – In order to keep as much of the BCS around as possible, school presidents and bowl executives (the people actually in charge of things in the sport) put a restriction on athletic directors and conference commissioners creating a playoff format: leave somebody out and keep the daily debate of "Who's In?" raging (what a brilliant slogan!!!). Thus, a major conference champ is going to get left out. The ACC seems to be the easy choice here, but don't discount this: there is potential for a major drop-off in talent after TCU, Baylor and Oklahoma in the Big 12. If it happens, only an undefeated campaign would get the champ in to the CFP. Yep, they'd do the exact same thing as last year.
What happens if Notre Dame goes undefeated? – The College Football Playoff, like anything else in college athletics, is a business pretending it's not a business. Naturally, the product shines a little brighter when there are recognizable brands at the forefront (like Alabama, Ohio State and Florida State). Enter Brian Kelly's most talented squad in years. The Irish probably have to go unbeaten to make the playoff due to their lack of conference membership, but if they pull if off, an ACC won by Clemson or Georgia Tech or a Pac-12 won by USC would be the likeliest suspects to get left out of the playoff party. After that, all bets are off.
Who's going to pull a TCU and come out of nowhere to be in the playoff race? – This is the question we ask before every season and, of course, get wrong. A team is a surprise because you didn't even think about them before the season began. They…surprise you. That said, don't sleep on Virginia Tech. Frank Beamer's trying to keep his job, and a really good defense is coupled with a second season under center for transfer quarterback Michael Brewer.
Who's going to pull an Oklahoma and be an utter disaster with all the expectations in the world? – This one's easy for me personally, just because I'm not quite sure how Florida State is a top 10 team in the AP preseason rankings. The Seminoles need a new quarterback, new #1 receiver, new tight end and entirely new offensive line. Also, those first three guys were All-Americans who racked up a ton of individual awards and FSU records. Not even a veteran defense can't overcome those types of losses (ask Will Muschamp how it works out when your defense is great and your offense is similar to a Nickelback concert without "Rockstar")(that's being generous let's just go with a Nickelback concert period).
---
THE CONFERENCES
AMERICAN
Who's Hot: Houston – This has a chance to be a really fun team after Tom Herman left the offensive coordinator position at Ohio State to run the Cougars' emerging program, one that is A) full of offensive talent led by quarterback Greg Ward and running back Kenneth Farrow; and B) probably still pretty juiced about their INSANE comeback against Pitt in the Armed Forces Bowl.
Who's Not: Memphis – Paxton Lynch returning at quarterback does not change the fact that Justin Fuentes has to replace a lot of talent from a really good 2014 defense. If Kansas has success scoring on the Tigers in Week 2, everyone will.
Let's Get Real: Navy – The Midshipmen will keep winning under Ken Niumatalolo (SPELLING ACHEIVMENT UNLOCKED). Keenan Reynolds will break a bunch of school records. It's just going to cause an even greater level of apathy than normal now that the kids from Annapolis could win a conference title, but they'll likely come up short. Still, they're a consistently good team that's fun to watch, so maybe don't be too indifferent.
Best Player: Gunner Kiel, QB, Cincinnati – Once the top quarterback prospect in the nation, Kiel ditched his original digs at Notre Dame in hopes he would get a chance to be a starter earlier. The Bearcats gave him that shot, and Kiel did not disappoint, throwing six touchdowns in his first career start and the school-single-season record with 31 TD passes. If he avoids the small injuries that nagged him throughout 2014, a deep and experienced group of receivers has Kiel poised to post even better numbers in year two in the Queen City.
Champion: Cincinnati – Kiel pushes the Bearcats past Houston with help from senior wideout Shaq Washington and junior safety Zach Edwards, who could somehow improve on last year's 121(!!!)-tackle output.
ACC
Who's Hot: Georgia Tech – Shhhh. Paul Johnson don't want no talk 'bout no playoff. His boys don't need no crazy ideas in their heads. You best be gettin' to gettin' before Paul gets to gettin' his problem stick. Or at least y'all best not get to thinkin' quarterback Justin Thomas can get better, or that the defense is loaded with returning talent, or (crowbar hits you in the back of the head, cut to Johnson carrying a large trash bag and stuffing it in the back of a 2000 Buick Regal)
Who's Not: Miami – Not even the continued progress of Brad Kaaya can keep Al Golden from his destiny as a Houston Nutt impersonator when his contract with CBS runs up (sorta like when your kid's hamster dies and you buy him a new one without telling you).
Let's Get Real: Virginia Tech – A lot of folks think the Hokies will be better in 2015. The definition of better is what ultimately causes a lot of questions about this upcoming campaign. Personally, I think this looks like a big-time sleeper playoff team, with Brewer back to run an offense that has better depth at receiver and tight end led by Isaiah Ford and Bucky Hodges. If Shai McKenzie and Marshawn Williams can get healthy, VaTech boasts a solid offense to go along with what will surely be another standout defense under Bud Foster. Luther Maddy and Dadi Nicolas can wreak havoc inside as well as Kendall Fuller and Donovan Riley can on the perimeter. This seems to have all the ingredients of this year's TCU…but it could also all go up in smoke after losses to Ohio State and maybe either Purdue and East Carolina. I mean…
Best Player: Deshaun Watson, QB, Clemson – Two things you need to read: Holly Anderson's outstanding profile of the Tigers' sophomore standout, and the Bovada betting odds that have Watson at 16-1 to win the Heisman Trophy. Considering these were once 33-1, it's pretty clear folks are buying into the hype train. You should too, given that Watson posted great numbers in limited playing time last year. Oh, and once he became the starter, he played through A TORN ACL in the final games of the season. If Watson is 100-percent healthy and does the same things he did to South Carolina, he should have no problem surpassing his nearly 1,700 yards of offense and 19 total TD's-or winning a certain bronze statue.
Champion: Clemson – This one's a real tossup. Virigina Tech can win 10 games this year and overtake Georgia Tech in the Coastal Division, which means the Tigers might face the Hokies in an elimination game for the playoff in the ACC Championship. In the end, Clemson's weapons around Watson, like running back Wayne Gallman and wide recievers Mike Williams and Artavis Scott, are a year older. And just like Watson, that means their best is still yet to come.
BIG 12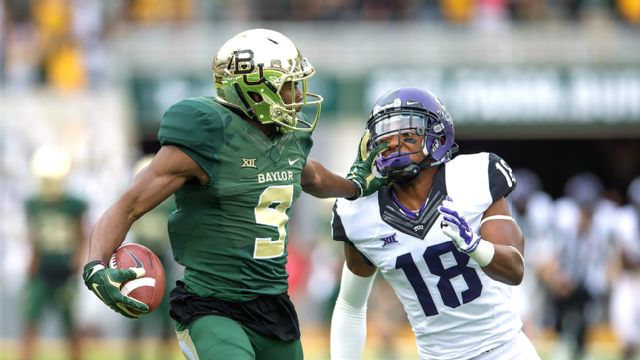 Who's Hot: Oklahoma – Bob Stoops has you right where he prefers: not giving a lick about his team; completely unaware how good the hire of Lincoln Riley from East Carolina to run the Air Raid offense was; and adjusting your spectacles because you swear you've heard of quarterback Baker Mayfield and running back Samaje Perine. Mayfield and Perine? Was it the name of a buddy cop series on TNT? It quite possibly was (FRANKLIN AND BASH FOR LIFE).
Who's Not: TCU – TORCHES AND PITCHFORKS DOWN PLEASE. Trevone Boykin is a Heisman frontrunner, Aaron Green has found his groove at tailback, Josh Doctson and Kolby Listenbee are big-play targets. These are the prime reasons that make us say the Horned Frogs are going to score a lot of points and be very good. They will probably score a lot of points. They will probably be very good. But if the goal is to win the whole enchilada this year for TCU-and that's what it looks like-you're going to have to do some convincing to sway me in these regards: senior safety Derrick Kindred is the only impact player returning on defense, and even that unit for all its talent was tied for 75th in the nation in passing yards allowed. They also posted an absurd plus-18 turnover margin, a feat incredibly hard to repeat with so many new faces on defense. TCU will be very good. They just won't be as good as many think.
Let's Get Real: Texas – Here's the thing about Charlie Strong: he's a really good football coach. He made football at Louisville relevant enough again for Bobby Petrino to come back (don't worry, he's plotting to leave for Jay Gruden's job in Washington aaaany day now). But the reason Strong had success was that the school gave him time to build the program back to winning ways. Texas is part of college football's Manifest Destiny Fraternity, a very loud place filled with Bibles that have all the passages changed to make any miraculous deed performed by a legendary coach ("So Darrell K. Royal stretched out his hand, and the sea was parted…"). They don't wait for winning because winning is just supposed to be happening all the time. There's not going to be a tolerance for even this season to be another with just six or seven wins. It's not Strong's fault, he just has to deal with the fact his sweet gig involves trying to please people who think God's eternal, universal plan includes a breakout year for Tyrone Swoopes.
Best Player: Eric Striker, OLB, Oklahoma – The impact the senior has for the Sooners' defense is unparalleled. Coordinator Mike Stoops mixes and matches Striker all over the field, allowing him to wreak havoc against either pass or run all game long. 27.5 tackles for loss and 15.5 sacks usually mean you're a nightmare for opposing offenses, and with lots of other talented linebackers at OU, Striker will be able to avoid seeing a lot of double teams.
Champion: Baylor – Circle November 14. If Oklahoma is still undefeated by this date, their visit to Waco starts a brutal three-game stretch including hosting TCU and heading to Oklahoma State for Bedlam and a shot at the playoff. However, the Bears should win at home behind a loaded defense and the continued emergence of running back Shock Linwood and wideout KD Cannon, which would enable them to pretty much seal up a third straight Big 12 title at TCU…and it still might not matter if they drop a game they shouldn't on another tissue-thin schedule (Art Briles flies into picture and suplexes random media member, scream-sings "THIS AIN'T NO TALKIN' THANG, RIGHT BRAIN, LEFT BRAIN").
BIG TEN
Who's Hot: Penn State – James Franklin does nothing but win. Christian Hackenberg needs a star turn to prove to NFL scouts he's not Jay Cutler back from the grave (shhhhhh, don't ask questions you don't want to know the answers to). DaeSean Hamilton and Kyle Carter are massive, physically imposing targets. The defense is loaded and features one-man wrecking crew Anthony Zettel (17 tackles for loss, eight sacks and HOLY SHNIKES A TEAM LEADING THREE INTERCEPTIONS. JJ WATT, MEET THE COMPETITION). Maybe it's only a one-win improvement, maybe it's four. Either way, the Nittany Lions are very close to being back.
Who's Not: Michigan – HARBAUGH. HARBAUGH HARBAUGH HARBUAGH HARBAUGH HARBAUGH HARBAUGH. Ok, now that that's out of our system, let's discuss reality. Jake Rudock is not an instant savior. There is no depth of talent at running back in a run-heavy offense. Jabril Peppers may very well have to play every offensive position to give the Wolverines a chance to score 20 points every game. There are some good veterans returning on defense, but not even HARBAUGH can fulfill the immediate wishes of another member of the Manifest Destiny Fraternity ("And lo, Bo changed the water into wine").
Let's Get Real: Ohio State – It's easy to put Illinois here given that a terrible program had to fire its terrible coach not because he was terrible at coaching football, but hear me out. The Buckeyes are either going to be as great as we all think, they'll become the reincarnation of the great early-2000s Miami and early-80's Nebraksa teams, they'll win all the awards, stomp through the Big Ten, cruise through the playoff. Or…they'll do none of that, and, if you take into account the history we've already discussed, it won't be that big of a surprise. Call me crazy for thinking the defending champs won't be interesting, but I remember how un-fun it was to watch Urban Meyer's last repeat attempt.
Best Players: Joey Bosa, DE, Ohio State & Shilique Calhoun, DE, Michigan State – Straight up tie between two fearsome pass rushers that also do essentially everything well. It's a fair argument to make that Bosa and Calhoun are the two best overall prospects heading into next spring's NFL Draft. Whoever is playing on the conference champ will have a spotlight to display their enormous talent….
Champion: Michigan State – …and that guy will be Calhoun. Connor Cook could win the Heisman and become every QB-starved NFL team's knight in shining armor. Left tackle Jack Conklin and safety RJ Williamson are also back to pad their pro scouting reports. This team is maybe a running back away from great things, so highly-recruited freshman LJ Scott needs to emerge as the typical star runner that Mark Dantonio seems to conjure out of a hat (Rabbits would be unpredictable, which if you know MSU would be way out of character).
CONFERENCE USA
Who's Hot: Louisiana Tech – QB Jeff Driskel transfers from Florida to run an offense powered by the running of Kenneth Dixon OH WHO AM I KIDDING SKIP HOLTZ WILL FIND A WAY TO SCREW THIS UP.
Who's Not: Marshall – Not even last year's discovery of running back Devon Johnson will be able to replace Rakeem Cato's record numbers the last two years or a defense quietly in flux
Let's Get Real: Rice – Meh. Never really liked Rice. Not sure why it's so big with Chinese food (Jerry Sienfeld wrote that joke for me. Not really, but I just wanted to take a moment to remind you that Jerry Seinfeld is a dangerously insane human being).
Best Player: Kenneth Dixon, RB, Louisiana – Almost 1,700 total yards and 28 TD's. Similar in his skill set to Matt Forte, whose alum, Tulane, is in C-USA and MAN SKIP HOLTZ IS GONNA SCREW THE POOCH ON THIS ONE. DON'T KNOW HOW, IT'S GONNA BE HARD, BUT SKIP'S GONNA FIND A WAY
Champion: Western Kentucky – They're favored on the road at Vanderbilt to open the season. Most people have taken this as saying that Vanderbilt is terrible. They are. But don't dismiss the Hilltoppers. Brandon Doughty throwing to Jared Dangerfield is the best pass-catch combination you've never heard, unless you remember that AWESOME shootout with Marshall.
INDEPENDENTS
Who's Hot: Notre Dame – WAKE UP THE ECHOS (basically just a code to tell all the old people who live in South Bend and think they're still students to actually wake up). The Irish are really, really talented. Running back Tarean Folston has a chance to rush for over 1,000 yards and will get some help from converted receiver CJ Prosise. Will Fuller leads a deep receiving corps that can be dangerous if Chris Brown and Corey Robinson have breakout years. Linebacker Jaylon Smith headlines a defense with 10-ten-returning starters, and KeiVarae Russell is back after being suspended for all of last season to fill the #1 corner role. All that seems to stand between the Irish and the playoff is the development of Malik Zaire in his first full season as the starter and a crazy demanding schedule.
Who's Not: Army – They haven't been that good for a while, but that's ok. Navy likes it that way. Plus, I think they have more important things to focus on besides football.
Let's Get Real: BYU
Best Player: Taysom Hill, QB, BYU – Once upon a time, the senior star was going to win the Heisman Trophy and lead the Cougars to an undefeated gate-crashing of the playoff. That's not a reasonable goal this season, but Hill is back after a gruesome broken leg that halted BYU's 4-0 start, and all Bronco Mendenhall does is win. Another eight or nine victories is not out of the question, but that's the peak with 10 new starters on defense and a soft schedule that won't warrant an invite to a bigger bowl.
MAC
Who's Hot: Toledo – The Rockets are soooooo close to winning the West division. Getting healthy in the secondary might close that gap. Jordan Martin, Chaz Whittaker and Chris Dukes are joined by 2013 starters Cheatham Norrils (ALL-NAME TEAM) and Cameron Cole, which should cause a massive upgrade from last year's 123rd-ranked pass defense.
Who's Not: Eastern Michigan – Mr. Gorbachov, TEAR DOWN. THIS WALL
Let's Get Real: Northern Illinois – Fine. Just asume the Huskies won't win 10 or more games. Just assume that Drew Hare won't be even better in year two as the starting QB. Just assume Rod Carey isn't an elite mid-major coach (cc @PFTCommenter). I don't make such mistakes. Which is why I will laugh when the Huskies are playing on New Year's, and you won't know who these dudes are because THEY DIDN'T TEAR DOWN. THIS WALL.
Best Player: Kareem Hunt, RB, Toledo
1,600 yards rushing a season ago as just a sophomore equals a very high ceiling. If his young offensive line can gel early, Hunt will stare down 2,000 yards and NFL scouts and boldy declare…"TEAR DOWN. THIS WALL."
Champion: Northern Illinois – I'm on to you. Rod Carey. Keep an eye on senior defensive backs Marlon Moore and Paris Logan. They can effect all facets of the game OH WHO AM I KIDDING TEAR DOWN THE FREAKIN' WALL ONE MORE TIME.
MOUNTAIN WEST
Who's Hot: Boise State – Get used to the above image of Darian Thompson interfering with a pass, as well as Kamalei Correa sacking quarterbacks and Donte Deayon shutting down the opposition's best wide receiver. They happened a lot in 2014, and Bryan Harsin's second year taking over for Chris Petersen should be no different. The defense around the Broncos' stars should improve overall, giving Boise a shot at perfection.
Who's Not: Hawaii – More teams should schedule road games in Honolulu. Not only is Aloha Stadium a beautiful venue, but the program hasn't been good since June Jones left, which means you can take one of the travel days to just let your kids enjoy, you know, a free trip to Hawaii (Better question I just now though of: why aren't more teams hoping for an invite to the Sheraton Hawaii Bowl? Why isn't one of the playoff semifinals at the Hawaii Bowl every year? How would you NOT enjoy your bowl week?).
Let's Get Real: Fresno State – Speaking of scheduling, does anyone have a reasonable cause as to why the Bulldogs have become the children of Israel, wandering the earth and hoping to find a big, bad bully to play in non-conference? They'll have chance to win the West division and go to another bowl, but it's not like this is some fabulous addition to Ole Miss or Utah's strength of schedules.
Best Player: Rashard Higgins, WR, Colorado State – Remember how Amari Cooper and Kevin White were the best receivers in the country and that was it? Higgins had better numbers than both as a sophomore (1,750 yards and 17 TD'S both led the nation). He's back to improve his draft stock, and he should see plenty of touches given new head coach Mike Bobo's history of NOT RUNNING THE DAMN BALL (Start the link at 2:17:00 if you're unsure what I mean).
Champion: Boise State – They just don't lose, even if they have to plug in a new quarterback in Ryan Finley. Tight end Jake Roh is an emerging threat as a receiver who could be big early as Finley's security blanket (I have to hit pause here because I don't know if, even when I was a child, I've had one particular blanket I could designate like this. If you have, you should tell people about it. It would help explain the descriptor and they definitely won't make fun of you because of their own insecurities).
PAC-12
Who's Hot: Arizona State – Todd Graham has built Tempe into a place people actually want to go (in the football sense, the tourism industry is still just awful). Mike Bercovici showed flashes of brilliance filling in when Taylor Kelly was injured. Now the unquestioned starter at quarterback, he'll have Mr. Everything, D.J. Foster, at his disposal, although Foster will primarily play wide receiver. Also watch out for safety Jordan Simone, who posted 100 tackles last year and has the type of name Jordin Sparks probably wanted to use originally as her pop-star alias before she found out it was taken.
Who's Not: USC – If Cody Kessler puts this team on his back and leads the Trojans to a conference title, he will win the Heisman. Write it down in stone. I'm that confident because Kessler's situation looks a lot like Robert Griffin III's in 2011: other than one big-time receiver, he's going to do this without a whole lot of help. The offensive line is really good, and Su'a Cravens and Adoree' Jackson are studs in the secondary. That said, this team has expectations to win the league title and maybe a national championship too. There are too many holes for my taste to see that coming, which is why if it does, it'll be because Kessler becomes a superhero (complete with sweet-ass superhero socks).
Let's Get Real: Oregon – The status of the Ducks is such nowadays that if they don't win 10 games, it's been a disaster of a year. That shouldn't be a problem again this year, but getting back to the playoff will be a little trickier. Vernon Adams won't be as good as Marcus Mariota, but he'll be an excellent replacment. Royce Freeman is essentially the giant boulder from Raiders of the Lost Ark barreling through defenders. Lineman DeForest Buckner (ALL-NAME TEAM) and linebacker Tyson Coleman are talented returners on defense. If Oregon didn't have to hit the road for matchups against Michigan State, Arizona State and Stanford, I'd be more optimistic about their chances to do more than winning the North division (remembers last year's preseason evaluation of Oregon, is ashamed, goes to work at Smoothie King).
Best Player: Scooby Wright III, LB, Arizona – Think about this for a minute: Two-Star Scoob posted 163 total tackles, 29 tackles for loss and 14 sacks. Now think about how all those numbers came in the same season. Now think about how he plays in a base 3-3-5 defense, where linebackers don't normally post good sack numbers. Finally, think about this; Wright is a junior who hypothetically COULD GET BETTER. There's not a better pure football player in America, and if it wasn't for a fascination with all the glorious offensive stats in the game, Scooby wouldn't have to solve the mystery of why he's not a big early favorite to reach a certain ceremony in New York City. (CUE THE BEST PLAY AND BEST QUOTE BY A COLLEGE FOOTBALL ANNOUNCER FROM LAST YEAR).
Champion: Arizona – The super-soph QB-RB tandem of Anu Solomon and Nick Wilson is back and should be better than ever in Rich Rodriguez's spread attack. Cam Denson and DaVonte' Neal are converted receivers who can need to become studs at corner in a hurry if the Wildcats want to improve on last year's 118th-ranked pass defense. Scooby & The Gang (up front) will give them time to adjust.
SUN BELT
Who's Hot: Georgia Southern – Willie Fritz put together a spectacular debut into the FBS for the Eagles. If they upset West Virginia on Saturday, they could dream of 10 wins (Considering they almost knocked off Georgia Tech last year and whipped up on poor ol' Florida in the Swamp they year before that, it's fair to say that couches were being burned in Morgantown when this decision was made).
Who's Not: Georgia State – Potentially four or five teams withtin the league could win eight games, so when your lone victory in the last two years was a one-point win over Abilene Christian, you're gonna have a bad time (STILL DOESN'T MEAN WE CAN'T GET PUMPED FOR CHARLOTTE COMING TO VISIT FRIDAY NIGHT. CATCH THE FEVER).
Let's Get Real: Arkansas State – Nine returning starters on offense, including QB Fredi Knighten and 1,100-yard back Michael Gordon, does not change the fact that there is only two starters back on a defense that gave up over 205 yards rushing per game. The Red Wolves will be entertaining (see above), just not consistent (probably still gonna beat Mizzou though).
Best Player: Matt Breida, RB, Georgia Southern – Nearly 1,500 yards and 17 TD's rushing as a sophomore. If he improves, the Eagles could actually surpass their 381 rushing-yards-per-game and 39 points-per-contest outputs, both Sun Belt bests in 2014.
Champ: Appalachian State – A whopping 21 starters return on both sides of the ball. Marcus Cox will challenge Breida for the league's rushing title. Linebacker John Law is a tackling machine (beyond surprised this was not the name of a Clint Eastwood character in a western at some point).
SEC
Who's Hot: Texas A&M/Missouri – The Aggies got the steal of the offseason in convincing defensive coordinator John Chavis to leave LSU and come to College Station in hopes of fixing their ragged unit. If that happens, Kyle Allen can build off his solid freshman season at QB and sling the ball all around the yard to a number of talented receivers. Defensive end Myles Garrett and safety Armani Watt are super-soph weapons that Chavis will adore using. The Tigers are also here because, well, Georgia and Tennessee should be in this spot but, deep down in my gut, I know Gary Pinkel's demon hoarde fundamentally sound football team will win the East again, mostly due to constant sacrifice to pagan gods Maty Mauk and stuff (still probably gonna lose to Arkansas State though).
Who's Not: Mississippi State – Dak Prescott is a wonderful quarterback that deserves to have his name on several preseason award-watch lists. He also did not play his best football in the second half of last season, a key contribution to the Bulldogs falling out of the playoff. Now this weapons are limited, it's going to take the best version of Prescott we've ever seen to carry MSU's offense, and even that might only yield eight wins.
Let's Get Real: Auburn/Alabama – THIS WAS ALL JUST A LONG, DRAWN OUT RUSE TO MAKE THE PEOPLE OF ALABAMA ANGRY, AND IT WAS TOTALLY WORTH IT. But before Finebaum's dangerously unstable loyal callers try to eat my flesh dismiss me, let me say this: there are two glaring holes for these teams, For Auburn, it's the defense, which has been so bad in recent years not even Gordon Ramsay was willing to swear his way to fixing it. Everyone scores on Auburn, which counteracts how well Auburn scores on everyone. In desperate times like these, there only a few men you can look to. For Auburn, it was clear. There was only man who could save them:
(Subconsciously, I probably did all this for SB Nation's Spencer Hall. If you can fill his timeline on Twitter with pictures and GIFs like this after you're done reading, I'll be very proud)
For Alabama, the need at quarterback would stick out like a sore thumb if it weren't for the fact that Nick Saban wins championships with produce managers from Piggly Wiggly playing QB. Rather, Saban and defensive coordinator Kirby Smart (both of whom are probably more dangerously insane than Jerry Seinfeld) have to figure out how to stop giving up the big play in the passing game. Last year's defense was arguably the best against the run, but the secondary gave up 34 pass plays of 25 or more yards according to cfbstats.com. Sophomore Tony Brown has reportedly been a standout in camp, but in the era of spread offenses trying to throw for 300 yards every game, it's going to take more than just one player to fix the Crimson Tide's long-ball problWAIT LOOK HE'S ALREADY YELLING AT HIS NEW JOB TOO:
Best Player: Leonard Fournette, RB, LSU
Apparently, it was too early to pull out the Heisman pose, that being his first career touchdown in a easy win over FCS opponent Sam Houston State. Alright, that's fine, I understand. No reason to jump headlong into rash expectations.
JUMP HEADLONG INTO RASH EXPECTATIONS. JUMP HEADLONG INTO RASH EXPECTATIONS. All the hype Georgia's Nick Chubb has gotten this offseason, but Fournette is the cream of the crop amongst college running backs. He lived up to the enormous hype surrounding his freshman season as best he could, rushing for 1,034 and 10 touchdowns while also proving to be a explosive kick returner. He broke Howard Matthews in two. He made the Tigers' offense somewhat threatening despite rather poor QB play. He ran through a defender AFTER THEY RIPPED HIS FACEMASK OFF:
The only thing he didn't do that so many predicted was win the Heisman Trophy. If LSU hangs around in the West, he'll accomplish that feat as well.
Champion: LSU – For the second straight year, we can be confident in saying the conference champ will come out of the West. That's all we really feel confident in saying. For the second straight year, I'll take a once-in-a-generation, Adrian Peterson-type player like Fournette to push the kids from Baton Rogue over the top (I also picked UCLA to win it all last year, so put everything you have on anybody I haven't said good things about).
---
THE RANKINGS
How they finish outside the CFP
25. WISCONSIN – Paul Chryst returns to Madison, this time as head coach, to help Joel Stave turn it around. Redshirt frosh running back Taiwan Deal becomes the next great Badger back. Wiscy puts a scare in 'Bama on opening night.
24. TENNESSEE – Josh Dobbs is the real deal at quarterback, and Jalen Hurd is already a star tailback. Still, Butch Jones's squad is young. Can they handle the early-season spotlight with Oklahoma coming to Neyland Stadium Week 2?
23. USC – Kessler does what he can, but the losses along the defensive front seven and little help at receiver alongside JuJu Smith prove to be too much.
22. PENN ST – Hackenberg has a tremendous season and just misses out on the Heisman ceremony, but the Nittany Lions aren't quite ready to compete with Ohio State and Michigan State in the East division.
21. GEORGIA – Nick Chubb is a fantastic running back who will be in the Heisman discussion all year. He's also a man who wouldn't mind a quarterback that didn't require IKEA assembly.
20. MISSOURI – Got to keep giving props to Gary Pinkel, dark prince of the underworld a great football coach.
19. ARIZONA STATE – Here's to another exciting season of #Pac12AfterDark, and to another year of the Sun Devils just coming up short in the South division.
18. ARKANSAS – Bielema has the things he wants most in the world: a big, physical, winning football team and endless eating options. However, losing Jonathan Williams hurts enough
17. GEORGIA TECH – Justin Thomas needs a little more help and the defense has to get a whole lot better to duplicate last season's double-digit win total.
16. UCLA – Freshman phenom QB Josh Rosen is expected to do big things in Westwood and he should, but I learned my lessons about a team with high expectations coached by Jim Mora Jr. last year.
15. TCU – No one is safe from the Wrath of My Rankings. The Horned Frogs might give up as many points as they score, not a great formula in the Big 12. Minnesota can trip them up in the opener if they're not careful.
14. ALABAMA – NO ONE IS SAFE FROM THE WRATH OF MY RANKINGS. Derrick Henry and Kenyan Drake are terrific backs, and the defensive front seven is the best in the country, led by A'Shawn Robinson and Reggie Ragland. That said, the Crimson Tide get knocked off at Texas A&M, fall asleep and also get upset at home vs. LSU, then lose in the Iron Bowl too, causing the Internet to explode with thousands of videos of Phyllis from Mulga trying to burn down the bronze statue of Saban with a military-grade flame thrower (the plausibility of this is actually quite frightening, and I'm not talking about the football team anymore).
13. OKLAHOMA – The Sooners were a subpar team that still managed to win eight games in 2014. They will be a far better team in 2015, but the peak is probably 10 wins and falling just short of a Big 12 crown.
12. VIRGINIA TECH – Frank Beamer saves his job with a Coastal Division title and wins 10 games, including an season-opening upset of Ohio State on Labor Day night (made everything bold so I can find the mistakes easier this season).
11. BOISE STATE – If absolute chaos breaks out and there are multiple two-loss conference champions, the selection committee will take a long, hard look at the undefeated Broncos for a playoff slot (normally, I'd make a snide joke here because of the non-Power 5 status, but I can't. That's where we're at with Boise. They have that type of respect…What made Chris Petersen ever think leaving there for Washington's perpetual invitation to the Kraft Fight Hunger Bowl was a good idea).
10. AUBURN – Despite a breakout year from QB Jeremy Johnson and the star power of WR Duke Williams, losing on the road at LSU and Texas A&M, like their in-state brethren, will hurt the Tigers deeply. Winning the Iron Bowl against said brethren will assuage many of the tears and cause more tears from people who give up their children's wedding days for ROLL TIDE (these people are all insane and it will never stop being funny).
9. TEXAS A&M  – Allen becomes a star, Speedy Noil is an explosive playmaker, Tra Carson adds some beef to the running game, and the defense is better than good thanks to Chavis's tinkering. If they get by Arizona State in the opener, a home-friendly schedule will set up wins over both schools from the state of Alabama. Start circling the season-ending visit to Baton Rouge on November 28. The West-and the playoff-could be on the line.
8. OREGON – A night game in East Lansing in the second game of the season might not be too much to ask of Vernon Adams, but the new faces on defense are a different story. The offseason has left the Ducks looking for depth at receiver. They worked around that problem early last year. They won't get so lucky this time around.
7. CLEMSON – The Tigers are young, fun and explosive with a fully-healthy Watson at the helm. Unfortunately, they drop a certain home game that keeps them out of the playoff despite an ACC title and Watson's fourth-place finish in the Heisman race.
6. BAYLOR – The Big 12 misses out on the playoff (again) because the Bears drop just one game, but it's a game they're not supposed to (again). New QB Seth Russell will fit into the offense fine, Shock Linwood will run well, KD Cannon will have a ridiculous amount of 20+ yard TD catches, and the defense will be the best in the league. That said, a loss at Oklahoma State derails playoff hopes. BU at least holds on for a third straight league title by winning at TCU.
5. OHIO STATE – You just don't repeat. It's too hard. Ezekiel Elliot carries the Buckeyes all season long regardless of who's playing quarterback, but an energized Virginia Tech pulls an upset in front of an electric Blacksburg crowd, and a conference rival gets revenge with a win at the Horseshoe.
---
THE PLAYOFF
Who's in and who wins it all
4. ARIZONA – Solomon and Wilson power a Wildcat offense that scores in a variety of ways. Junior wideout Cayleb Jones has another standout season. Scooby wins every defensive award imaginable by being even better than last year and finishes second in the Heisman voting. The 'Cats vanquish USC at the Coliseum, retain the Territorial Cup against Arizona State, and avenge last year's Pac-12 title game thrashing from Oregon by stealing the crown from the Ducks and going undefeated en route to a conference title. ALL HAIL RICH ROD, SUPREME LEADER AND MASTER OF ALL.
3. MICHIGAN STATE – Cook has a dream season, becoming the best quarterback in the country and finishing third in Heisman voting behind Wright. Scott combines with freshman Madre London and sophomore Gerald Holmes to form a bruising backfield-by-committee. Josiah Price emerges as a weapon at tight end. Calhoun and fellow senior DE Lawrence Thomas invade quarterbacks' nightmares. The losses of Ed Davis at middle linebacker and Pat Narduzzi at coordinator don't phase the Spartans, who return the favor against Oregon; pound Michigan in Harbaugh's first taste of the rivalry; and surprise Ohio State in Columbus to complete the revenge tour. An undefeated Big Ten title results in a playoff bid.
2. LSU – Fournette is great, and his team's overall improvement helps him capture the Heisman. Brandon Harris settles in at quarterback and does a little better than just good enough. Malachi Dupre has a breakout year at receiver alongside Travin Dural. Jerald Hawkins and Vadal Alexander aren't phased by position changes along the offensive line and become All-Americans. Linemen Christian LaCouture and Davon Godchaux and linbackers Lamar Louis and Kendell Beckwith lead a stingy run defense. Tre'Davious White, Jalen Mills and Jamal Adams become the next great Tiger defensive backs. An early message with a blowout win at Mississippi State is followed by a home victory over Auburn. LSU squeaks by at Alabama and at home versus Texas A&M to set up a good ol'-fashioned butt-whoopin' of the sign of the Apocalypse Mizzou and an undefeated SEC crown.
1. NOTRE DAME – Malik Zaire fits in perfectly at quarterback and thrives in ways Everett Golson never could. Folston and Prosise help Zaire establish a dangerous option attack. When they do throw, Fuller, Brown and Robinson make big plays. Brian Kelly's best offense at South Bend is equaled by a fearsome defense. Sheldon Day looks like a first-round pick at tackle. Smith and Joe Schmidt pile up 80+ tackles each. Russell and safety Elijah Shumate lead a ball-hawking secondary. The Irish don't just survive their brutal schedule, they thrive. Texas and Georgia Tech go down harmlessly, and a huge road win against Clemson shuns the Tigers from the playoff. a 12-0 mark sets up a semifinal showdown with Michigan State. Sparty doesn't have the same weapons as ND, nor does LSU in the national championship game. The echos are awoken, and a title long desired is returned to Touchdown Jesus.