Hey. Been a while, huh?
I don't think I've told this story on here, but I got in a car accident on Monday, January 20th.
A raging snow storm moved in on MLK Day as I made my way back down I-70 towards the St. Louis area. I wasn't being careful or cautious as this happened. My car skidded on the slick highways, causing me to ram right into the rear end of a car that had slowed down to a halt because of an accident that happened further up the road.
Everyone recovered from whatever injuries they suffered or came out ok, as I've checked on multiple occasions to be sure. I still feel a lot of guilt for the harm I caused to the car in front of me, harm they didn't deserve.
January 20th, if you remember, is the day after the Kansas City Chiefs won their first-ever AFC championship and made their return to the Super Bowl for the first time in 50 years.
---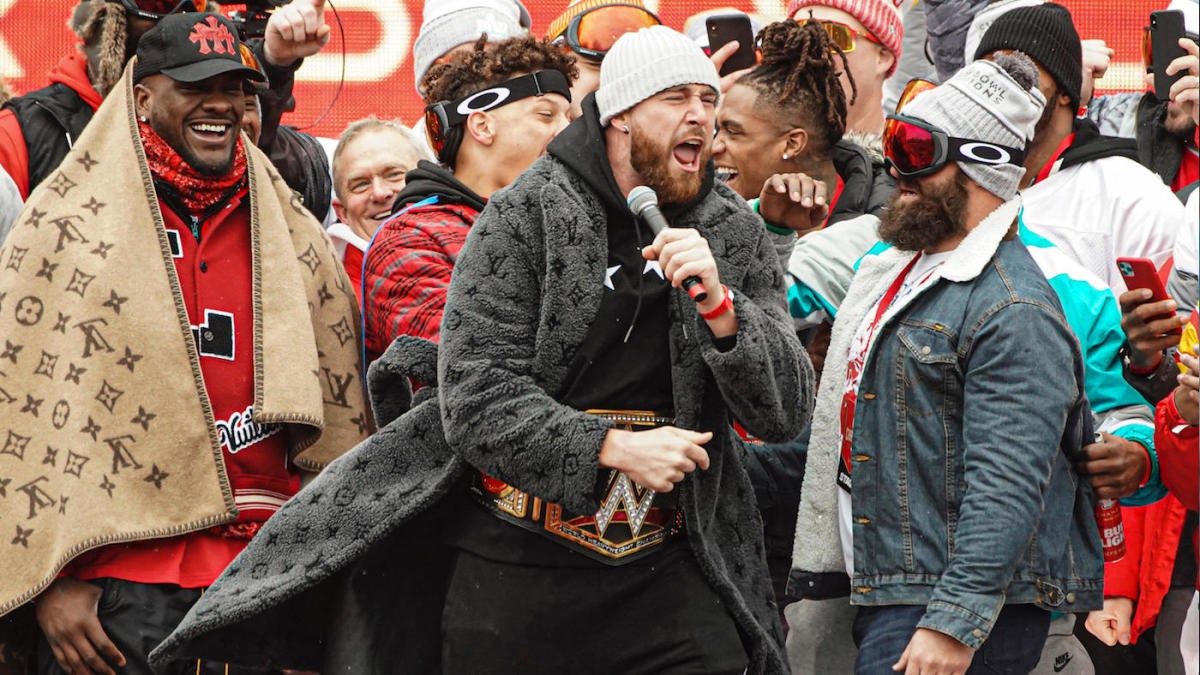 There is no better time in history to be a Kansas City Chiefs fan.
Those who were around in the '60s are surely (and deservedly!) very proud of Lamar Hunt's team, the one that fulfilled the promise of his upstart competitor league and toppled the NFL to the point that they caved to a partnership.
But Otis Taylor was never a national celebrity. Buck Buchanan was a Hall of Famer, but he never had a signature, animal-themed nickname. And Lenny Dawson, as cool as he made smoking cigarettes and drinking sprite on your way to win championships, was never the name on the tip of every sports fan's tongue.
There is no better time in history to be a Kansas City Chiefs fan because there has never been a time like this for the Kansas City Chiefs.
I've touched on this before, but it's amazing how quickly things turned for this franchise once they reached the peak of professional football. The Vikings beat them down in a Super Bowl rematch right away in the Chiefs' first official game as an NFL member.
Yep, the 1970 season opener was Kansas City at Minnesota, and Bud Grant got a very pissed-off group of future Hall of Famers on defense to punish KC for a 27-10 win. I'm sure there was no malice intended by the league in choosing that particular game as the Chiefs' first in the NFL!
The very next year, the Chiefs played in the longest playoff game ever and still lost at home to the Dolphins. Sure, that was one year before 17-0, so there should be no shame in getting beat by the Fins, but Ed Podolak was unstoppable! They still had Stram and Dawson and Taylor and Lanier and Bell and Thomas! They had quite possibly the greatest kicker ever, Jan Stenerud!
You know, the same guy who missed a potential winning field goal.
Lots of playoff heartbreak followed. The year before this magic ride started, the Chiefs blew a 21-3 lead at home to the Oilers' dirty laundry and we shrugged. This is the drill. The routine is simple. Uncomfortable? Sure. Sad? Definitely. But the way things are? Without question.
Then Patrick Lavon Mahomes the Second happened.
---
Quarterback, in particular, is the position on the football field that the Kansas City Chiefs could not nail down. Quarterback, in regards to American team sport, is the position that can, on its own, swing the outcome of whole games and entire seasons. Quarterback, perhaps more so than any equivalents like point guard or pitcher, is the ultimate glamour position.
Patrick Mahomes plays quarterback, and he plays it better than any person alive.
You're all probably aware of the insane touchdown pass Mahomes made in his first year as a starter I'm going to talk about.
With less than 9 minutes left in the first half of a Week 4 game at home in 2018, Mahomes is dead to rights in the pocket because of the pass rush. So he does a full cone-drill pivot and turns from rolling left to rolling right. In the midst of escaping pressure, he also spies wide receiver Chris Conley sneaking his way towards the sideline. Sure, there's not much of a window for a throw, but a man who throws no-look passes in football at any level has no fear, so he zips a camel through the eye of a needle, and Conley drags his toes along the end zone's south border and hangs on to the ball.
Because life is funny, that touchdown pass came against the San Francisco 49ers. He'd throw 2 more in that half of play, then wait about 16 months to throw 2 more of a little more importance.
That first touchdown against the Niners, if I'm completely transparent, is the moment I realized I was going to see my sad-sack team win a championship one day. While throws like that are always accompanied by mad cackling nowadays, that was the first time my jaw dropped and I realized I was watching a different breed of talent. And when you have one of those at quarterback, football gets pretty easy.
I'm not here to discredit the rest of this roster, which is very talented and therefore very fun to watch. Far from it, I'm quite indebted to them for the happiest moment of my life as a fan of, well, almost anything. But this dumb sport is built to where fortunes ultimately turn on how well that one guy does. And without Patrick Lavon Mahomes the Second, that throw, the other throw against San Francisco, and everything else in between simply can't be possible.
That's why they're called fantasy players. Because they make the stuff you only dream about happen. At least, in one pertinent example.
---
While the first iconic pass against the 49ers is where I knew something special was happening, I didn't know with full assurance that I was going to watch the Kansas City Chiefs play in the Super Bowl until Mahomes chose to make magic happen with his legs. Weird flex, but ok.
I knew what was going to happen after that, but I still walked out of Arrowhead Stadium on that Sunday night in a daze. Happiness carries its own shock and awe too. It just doesn't always make for the most compelling story telling.
Thanks to the times we live in now, I think that's the moment I go back to if I had a time machine. Not because I need to recapture that magic or I need a rush of recent nostalgia. I can do that any old time now. But I think I'd just really want to go back and explain to myself what was about to happen. What exactly I needed to be prepared for in the year ahead.
And no, I'm not talking about the car wreck.
Personally, my year has been fine. Rooting for a Super Bowl champion will do that. Being a white kid from the Midwest makes it even easier.
But this year has been a reminder that's just simply not everyone's experience. And that, hopefully, it's time we come to that understanding.
---
If you think 2020 is the year from hell, I'd be interested to know what the 60s were like. You might think it's all just a big "political movement," but you'd probably not be thrilled to know that was the phrasing some folks used to describe staying off buses or marching across a Birmingham bridge. There's a good chance, even if it was under their breath, that someone watched Dr. King speak from the steps of the Lincoln Memorial and called it all "a stunt." I'd be curious to know why you think this is different.
But more importantly, I'd love to know what you think it's like to live through prejudice, sickness, poverty and other hardships every day of your life. Because, as far as I'm concerned, that's what so many are crying out.
This year has taught me many things, all of which I believe have truly made me a better person. But the biggest one is to take 3 simple actions: stop, look and listen.
This moment in history does not deserve to hand the microphone to a white kid from Missouri. It doesn't belong to people marketing themselves as "thinkers" who are really just here for your clicks and views. It definitely doesn't belong to any person whose instinct is to reflexively declare "how bad can it be, life's hard for everybody," because self-pity is so much easier than empathy.
This moment belongs to the voiceless, and to those whose voice has not been given its due power. And it's time we just sat back and listened. If they say they feel fear instead of safety around law enforcement, we need to hear them and ask why. If they say the economic system is rigged against them, we need to hear them and ask why. And if they say, simply, that they have too many innocent or unarmed bodies to bury, we need to hear them and ask why.
And If you don't want to hear them because "the game's on," that's probably why 2020 has been your year from hell. Because sports told you to listen. Otherwise, you're on a timeout. And not the coach kind.
---
The Milwaukee Bucks walked off the floor of an NBA playoff game because, plain and simple, they did not think a man deserved to die at the hands of police officers. Argue all you want that he was armed and resisting arrest, that he had it coming, that cops have hard jobs and we need to cut them slack. I'll remember that the next time the doctor writes me the wrong prescription, or a local mayor uses a city-issued credit card for personal purchases. "Hard job. Can't blame him."
The Bucks, at the very least, were demanding more of not just those particular officers. They were asking better of society in general. You know, that thing your parents did when they asked you not to chew with your mouth open, or when the teacher asked you to actually read the book before you wrote the report on it.
There were consequences for not heeding those requests. Deserved consequences. The difference is, sports is our main export in America. It's our drug we cannot kick. So we'd never had to deal with any actual consequences for our behavior. We didn't have to think about what we'd done. The game was always on.
But even before the Bucks, nature intervened first.
---
It says a lot about how broken we are that the old rule of "tell someone not to do something, and they will want to do it even more" applies now, somehow, to even medicine. But, even though it probably won't sway you to any extent, if you're that far off the deep end, I will ask: please, wear a mask and try to social distance when out in public. It's not "infringing on my civil liberties," it's just one year out of the thousands that human society has existed where we have to spend some time apart for the sake of overall public health.
And no, this is not a narrative spun from straw. Doctors are asking you to do this. If they were actually lying about it to us, trust me, I'd be pretty mad about it too.
But, amid the many, many problems we've all had to face in the wake of a pandemic, one good thing that I think did happen is, because the world stopped turning as we know it, we got to see its flaws, up close and personal. The mess you left under the couch is a lot harder to hide when there's no couch.
The world stinks. You probably knew that, but there was always something else shiny you could look at to avoid thinking about it.
For the sports fan like myself, no sports meant it was time to ask real, hard questions about the world, as well as doing the harder work of making it better. I think we're headed there. You may not like that, and I'm sorry. Not as sorry as I feel for the oppressed who are just now receiving the attention they deserve, but you do have my pity.
A big reason I think we're headed to real change is because sports has led the way. Our athletes, many of them black, are making it clear they feel the same way as those who marched. And many of them are sharing their experiences, making it clear that there is still so much work to do, and illuminating so clearly that the issues they raise are not just some misunderstanding or simple mistake. We've done the people of color in our country wrong, no ifs, ands or buts. It's not just that we can be better. We have to be better.
Our athletes had to, at times, treat us like children, putting us in our room until we learned our lesson. We deserved it. Even if the virus contributed, sports going away was probably inevitable, or, more important, necessary. We needed to evaluate if we were doing what was right. We still need to take that evaluation, every day.
But still, sports has returned. We don't deserve it, whether it's how we handle race or how we still disregard the biological world war we're fighting. But sports are back. So the question remains: have we learned our lesson, or are we still grounded?
---
There's a small, anarchistic part of me that wants to see how some Chiefs fans reacted to Patrick Mahomes appearing in a video posted by NFL players calling for more work by the league on the social-justice front. I have a fairly decent idea, given how often I've heard the words "too political" already attached to the National Football League. You know, that place where we have to start everything with the national anthem.
Kansas City Chiefs football is back. It's admittedly abrupt, as the long 7-month wait to return to games came with, well, let's call it a bit of news to keep us preoccupied. But suddenly, we're getting back to deep bombs to Tyreek Hill, and Travis Kelce touchdown dances, and Frank Clark sacks, and Chris Jones firing up a (limited) Arrowhead Stadium crowd.
It will be nice to have back. Not better than it's ever been, because the reality is none of us deserve it. This team, football, any order of nice things. We've got work to do. Thankfully, it will be the guy who changed everything in Kansas City leading the way, on and off the field.
Patrick Mahomes is probably going to take a knee during the national anthem. He's not doing it to "disrespect the troops" or because he "hates America." He has reasons far beyond that. Ask him, I'm sure he'd be more than willing to share. Just make sure you listen.
He'll also wear a mask when surrounded by a lot of people. It's what the best medical experts he knows has asked of him. He's not considering that "it's all just a government conspiracy." He's listening to people who are not only doing their job, but also have given him no reason to believe they're doing it poorly. I'd follow his lead.
And then, when he puts on his helmet and walks back in to the huddle for the first time in a game in 7 months, he'll go back to being the best quarterback on the planet, the guy who's already earned every penny of the biggest contract in sports history, the young many who became Kansas City's first true superstar.
We're in awe of everything Patrick Mahomes does on the football field, but the reason I believe we can build a better world than the one we discovered in 2020 is that Patrick Mahomes is just as impressive a person. And if my quarterback wants the world to be different, I want that too.
That car accident would end up being the first of 3 vehicles I've been through in just this year alone. It's really the only personal hardship I've been through. After it happened, I joked that this was how the universe responded to good things happening to the Chiefs. Some supernatural force or higher power was always finding a way to intervene when the Chiefs were about to do something exemplary, so this was how it would cause me trouble now.
The whole theory that Arrowhead Stadium is built on some sort of hallowed burial ground gets a lot more credence when you remember that the Chiefs are the defending Super Bowl champions in 2020. But, jokes aside, remember: I caused the car accident that started my year. In part, the rough times I went through were my fault.
This is the message of 2020: things aren't good because we made it that way. If we want it to be better, we have to be better.
So please, wear a mask. Practice social distancing. Consider the hardship of others, especially those who don't have your privilege. Reach out and do what you can to use your privilege for the betterment of others. Just, in general, be kind. And learn from the timeout 2020 put you in.
At the very least, follow the lead of one Patrick Lavon Mahomes the Second. I've watched him enough now, as a quarterback and a man, to say pretty confidently: he knows what he's doing.
After all, he did ask if they could run Wasp during a timeout.