.
One of the biggest Sundays on the calendar has finally arrived. After weeks of anticipation and hype, the time has finally come for an American tradition like no other:
The Daytona 500.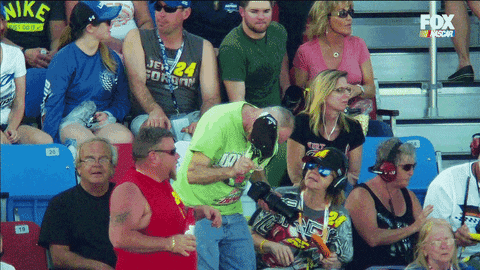 GO IN A CIRCLE. GO IN A CIRCLE. GO IN A CIRCLE.
Kidding. This Sunday's not that important, but the 89th Academy Awards will be handed out in recognition of the greatest achievements in film in the last year.
It's always confused me why the Oscars, if they're all about "achievements in cinema," don't also recognize the movies that achieved a new level of terrible. Like, Collateral Beauty was bad, but it was a new kind of bad. That's technically an achievement.
Poor Will. Poor Kate. Well, anywho.
The movies you saw in 2016 that you liked best will not win an Oscar. They probably arent't even nominated. But it's ok. Most of the films and people who can win deserve to do so. So if you'd like to learn more about some movies you haven't seen that you'd probably really like, as well as, obviously, sounding smarter than everyone else while you watch the show Sunday night, then come along. We're going to decide who should win, who will win, and why Leo had to make love to a bear to win.
Best Original Screenplay
Who will win: Manchester by the Sea
Who should win: The Lobster or Hell or High Water
Manchester is the most depressing film of all time that you should only watch if you really think the world is just too good a place and you need to balance things out. The other options are a surreal comedy with some really smart dialogue or a western with Jeff Bridges. Choose both of these every time over a movie that makes you feel bad for people from New England.
Best Adapted Screenplay
Who will win: Arrival
Who should win:  Arrival
I will gush more about this movie later, but just note the greatest strength of this film is its script, so this is a massive upset that I will get legit angry over if it doesn't win.
Best Visual Effects
Who will win: The Jungle Book
Who should win: The Jungle Book
I'm not against Doctor Strange  or Kubo And the Two Strings pulling an upset here, they are visually stunning films, but Jungle Book had one real human character on screen the whole time and you still totally buy it. Plus, there are few things as scary as Idris Elba Tiger.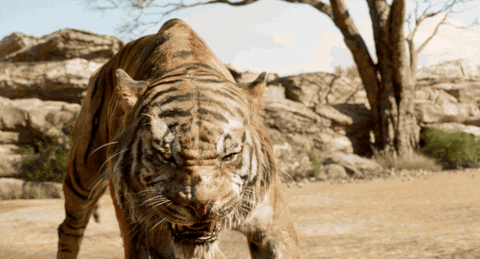 (Wets pants)
Best Sound Mixing and Best Sound Editing
Who will win: I don't care
Who should win: Neither should you
Best Production Design
Who will win: Passengers
Who should win: Hail, Caesar!
I honestly believe Passengers earned this. It's a sleek-looking movie. The sets are gorgeous. But this should go to Caesar for two reasons: 1) the ability to recreate the sprawling movie sets from the '40s and '50s should not be underestimated; and 2) the Coen Brothers are geniuses who need to have another piece of comedy gold recognized just so that more people will watch it.
Best Original Song
Who will win: "Audition (The Fools Who Dream)," La La Land
Who should win: "You're Welcome," Moana
For the first time, we choose one not on the final ballot. Lin-Manuel Miranda got an Oscar nom this year, just for the wrong song. Hell, of all the songs to pick from La La Land, they went with the two that were just okay. "Audition" is a big, long, loud power ballad, the "Climb Every Mountain" of the movie. But when you watch the film, it's just Emma Stone sitting in an audition for a movie and suddenly breaking into song, with the camera spinning around her because there's nothing to cut to. It sounds pretty sure, but where's the skill involved here? You know, like turning a former WWE superstar into a Disney animated classic character and singer?
This is a real thing that happened. The man behind Hamilton is such a miracle worker that he turned the Rock into a song-and-dance man. Either that, or the Rock is so supremely talented that he could sing this whole time and we just didn't know about it. Regardless, this is both a really catchy tune and perhaps the final stroke in Dwayne's master plan to take over the world.
Voldemort can't, but I can.
Best Original Score
Who will win: La La Land
Who should win: La La Land
There isn't really anyway around this. At this point, it's pretty clear director Damien Chazelle likes jazz music. Chazelle likes jazz a lot. He likes jazz as much as Augustus Gloop likes chocolate. If there was a river of jazz, Chazelle would dive into it and drown, and Wonka would be like, "Oh well, he gave into gluttony, his fault not mine."
But here's the thing: as much as Chazelle acts like jazz is the greatest thing since sliced bread, he has a buddy named Justin Hurwitz that also likes jazz. Hurwitz composed the score for Whiplash, and he came back for La La Land. And if there's one thing you should know about Justin Hurwitz, it's that he is damn good at composing jazz.
This is the opening number. Four minutes in, you are already tapping your toes, fully convinced you will never hear a song so catchy ever again. Repeat this process five more times, add in fantastic non-lyrical pieces, and you see why, chief among any other characteristic, the score is the biggest reason why people gush over this film.
Best Makeup and Hairstyling
Who will win: Star Trek Beyond
Who should win: No one.
Suicide Squad is nominated for an Oscar because of this category. Suicide Squad is a poorly-edited music video, which means it's a steaming pile as a movie. This category is dumb. The Oscars are kinda dumb.
Best Foreign Language Film
Who will win: Toni Erdman
Who should win: Toni Erdman
I've heard from reliable sources that this movie is pretty good. I'll never see it, at least unless that rumor of the American remake with Jack Nicholson and Kristen Wiig is true.
Best Editing
Who will win: La La Land
Who should win: Arrival
This is one of the many categories where the Academy's unrequited love for La La Land led to the film being nominated for a category that makes no sense. There is literally no logic to giving an editor an award for a movie where 60% percent of the film is shot in one take and the editor didn't have to do anything. On the flip side, the twists and turns of the plot in Arrival force the editor to really be on his toes and shaping the film in a way that makes sense. If he slips up, the reveal at the end of the film falls apart.
Best Short Documentary
Who will win: The White Helmets
Who should win: All of them
They're all really good and really educational. Check the full list of nominees.
Best Feature Documentary
Who will win: OJ: Made in America
Who should win: OJ: Made in America
I would normally say again that all the nominees are deserving and worth your time. But OJ was a game-changing piece of media. Ezra Edelman's a bonafide genius in the art of the documentary, and if you can stand to get through eight hours of film, you walk away with a startling new appreciation for one of the most famous incidents in American pop culture history.
Best Costume Design
Who will win: La La Land
Who should win: The Nice Guys
Another off-the-ballot choice. Everyone in La La Land dresses in bright primary colors, almost as if Warner Brothers finally took heed of all the notes from Batman v Superman about how color is not evil. I'm giving this one to Shane Black's comedy because it wasn't nominated for anything, which is unbelievably stupid because it's the funniest movie I saw all year and is competing with Arrival for my undivided affection.
Best Cinematography
Who will win: Silence
Who should win: Silence
Proof of how much I loved Arrival is that Bradford Young managed to pull off shots I don't generally notice when watching a movie but somehow jumped off the screen this time around. But I'm lying if I didn't say director Martin Scorsese made a brilliant choice in Rodrigo Prieto. Silence is a long haul of a movie, but it's beautiful to look at, and camera work had a lot to do with that.
Best Animated Feature Film
Who will win: Moana
Who should win: Kubo And the Two Strings
If you don't know who John Musker and Ron Clements are, they're the duo who came up with most of your favorite classic Disney animated films, and they did it again with Moana. It's a great movie, I won't deny, but Kubo is special. Not only is it the most ambitious and most visually stunning film ever from Laika, the kings of stop-motion animation, but the story feels straight out of Legend of Zelda. I adored Kubo, both for its storytelling and its animation, so it checks off every box you need to hit for this category except "made by Disney, who owns the TV network that broadcasts the Oscars."
Best Director
Who will win: Damien Chazelle, La La Land
Who should win: Denis Villeneuve, Arrival or Barry Jenkins, Moonlight
Look, it's a movie about how great Hollywood is, of course Hollywood loves it. And there's no doubt Chazelle is extremely gifted-Whiplash is still my favorite movie of 2014-so it's not that he's unqualified for this. Far from it, La La Land is a darn good movie. But Villeneuve created such a unique film, so beautiful in its visual style but never bombastic about its design choices, while staying true to a character and emotion-drive story. The same goes for Jenkins, who ended up making the other-saddest movie of the year and deserves some credit for guiding the cast to a powerhouse performance.
Best Supporting Actress
Who will win: Viola Davis, Fences
Who should win: Naomie Harris, Moonlight or Michelle Williams, Manchester by the Sea
Of the two leads in Fences, Davis is the more powerful and attention-grabbing (Yeah, I said it, come at me Denzel). But here's the thing: Davis already has a Tony Award for her performance in Fences when she played the role on Broadway. And not only is 80% of the adaption from stage to screen just the same as the play, the sets never change in the movie, just like a play! Why on earth did they film the play with a movie budget when I could do it for free by bringing a camcorder into the theater?!?!?
That's really more Denzel's fault that Viola's, but if we're talking strictly great movie performances, this is a tie between what I think, regardless of category, were the most stirring pieces of acting put to film in 2016. Williams and Harris own every moment they are on screen, which is saying a lot given the amount of talent surrounding them. They steal every scene and ended up providing us with the best scenes of the year. Both worthy winners.
Best Supporting Actor
Who will win: Mahershala Ali, Moonlight
Who should win: Mahershala Ali, Moonlight or Dev Patel, Lion
It's really hard to parse out one great performance in Moonlight when the whole cast is just so gripping, but I understand and agree with why Ali is being picked out. Honestly, this whole group of nominees is really solid, so much so that Golden Globe winner Aaron Taylor-Johnson (Nocturnal Animals) was shunned in favor of Michael Shannon from the same film. Jeff Bridges is delightfully at home in Hell or High Water, and Lucas Hedges was really solid in Manchester. I'll split it between Ali and Patel, who honestly should be nominated for lead actor but shouldn't be overlooked for how good he was because the Academy isn't good at their jobs.
Best Actress
Who will win: Emma Stone, La La Land
Who should win: Amy Adams, Arrival
You wanna know how stupid the Oscars is? You wanna know why people don't take them seriously anymore? Meryl Streep was in a movie called Florence Foster Jenkins that no one saw and critics considered to be average at best. Meryl got an Oscar nomination for that film. Hailee Steinfeld, fresh off killing it in The Edge of Seventeen, is confused because she's not old and bitter like the rest of us who know Meryl could sneeze and if it's captured on camera it would win an Oscar.
Amy Adams, meanwhile, was snubbed while being the lead in the best movie of the year. She is forced by the script to carry that film, and she does that and more. Adams was transcendent, so of course she isn't even nominated, because Meryl gave a speech at the Globes and we have to find some way to generate ratings. Because the Oscars are really just a TV show.
See, I knew I'd get mad about this totally unimportant event if I tried hard enough. Yay!
Best Actor
Who will win: Ryan Gosling, La La Land
Who should win: Ryan Reynolds, Deadpool
Just like Fences, the female lead has a more engaging performance in La La Land, to a point where the Academy doesn't screw up and correctly identifies Stone and Gosling as co-leads, which should have happened with Denzel and Viola.
Casey Affleck was the lead dog in the clubhouse for a while for Manchester, and he has the Golden Globe to back up the sentiment he could still win, but I feel like the great performances by the supporting cast really propped him up. Also, there is that slight problem about him having no respect for women.
Gosling learned to play piano for the role, which is cool, but at least it doesn't show as badly as his song-and-dance training (Props to Ryan for taking it on, but if I look at my feet when doing a choreographed dance routine, a professional probably shouldn't).
But that's being nitpicky. Gosling was magnificent as a bumbling P.I. in The Nice Guys, so I'll allow it. At the end of the day, only one actor truly carried a film on his shoulders. That actor is not nominated because: 1)he wore a superhero costume through 70% of the movie; and 2) if Reynolds won, you know he would accept in character, wearing the full red spandex, and give the most sexed-up, pop-culture referenced, unapologetic, inappropriate, profanity-laced acceptance speech ever uttered, resulting in television being permanently shut down by the FCC.
Best Picture
Who will win: La La Land
Who should win: Arrival
I have said before I like La La Land. I get the hype. It's a film buff's paradise, an ode to jazz of the past, a beautiful looking film with a phenomenal musical score. I am not here to begrudge you if you feel the same way or even stronger. I will say it didn't lean all the way into embracing the fantastical nature of musicals, which sort of confused me about what sequences were real and were just fantasies.
I will also say that Fences is a really good play that shouldn't be winning awards for movies; Lion is a good flick about the power of family that shows Dev Patel is a super star; Manchester by the Sea is really sad, but becomes an unintentional comedy when you realize that all the characters are probably Patriots fans and therefore the worst kind of people; it's wonderful to see a story like Hidden Figures get recognition; it's wonderful that films like Hell or High Water keep getting made; Hacksaw Ridge is a film about a pacifist that's strangely proud of its violence and gore, so yeah, Silence got the shaft; and Moonlight is a tour-de-force of acting that would be my runner-up choice if I was in charge of this whole crazy process.
I will finally say this about Arrival: it was my favorite movie of 2016. It was stellar in every aspect of film making, all while telling a brilliant and emotionally moving story. I have a bias. But all I'd say is this: this movie is so great because I really can't tell you what happens. I don't want to spoil it. Please, do yourself a favor and watch most of these movies, but go check out Arrival. Then come back and tell me if that isn't a film you won't remember in 20 years. Because you will, just like you forgot something called The Artist won this stupid award once. Enjoy the show, and see you at the movies.