Who's Hot – Syracuse
It says a lot about the current state of the conference that the current clear-cut, second-best team in the ACC is not Florida State, Miami, Virginia Tech or even Georgia Tech. Nope, it's the program who just installed a guy named Tommy DeVito as its starting quarterback, the most perfect pairing of name and school for a QB since Georgia backup and eventual punter Brice Ramsey.
Dino Babers has things rolling in upstate New York and should be able to run the ball well again with the tandem of Moe Neal and Oklahoma transfer Abdul Adams. Kendall Coleman and Alton Robinson is one of the nastiest defensive-end duos in the nation. If Taj Harris and Sean Riley take steps to becoming bigger weapons at receiver, the Orange are absolutely stand a chance of winning 10 games.
Who's Not – North Carolina
Of the 3 ACC teams that didn't at least make a bowl game last year, Louisville at least might score some points with new coach Scott Satterfield. Mack Brown's first year features an unbelievably tough schedule. Like, the kind where you play a conference opponent in Wake Forest but it won't count against your conference schedule. Yikes.
Purgatory – Miami
Let's say Manny Diaz wins the Coastal Division in year one. 1) That's not a lot to ask because Pitt won the division last year and Virginia's the current preseason media pick; 2) The Hurricanes are going to do so while, at best, winning 10 games in a slightly fraudulent fashion, only to set up pastings in the ACC Championship and the Orange Bowl. The U is not back, not until an 10-0 start like the one in 2017 is made up of dominant performances against inferior competition and better showings against game opponents.
Clock's Ticking – Florida State
The other of the 3 teams from the ACC to miss a bowl game is a program where that's just flat unacceptable. Granted, I'd be more lenient normally because it was year one for Willie Taggart in Tallahassee. But when you consider what Jimbo Fisher did his first year at Texas A&M, the comparison's fairly stark and is going to get an FSU fanbase that's always impatient demanding 8 wins at minimum in 2019.
Best Future Pro – Justyn Ross, Clemson
The answer to most of these player profiles is Trevor Lawrence, and yes he's great, but don't sleep on the sophomore wideout. The dude might legit be the next Julio Jones, and the Tigers have so much talent we didn't get to figure that out until the College Football Playoff. He still finished 2018 with an even 1,000 yards and 9 TDs and should get even more chances to wow us this year.
Best Offensive Player – Travis Etienne, Clemson
Almost 1,700 yards and 24 touchdowns are numbers that might actually go down for the junior running back this year, but that's because Lawrence will be throwing more now that he's flexed his muscle. And that's honestly a good thing as it means Etienne is fresher for the postseason and a future pro career.
Best Defensive Player – Xavier Thomas, Clemson
Excuse the trend but aaaall the studs play for the Tigers. The 5-star edge-rushing recruit spent last season sitting behind one of the best defensive lines the sport has ever seen. But even in spot duty he flashed as a freshman, enough to look like a full year as a starter means he'll end up an All-American. Also, there's the small matter of how he MURDERED Eric Dungey.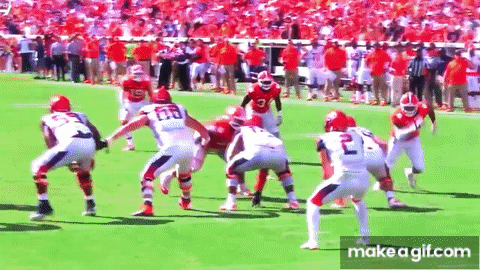 Player of the Year – Trevor Lawrence, Clemson
On top of all the riches he possesses, Dabo Swinney might have his best signal-caller ever now. With apologies to Deshaun Watson, Lawrence stared down the Tigers' toughest opponents and never blinked. The weapons around him are absurd, and even without them he'd have pro scouts drooling for his own personal ability. He'll finish top-3 in Heisman voting at minimum barring terrible circumstances.
Atlantic Division Champion – Clemson
Shocking, right? Syracuse is the lone game on the schedule that makes one uneasy, and even then it's a stunner if the Tigers actually lose. Tee Higgins, Amari Rodgers, T.J. Chase and Diondre Overton are all big-time targets if teams zero in on Ross, and Thomas will have help up front from emerging stars K.J. Henry and Nyle Pinckney.
Coastal Division Champion – Virginia
This is why divisions in college football are dumb. You want the 2 best teams to play each other for the title each year? Don't restrict them from possibly having a rematch if that's what the situation calls for. Anyways, Syracuse will be the second-best team in the conference, and the Coastal is a mess. This doesn't matter.
Atlantic Coastal Conference Champion – Clemson
There's a level of Golden State-ness to the Tigers in terms of how, if you look at all the pieces, you can't help but appreciate their spectacular dominance. Plus, a combination of willingness to throw the ball and novelty means they aren't the slow, plodding death machine Alabama had become.
Worth mentioning the other All-America-caliber players they have like LB Isaiah Simmons, CB A.J. Terrell and safeties Tanner Muse and K'Von Wallace. They'll sprint past the rest of the ACC and possibly the whole dang country. Living proof that you shouldn't give any amount of power to a man named Dabo, lest he grow an empire from your misplaced seeds.