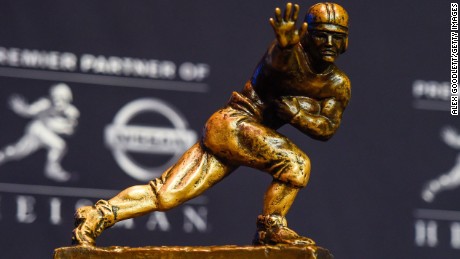 Wuerffel Trophy – Sam Ehlinger, Texas
Best combination of athletic success and community service
He might annoy you at times with his deep, deep love of his school, but there's no denying the senior quarterback is a playmaker and a genuine good person. Recently showed off his nice side by raising awareness of Batten's disease.
Ray Guy Award – Braden Mann, Texas A&M
Best punter
When you lead the nation in yards per punt but don't finish inside the top 20 in total punt yards, it means your team didn't have to use you too much and you still (literally) kicked ass. Florida's Johnny Townsend is the only other person standing in the way of Mann bringing home this award for a second straight year.
Groza Award – Andre Szmyt, Syracuse
Best kicker
Another guy who should be a repeat winner. Nobody attempted or made more field goals, and he was perfect on extra points. If he adds some distance, he'll hit some deeper kicks and really have some pro scouts talking.
Rimington Trophy – Tyler Biadasz, Wisconsin
Best center
Hard not to slot a Badger in every year for a lineman award. That state produces nothing but large men and the beer and cheese that fuel said large men. The anchor of this particular Wisconsin line is also its best pro prospect, as he's a masher who's still a little raw in pass protection. But only a little.
Outland Trophy – Alex Leatherwood, Alabama
Best interior lineman
Biadasz and Oklahoma center Creed Humphrey will make good pushes, as will Georgia left tackler Isaiah Wilson and Michigan tackle Jon Runyan Jr. (yeah, that Jon Runyan's kid). And we haven't even got to the defensive tackles like Auburn's Derrick Brown. But if Najee Harris breaks out and becomes the next great workhorse back for the Crimson Tide, it'll be because of a line led by the 6'6″, 310-lbs junior.
Butkus Award – Isaiah Simmons, Clemson
Best linebacker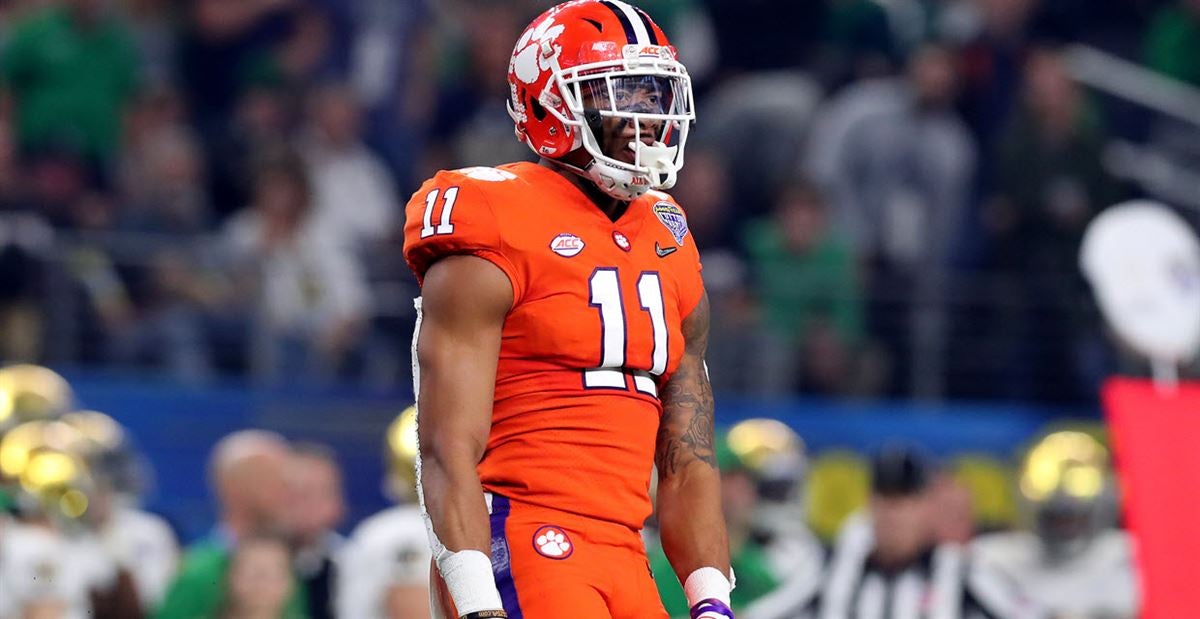 Hard to argue an award named after the legendary Chicago Bear doesn't go to guys with names like Tuf Borland or Joe Bachie, and both Big Ten guys will be top contenders alongside Oklahoma's Kenneth Murray, Alabama's Dylan Moses and LSU's K'Lavon Chaisson. But the Tiger junior is a bigger version of a great safety. He flies around and can make every play. He'll have a shot at being the best defensive player in the country.
Thorpe Award – Bryce Hall, Virginia
Best defensive back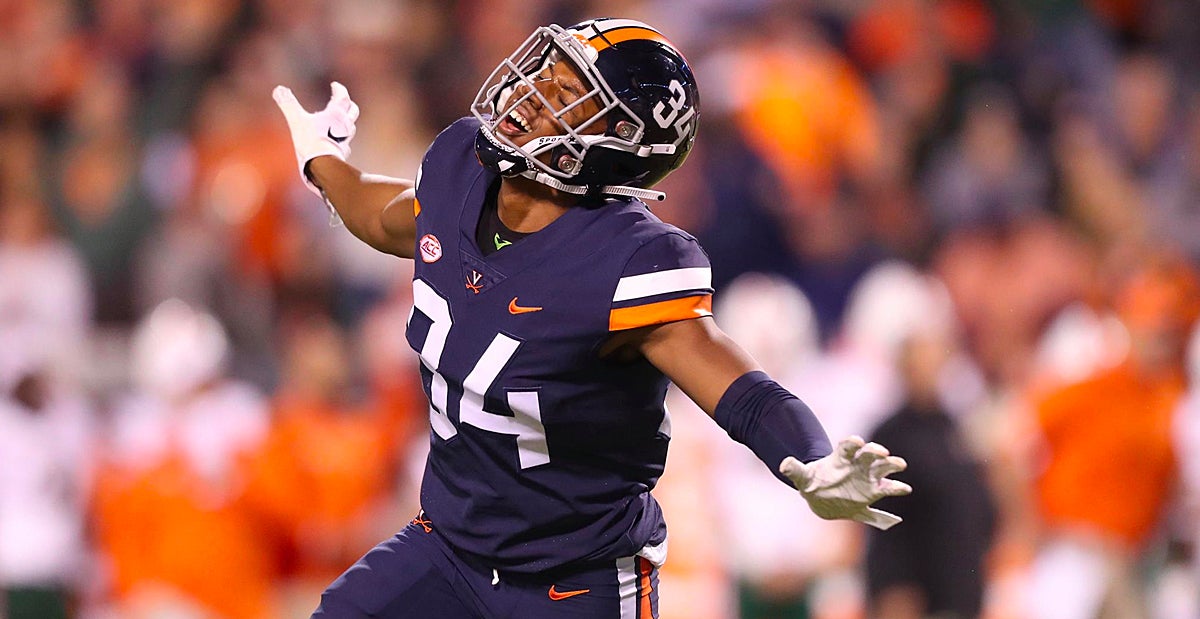 It's wild to think a guy who had twenty-one passes defensed and a pair of forced fumbles also only had 2 interceptions last season. If the pick numbers go up? The senior will leave with the career ACC record for pass defenses and some hardware.
Nagurski Trophy – Xavier Thomas, Clemson
Best defensive player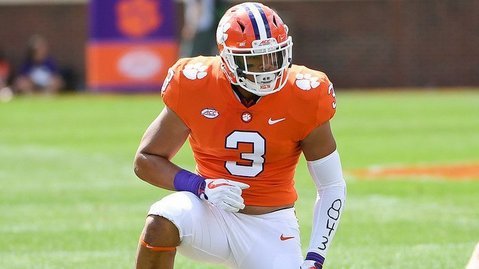 He's going to be the nation's pass rusher when it's all said and done, even if the numbers lean towards somebody else. But now that he's a starter and not sitting behind Clelin Ferrell, I'm betting the number back up how good he is anyways.
Bednarik Award – Grant Delpit, LSU
Most outstanding defensive player
The next great product of DBU is going to wear #7 this season in homage to his idol Tyrann Mathieu. A good choice because, like Mathieu and Jamal Adams, Delpit can affect every phase of the defense. Big-time playmaker that makes up for the lack of size to do all the things Isaiah Simmons might be capable of doing.
Mackey Award – Jared Pinkeny, Vanderbilt
Best tight end
Lots of buzz about Missouri's Albert Okwuegbunam, but the Commodore junior was the more consistent force last season and should be once again. A new quarterback should look to Pinkney as a safety valve and give him plenty of chances to do better than even 774 yards and 7 touchdowns. Also, someone has to talk about how Vanderbilt won't stink this year (I think).
Biletnikoff Award – Jerry Jeudy, Alabama
Best receiver
This award includes tight ends BTW, but that's not going to matter. Even if Oklahoma State's Tylan Wallace has absurd production again, so will the junior wideout. Difference is Jeudy will do it with the whole nation watching each week, as he did last year during the Crimson Tide's march to the national title game. Still, it's not like he wouldn't earn it if he won again. He average 19 yards per catch, passed 1,300 yards and hauled in 14 TDs.
Doak Walker Award – Jonathan Taylor, Wisconsin
Best running back
Georgia's DeAndre Swift, Arizona's J.J. Taylor, Vandy's KeShawn Vaughn, TCU's Darius Anderson, Florida State's Cam Akers and Oklahoma State's Chuba Hubbard will all have strong cases, and another 1,000-yard year with 20 TDs from Clemson's Travis Etienne would be hard to ignore. But the Badger junior's been the best running back in college football the last 2 years. If he produces again, why act like that's still not a fact?
Hornung Award – Rondale Moore, Purdue
Most versatile player
The key to this award is to excel in multiple facets of the game. Jeff Brohm's too smart to know 21 carries was way too few rushing attempts for a burgeoning superstar like the freshman receiver, and Moore proved at almost 20 yards per return how he can impact the game as a punt returner. If takes a couple back to the house on punts and run plays to go with another 1,000 receiving yards, he's going to have a shot at plenty of other awards as well.
Davey O'Brien Award – Tua Tagovailoa, Alabama
Best quarterback
So he gets a little careless with the ball at times and is a little too greedy looking for the big play. His pure arm ability means he makes those big plays more often than not. Records were made to broken, and it seems they're made to be broken by the Tide junior, particularly the elusive 200 passer rating.
Maxwell Award – Trevor Lawrence, Clemson
Best player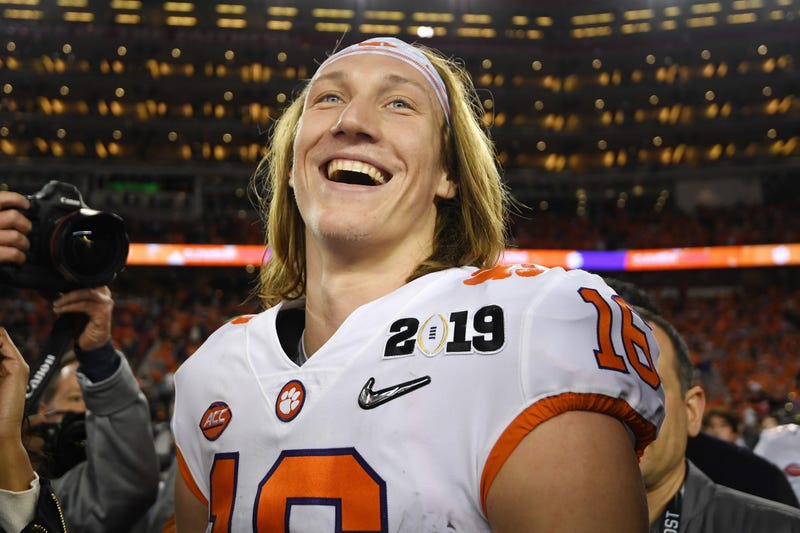 This is the non-Heisman player of the year award voted on by media, and if the Tigers are about to go 13-0 again and stay number one all year long, the narrative will be fueled by the sophomore superstar and his already-pro-ready right arm.
Walter Camp Player of the Year – Tua Tagovailoa, Alabama
Best player
Here's the non-Heisman voted on by coaches and sports information directors, so let's assume it's a numbers-driven award. Tua's going to do silly things from a numbers perspective if he duplicates most of last year's performance. Also, a lot of time these awards are given to the guy who doesn't win the big one, so…
Heisman Trophy – Trevor Lawrence, Clemson
Best player
Yeah. Someone will emerge and be a third finalist alongside Trevor and Tua. That guy probably also gets handed the Maxwell or other awards as a consolation. But we're going to have to wait and see on that. What we know right now is the 2 best teams in the nation have the 2 best QBs, and it's honestly a coin flip who's better. But on top of besting him on the field last season, Lawrence is not as prone to the 2 things that ultimately derailed Tagovailoa from besting Kyler Murray for the bronze stiff-arm: injury and turnovers. If both those things plague Tua just enough, it's the slight edge to Lawrence.