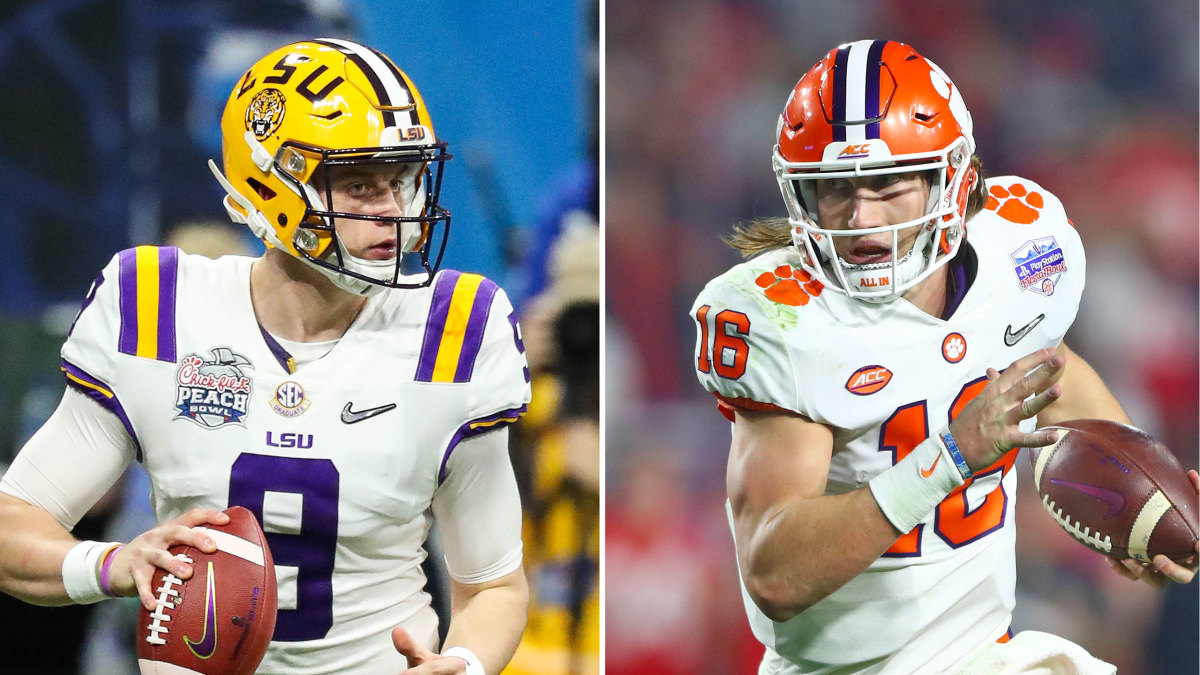 Welcome to the final 2019 edition of a series looking at the coming weekend slate of college football games with observations and prognostications of varying degrees. This week, THE NATTY.
5 (Non-QB) Offensive Players that Can Change the National Championship
Clyde Edwards-Helaire, LSU The Bayou Bengals were so outrageously successful against Oklahoma that they didn't need the banged-up junior running back. But most of the year (especially against LSU's best opponents), Edwards-Helaire has been vital. No SEC running back has been used more as a receiver (50 catches), and for an offense known so much for its passing game, CEH has quietly racked up over 1,300 yards and almost 7 yards per carry on the ground. That's balance LSU will desperately need to keep Clemson on its toes. Edwards-Helaire needs to be a full participant in New Orleans.
Justyn Ross, Clemson We've seen what he can do on a big stage against an SEC secondary. After being banged up against Ohio State, a fully healthy Ross gives the Tigers a pair of dangerous jump-ball receivers.
Justin Jefferson & Ja'Marr Chase, LSU You knew this was coming. Joe Burrow has improved, but he still would have been pretty good in an offense that prioritizes giving the ball to its receivers. That's because these receivers are freaks. Jefferson and Chase are physical specimens who have become excellent route runners. Jefferson showed off in the Peach Bowl that he's gotten pretty good at contested catches as well. 36 combined touchdowns is absurd, the kind you cannot ignore.
Terrace Marshall Jr., LSU Coaches have raved that the sophomore is maybe the most physically gifted of a receivers' room that is the nation's best. The stats haven't blown us away, so if Jefferson and Chase get slowed down, Marshall Jr. has a chance to step into the spotlight.
Travis Etienne, Clemson Another one you saw coming. Even with Trevor Lawrence, the Tigers' offense goes through the ground game. But consider how, like Edwards-Helaire, Etienne led his conference in receiving by a running back. The game-winning TD against Ohio State showed there's many ways that Clemson can get the ball in his hands.
5 Defensive Players that Can Change the National Championship
Xavier Thomas, Clemson The one thing that has wrecked the great offenses in football history is a great pass rush. No quarterback can succeed while getting hit play after play, at least not at a high level. Clemson has a chance if they put Joe Burrow on his back, and nobody is better coming off the edge for the Tigers than the highly-touted sophomore. He only has 2 sacks, so going off in the final game of the season would be a sight for sore eyes.
Derek Stingley Jr., LSU SEC defenses learned the hard way: this freshman is already a star. The next great product of DBU already has 6 interceptions and has allowed just a 28.1% of completions and 51.9 passer rating since the Alabama game. The era of the QB hasn't featured many shutdown corners. If Stingley is one, Trevor Lawrence may be in trouble.
Tyler Davis, Clemson Another impact freshman, Davis is a hulking monster on the interior defensive line who's also proved to be a capable pass rusher (5.5 sacks). If he leads the charge to keep LSU behind the chains, we could finally see the Bayou Bengals punt a few times.
Grant Delpit, LSU A true ballhawk at safety, Delpit has a lot of Jamal Adams in his game. The question is if the Bayou Bengals need more Tyrann Mathieu on Monday night, in terms of being around the ball and taking it away.
Isaiah Simmons, Clemson The other surefire top defensive prospect on the field, few linebackers are built the way Simmons is. The junior could honestly play safety at the next level at 6'4″ and 230 pounds, especially because he has great man coverage skills. He'll potentially be asked to keep an eye on Edwards-Helaire exclusively, or play some QB spy to read and react against Burrow.
5 Throws Only These QBs Could Have Made this Season
Banner Society's Richard Johnson wrote a great breakdown of Clemson adding the QB run game against Ohio State, particularly the QB counter that the early action on this play suggests. The reason only Trevor Lawrence makes this play is because only Tony Elliot throws in that wrinkle throughout the game (including Lawrence's legendary TD run) and then wrinkles further with the pop pass. Joe Brady and Steve Emsinger aren't the only great offensive coaches in this game.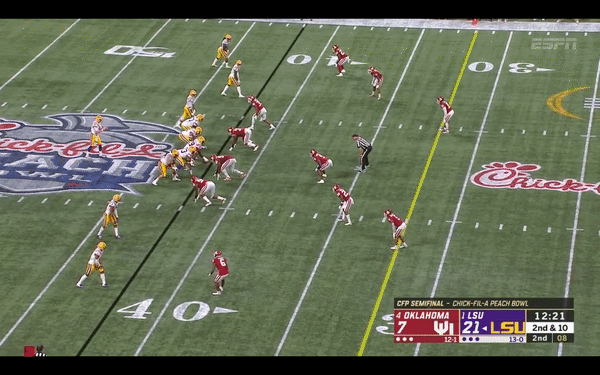 This is the throw that tells you Joe Burrow deserved the Heisman and deserves to be a top draft prospect. Coaching can make you much better statistically, and there's no denying Brady and Emsinger have been outstanding, but good grief, this throw is PHYSICALLY IMPOSSIBLE. 2 other guys on the planet can make that throw and they've both won NFL MVPs. You just don't flick your wrist on the run and drop a dime 45 yards in the air, into perfect one-on-one coverage. Something happened this offseason that flipped a switch. No amount of coaching unlocks what Burrow has shown us he can do when the play breaks down.
You have to be big and strong to make throws downfield while getting hit. Lawrence is stuck here against "perfect QB contain (think a never-ending U-shape from the front)." So you have to still step into the throw and get enough on it to reach the receiver, particularly in time to beat the oncoming defenders over the top. Only a guy like Lawrence has the strength to get that ball at that velocity to Justyn Ross.
Again, a coach would not teach you to do that. They're never going to teach you to leave your feet. Furthermore, Texas does everything right when it comes to "creating contain." There's nowhere to break outside the pocket and Burrow knows it right at the end of his backdrop. Naturally, you're supposed to step up into the pocket. But Texas has rushers coming right up the middle, including a delayed rush from Brandon Jones in the spy position. There is nowhere to move, so Burrow needs to get rid of the ball from an awkward angle. Even if Justin Jefferson burned his receiver, getting this pass off is a minor miracle. And he figured out how to do it in seconds!!!
I think we underestimate how well great QBs see out of the corner of their eye. Consider what Lawrence diagnoses from pre-snap to throw: he sees the lone deep safety is over on the far-side hash; the linebacker underneath will stay there and take the in-cutting Z-receiver; the corner covering the Z-receiver will realize too late he needs to help with the mismatch in the slot; and the safety on the strong side has to stay with Tee Higgins running vertical. It only takes 2 Mississippis for Lawrence to recognize it all and still throw a dart. That's honestly such a hard thing to do.
The 5 Championship Game X-Factors
Edwards-Helaire's health If he's even close to 100%, LSU probably operates their offense as normal. That means Burrow has a security blanket to get the ball to in a hurry if he's under duress. It also means Isaiah Simmons could be preoccupied trying to slow him down, taking away Clemson's leader in sacks from pass-rushing duties.
LSU's defense ahead of 3rd down Clemson is 11th in the nation in rushing behind a nasty offensive line built on a wrestling pedigree. But, as noted in the excellent mega-preview from ESPN's Bill Connelly, there's 2 large factors to consider when Clemson has the ball: 1) LSU's pass defense has been stellar over the last 3 games (42% completions, one TD, six interceptions) to go with one of the nation's best third-down defenses (ninth in FBS); and 2) Clemson is tremendous at getting out of first-down trouble with second-down success (50% success rate on 2nd-and-8+, 9.2 yards per play). But when they fail there, Clemson's average on third down, at best 28th in success rate in at least one third-down category. If LSU can get to third and long, they've got a chance to get the few stops they need.
The red zone might be Joe Burrow's Kryptonite Another fabulous stat from Bill: In the worst game Burrow had this year against Auburn, LSU averaged just 2.9 points per scoring opportunity (AKA any you have first down inside the opponent's 40-yard line). They settled more than any game, struggling to deal with Kevin Steele's 7-defensive-back scheme. However, this was an example of a seriously scary trend. LSU is 61st in success rate inside the opponent's 10-yard line and even worse when getting closer to the goal line. They haven't had to worry about red-zone execution this season, but if they end up inside the Clemson 30 a lot, they need to keep scoring touchdowns and finish drives.
Trevor Lawrence's legs We've talked about how Clemson runs more with the QB late in the season, but it's now on film and a known variable for the LSU defense. So how well does it work if Lawrence again carries a heavy load running the ball? The numbers suggest that LSU is going to give up at least one big run to Etienne, but can Lawrence make enough plays on the ground on first and second down?
Whose corners are better? Both Dave Aranda and Brent Venables love blitzing, especially this season, to generate pressure. This creates a lot of opportunities for one-on-one matchups featuring freaky-talented receivers. So a lot will be asked of defensive backs on both sides to hold up in man coverage, especially the cornerbacks. This feels like the area where LSU has close to a decided edge. We've talked Stingley and Delpit, but Kristian Fulton and Kary Vincent Jr. have been outstanding this season as well. Derion Kendrick and A.J. Terrell will have to come up big like they did against Ohio State to slow up LSU's record-setting pass game.
5 Stone-Cold Locks for Championship Monday
QB Passing yards (Joe Burrow over/under 365.5, Trevor Lawrence o/u 295.5) Burrow's season average is 372, but the number that jumps out more is his average of 341.6 against the top-35 rated defenses he's faced. Still good, but not quite enough to hit that line. Meanwhile, while LSU has only allowed a passer to reach 295 yards 3 times this season (and he's only hit it twice this year), Lawrence likely needs to get to 300 yards for Clemson to have a chance to win, even if they run the ball well. Burrow under, Lawrence over
First to score: LSU (-115) This probably boils down to if Dabo Swinney wants to take the ball after winning the opening coin toss. He's a daring, statement kind of coach for sure, but I think Dabo will look at giving his defense a crack first to maybe get an early stop and quiet the slanted crowd as making a statement. Either way, LSU absolutely takes the ball if they win the toss because that's what Coach O sees as their identity now. LSU scores first
First to score 20 points: LSU (-182) I mean, even if Clemson matches, c'mon. They'll be fine. The Bayou Bengals are just too good at this point to expect them to slow down. LSU first to 20
Total points over/under: 67 Clemson's going to make this a close game. That means we'll have 30 points each way. This is your easiest bet. Over
College Football Playoff National Championship: Louisiana State (-5) at Clemson I would say this is also an easy bet as far as saying you can at least count on Clemson covering, but I think at least one exchange of drives ends with Clemson getting stopped inside the opposing 35 thanks to a big play by the likes of Stingley Jr. That leads to a field goal, and Burrow answers right back with a TD to make it a 2-score lead that he never relinquishes. There's simply no answer for what the Bayou Bengals do on offense, and if Clemson has it, they've more than earned their dynasty reputation. I just don't see it happening, even with a game effort. The game's being played in New Orleans to cap the Heisman-winner's record-setting season, a season that already has made him a cult hero in that same state. I know sports doesn't always follow the movie script, but it sure seems like the last time this sport got handed this script, Vince Young went for the corner and got it to fell USC's dynasty. The same happens tonight. LSU 42, Clemson 31