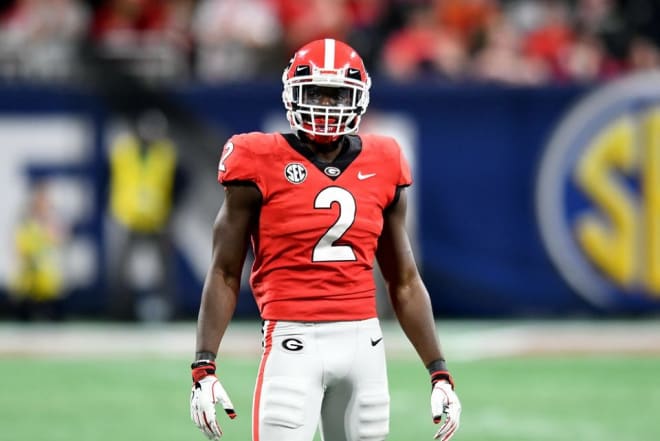 Welcome to a weekly in-season series looking at the coming weekend slate of college football games with observations and prognostications of varying degrees. This week, TITLE FIGHTS.
5 Matchups that will Determine the Power 5 Championships
Oregon running backs vs Utah defense The Ducks are really more of a run-first team, even with Justin Herbert running the show. CJ Verdell and Travis Dye make the big plays, and Cyrus Habibi-Likio finishes off drives with 10 touchdowns. But the Utes' top-ranked run defense will be their toughest challenge yet. If Kyle Whittingham is going to reach the playoff, his defense has to shut down the Ducks early and get Herbert behind the chains.
Chase Young vs Wisconsin offensive line The star Ohio State defensive end wrecked the Badgers all by himself, and he'll be looking for one more big performance to boost his Heisman case. If Bucky is going to have any chance against the Buckeyes, the front five must protect Jack Coan better to create a few downfield shots.
Oklahoma run game vs Baylor defense Mike Gundy got Sooner fans riled up by calling Lincoln Riley's offense a glorified wishbone. But it wasn't really an insult, it's just a fact. The Sooners are sensational running the rock with Jalen Hurts in command. Meanwhile, the Bears are average stopping the run, ranking middle of the nation and just 5th in the Big 12. BU has to get stops against the rush early to have any chance of jumping out in front (and staying there this time).
Bryce Perkins vs Clemson defense The Cavaliers' senior quarterback has actually thrown for more yards than Trevor Lawrence, and he saved his best for the most important game of the year in the win over Virginia Tech. He'll need to duplicate his 311 yards passing and 164 yards rushing from the Commonwealth Cup to upset the Tigers. In fact, he'll likely have to do even more.
LSU passing offense vs Georgia defense Fun fact: 2 of the SEC teams ahead of the 'Dawgs in passing defense are Kentucky and Missouri. Yet UGA is still 15th in the country against the pass while only having 26 team sacks. Their secondary has been great, and they'll have to be great again to win against the likes of Justi nJefferson and Ja'Marr Chase.
5 Reasons to Watch the Group of 5 Championships
App St going for the mountaintop Has there been a better team in the history of the Sun Belt Conference? The Mountaineers became the first Sun Belt team to win a game while ranked in the AP Top 25, and they've been a consistent presence in the committee's rankings. Even if they don't get to a New Year's bowl, beating Louisiana cements the best season since the program moved to FBS.
The last #MACtion dance The league's most consistent team, Central Michigan, got beat by 61 at Wisconsin to open the season, nearly beat Miami, then still lost twice in conference play. The MAC is never not lit. Damn shame this will be played early on Saturday, and not in its natural habitat of a Tuesday or Wednesday.
Return of the Lane Train Lane Kiffin went into last year with a modicum of expectations at Florida Atlantic, got smoked by Oklahoma in the opener and promptly faded back into the shadows. But if there's one thing we know about JOEEEEEEY FRRRRRRRRESHWATERRRRRRR, he wouldn't stay quiet for long. In a year where Conference USA was as strong as ever, Kiffin only lost once in league play, beating out the likes of Marshall, Louisiana Tech and Southern Miss for a division title and a spot in the conference championship game against the league's reigning champs in UAB. The Owls can win 10 games thanks to the efforts of breakout stars like sophomore quarterback Chris Robison and senior tight end Harrison Bryant. JOEY FRESHWATER WILL NEVER DIE.
Hawaii, the little man's Auburn? Under Bryan Harsin, Boise State has remained the model of excellence that Chris Petersen established, and the Broncos are again on the verge of a New Year's Six spot. So wouldn't it be hilarious if the Rainbow Warriors, turnover and shootout-prone though they be, found a way to pull an upset in the Mountain West championship? Boise has become the Alabama of Group of 5 teams, so it's high time they got a wild little brother. Nick Rolovich might have cooked up a team capable of great ruin in big games. After all, his normally offense-first team just won a game with a final score of fourteen to eleven. Hawaii's dumb and awesome.
Battle for the Cotton Bowl While Cincinnati needs a little bit of help, the Bearcats and Memphis are basically playing for the Group of 5's spot in the New Year's Six. Right now, all signs point to North Texas. Can the Tigers somehow beat Cincy in back-to-back weeks to add another chapter to perhaps the best season in school history?
The 5 Best Pro Prospects Playing on Championship Saturday
Harrison Bryant, FAU The senior tight end has as much of an impact as most wide receivers, piling up 965 yards and 6 touchdowns.
CeeDee Lamb, Oklahoma Playing with Marquise Brown seems to have given the junior a few ideas. Few bigger receivers are as fast and as good a route-runner as Lamb, and he's almost always in the end zone.
Richard LeCounte, Georgia He's not quite Jamal Adams or Eric Berry, but the 'Dawgs top safety makes every play. He's third on the team in tackles and has a hand in multiple turnovers (2 interceptions, 2 forced fumbles, 3 fumble recoveries).
Tee Higgins, Clemson Don't forget how absurdly, ridiculously good the junior receiver is at winning on jump balls. The man routinely puts defensive backs on a poster, and the numbers this season back up his ability (900 yds, 10 TD).
Chase Young, Ohio St Stunning, I know, but still, have you seen anyone so dominant? If he hadn't missed 2 games, he'd likely be setting the single-season national sack record. Still might.
The X-Factors in the Power 5 Championship Games
Justin Herbert, Oregon He's got the potential to be a great quarterback, but he also has the potential to put together the stinker he had against Arizona State. If he plays terrific, Utah is in trouble, but he can just as easily make things harder on the Ducks.
James Lynch, Baylor A one-man wrecking crew on the defensive front will often destroy any offensive game plan. In the exact same game and same stadium Lynch will play in, Ndamukong Suh pretty much beat Texas by himself. If Lynch is unblockable, Oklahoma will have trouble.
D'Andre Swift, Georgia If his shoulder injury is enough to significantly slow him down, UGA might not generate any offense. They're obviously going to need a fair bit to keep up with LSU, and Swift has been the 'Dawgs most reliable threat.
Joey Blount, Virginia The best shot the Cavs have at the upset is to make the game a low-scoring slugfest. The big plays have often come from the UVA safety (3.5 sacks, 3 interceptions).
J.K. Dobbins, Ohio St Right when it seemed the Badgers were getting back in the game, the junior running back started to run wild. If Wisconsin has any shot to upset the Badgers, they must contain Dobbins and get Justin Fields to win the game with his arm.
5 (or More) Stone-Cold Locks for Championship Week
Pac-12 Championship: Utah (-6.5) vs Oregon The Ducks are the more talented team, plain and simple. I respect the Utes for doing exactly what they want to do week to week, but there's a talent deficit that will eventually bite them, and I think it does here. Oregon 28, Utah 24
MAC Championship: Central Michigan (-6.5) vs Miami (OH) I have no idea what happens here, but the Chippewas have been a little more consistent. Running back Jonathan Ward and wide receiver Kalil Pimpleton have made the plays when it counts for CMU, and they'll come through in Detroit. Central Michigan 31, Miami (OH) 28
Big 12 Championship: Oklahoma (-9) vs Baylor If the Bears don't start fast a few weeks ago, is that first game with OU even competitive? While I do think this is ultimately going to serve as a playoff quarterfinal, I think the Sooners finally avoid the mistakes that have made recent weeks so exciting and earn their place in the playoff with authority. Oklahoma 42, Baylor 24
Sun Belt Championship: Louisiana (+6.5) at Appalachian State The Mountaineers went to Lafayette and gutted out a road win. Not sure it's as close this go-around. And that's not a slight against the Ragin' Cajuns. Their opponent has just been that good. App St 31, Louisiana 14
Conference USA Championship: Alabama-Birmingham (+7.5) at Florida Atlantic Bill Clark lost a ton on the defensive side of the ball from last year's team and still managed to get better. But as much as I respect the hustle, this will be a theme throughout the week: the objective of the game is to score points, and the overwhelming offenses in the game will continue to prevail. The Owls fall into that category. FAU 35, UAB 31
American Championship: Cincinnati (+9.5) at Memphis Desmond Ridder returns under center, but that might make the Bearcats worse. I feel like the Tigers had a bit of a letdown last week, even in a win. They will ensure the best season in school history with an authoritative performance. Memphis 38, Cincinnati 21
SEC Championship: Louisiana State (-7) vs Georgia The 'Dawgs just don't have enough in the tank. Swift is hurting and the top 2 UGA receivers are out. It doesn't matter if this is the best any defense fairs against Joe Burrow, the Bayou Bengals are going to get off the field plenty. LSU 28, Georgia 17
Mountain West Championship: Hawai'i (+14) at Boise State This should be a quality second-screen experience after Atlanta, but the Rainbow Warriors will have to get a little help to actually pull this off. Even with backup QB Jaylon Henderson running the show, the Broncos are still rolling along, and that won't change. Boise St 49, Hawaii 31
ACC Championship: Clemson (-28.5) vs Virginia I don't quite feel confident the Tigers will cover, but it's not out of the question. It's just so lopsided. Dabo's boys are still the cream of the crop across the whole country, let alone this woeful league. Clemson 49, Virginia 14
Big Ten Championship: Ohio State (-16.5) vs Wisconsin Contrary to how the Badgers often play, this game boils down to if the Badgers will generate a few more big plays on offense to keep themselves close going into the fourth quarter. That means taking shots in the passing game, and that means asking Jack Coan to make a play or two with Chase Young bearing down on him. Not great. Ohio St 31, Wisconsin 10