Star Wars: The Force Awakens and Captain America: Civil War are two of my favorite movies that I saw this offseason, largely because, even though the good guys were always going to win, the stakes were raised and the drama was still there to keep me invested and wondering if maybe things would turn out differently this time around.
College football's a little like that, but in reverse.
Every year we dare to dream someone new will steal the show. Each fall we hope a contender will emerge from nowhere to grab the spotlight with a Crest-smile quarterback, a good-ol'-boy  head coach and a Cinderella-story finish to slay Goliath and become the unlikely champions.
There is drama. There is tension. There are certainly stakes.
And every year, the bad guys win.
The elite of college football are not evil. Corrupt, unchecked, power-hungry, profit-greedy, business-first tycoons run by megalomaniac presidents who are more concerned with the size of a person's wallet than the content of their character? Sure, but evil's a pretty strong word.
College football's "Manifest Destiny programs," a term I came up with a few years back in this preview to describe places where fans think they root for God's predestined gridiron principal, have more money and more resources than other schools, sure, but the biggest reason these teams have earned a reputation as the new Yankees, sports' next Evil Empire, is quite simple: they keep winning.
Teams like Ohio State, Michigan, Florida State, Oklahoma and Southern California have drawn national attention since the emergence of the sport because they also often draw national ire. We're all sick of these teams because they keep beating the little guys and making the club for national championship contenders evermore exclusive.
And nowhere is this feeling more directed nowadays than Tuscaloosa, Alabama.
Save for the 7-6 season he endured his first year as head coach at the University of Alabama in 2007, Nick Saban is more than just an "all he does is win" coach. The man has a bloody statue right next to Paul "Bear" Bryant, considered one of the best coaches in college football history and the only person who could make houndstooth fashionable. And Saban, fresh off his fourth national title with the Crimson Tide and fifth overall last season, doesn't seem to be slowing down any time soon.
The Tide picked up the best recruiting class in the country during the offseason, they've only lost 12 games total in the last eight seasons, and they've had all this success with five different starting quarterbacks, spitting in the face of the very design of the game.
When the College Football Playoff was introduced two years ago, it came with the promise any team could now be a part of a mini-tournament to play for the national crown. This was, of course, a lie, as it simply serves as a comfy little Power 5 party, of which the Crimson Tide have become the belle of the ball.
Alabama is the bad guy. The bad guy's been winning a lot. The bad guy's probably gonna win again.
Any complaint you might have against Alabama can be rebutted. The secondary gave up too many big passing plays? Minkah Fitzpatrick and Marlon Humphrey showed a lot of talent down the stretch while still learning how to play. The revolving-door-QB job landing on a lack of experience? Whoever gets the starting reps throws to potential All-Americans Calvin Ridley and OJ Howard. Games are truly won at the line of scrimmage? Meet Jonathan Allen, Da'Shawn Hand and a whole host of other large men primed to haunt the nightmares of SEC coaches.
Saban is a legendary coach that turned a city on a hill into a heavily-fortified castle on top of a mountain. 'Bama has been so much better than everybody else and still is that if Saturdays in the fall weren't still the best show on turf, we'd probably be taking a Golden State approach to this and wondering if we should call the season off.
Of course…
Stranger things (Awesome show) have happened.
Let's do this.
The Conferences – The who, what, when, where and why
American
Who's Hot: South Florida Yes, you read that correctly. Most people would think of Temple's P.J. Walker and Jahad Thomas as the best QB-running back duo in the league, but the Bulls beg to differ. Quinton Flowers nearly joined the 3,000 yards passing-1,000 rushing club while accounting for 34 touchdowns in 2015, and Marlon Mack has a chance to be the first running back off the board in the 2017 NFL Draft.
Who's Not: Central Florida Former Oregon offensive coordinator Scott Frost is a solid hire to replace longtime head coach George O'Leary, but the Knights went winless last year, so that's not going to show up any time soon.
Lukewarm at Best: Cincinnati NFL scouts might drool over Gunner Kiel's arm, but that doesn't mean the Bearcats are going to leapfrog the tough competition in front of them.
Best Player: Greg Ward Jr, QB, Houston The largest reason you see the Cougars popping up in so many preseason polls? This senior star, who was the only quarterback other than Deshaun Watson to put up over 2,000 yards passing and 1,000 yards rushing. Ward will be asked to do more with the loss of a few key running backs, but there's little doubt he can handle it.
Conference Champ: Houston USF will make a strong push as East division winners and could see some time in the rankings this year, but Ward will have former Texas RB Duke Catalon and a defense that quietly gave up only 20.7 PPG last year and never allowed more than 31. You listening, Oklahoma?
ACC
Who's Hot: Florida State Minus the fact that the last time the Seminoles were on a football field they got whupped by Houston in the Peach Bowl, there is plenty of reason for optimism in Tallahassee. Dalvin Cook is a Heisman Trophy contender if he stays healthy and continues to rip off long runs; DeMarcus Walker is a frightening human being that could make the case for being the league's best defensive end; and the safety combo of Derwin James and Nate Andrews is maybe the best in all the land. Even if redshirt freshman Deondre Francois is the starting quarterback on Labor Day night against Ole Miss, the 'Noles are still stacked.
Who's Not: Wake Forest At some point, it has to feel like Dave Clawson is trying not to score. The Demon Deacons only broke the 30-point mark once-in the opener against Elon.
Lukewarm at Best: Miami (FL) Mark Richt's first job as the new head coach of the Hurricanes is to make them not so predictable and boring. Yes, the 'Canes haven't been awful the last few years, but given the program's history, 8-5 isn't all that sexy. A big year from QB Brad Kaaya is a must.
Best Player: Deshaun Watson, QB, Clemson The days of lobbying for Watson as a breakout star are long gone. Everyone knows who the junior is, especially Saban, who does his best to avoid talking about Watson ripping his defense apart in the desert in last year's national championship game. A dual threat who does more damage as a pure passer that can absolutely play at the next level, there's little reason why Watson can't duplicate or improve on last year's production and make a run at the Heisman he fell short of last year.
Conference Champ: Florida State It will again come down to the 'Noles and the Tigers, although North Carolina should win the Coastal Division and give one of them a run for their money in the ACC title game in Charlotte. Watson has a few more explosive weapons in WR Mike Williams and RB Wayne Gallman, and coordinator Brent Venables will help the defense adjust to the loss of Shaq Lawson and Kevin Dodd up front with the emergence of Austin Bryant, Christian Wilkins and top recruit Dexter Lawrence. But in the tightest conference race in the land, FSU wins at home in late October to give them the slight tiebreaker over Dabo Swinney & Co.
Big Ten
Who's Hot: Michigan Yeah, I was one of those idiots who didn't think hiring Jim Harbaugh was going to yield instant results. Sorry. The fact is, Harbaugh inherited a lot of talent from Brady Hoke and got the most out of that potential. Regardless of who starts at QB, Year Two should be even better, with TE Jake Butt, DE Chris Wormley and LB/S/RB/WR/Magician Jabril Peppers all primed to become superstars.
Who's Not: Michigan State While perhaps not set up for a total flop, the Spartans will still see a downgrade on offense to where non-conference games against Notre Dame and BYU and a strong schedule in-conference could keep them from the the 10 wins Mark Dantonio has made a habit.
Lukewarm at Best: Iowa They almost shocked Michigan State in the Big Ten title game to make you wonder if their undefeated season wasn't a fluke, then Stanford utterly dissected them in the Rose Bowl to assure it most likely was. The Hawkeyes bring back CB Desmond King, my personal favorite defensive player and a top NFL Draft Prospect, but even if they win the division, they won't beat the East champ.
Best Player: J.T. Barrett, QB, Ohio State When healthy the last two seasons, no one runs their offense to a higher efficiency and with more explosive results than Barrett. If he stays healthy, true freshman RB Mike Weber should fill enough of Ezekiel Elliot's void to have the Buckeyes humming as they were at the end of last year.
Conference Champ: Michigan Harbaugh winning in Columbus after Urban Meyer's #BEATEMDOWN in Ann Arbor last autumn followed by a Big Ten title and a playoff spot is too juicy a scenario not to dream for.
Big 12
Who's Hot: Texas EVERYBODY SHUT UP. STOP LAUGHING, I'M SERIOUS. Charlie Strong has gotten a lot of flack from a rabid fan base because he didn't show up and win a national championship right away. Big shock, but that doesn't happen, Longhorn fans. This year, however, might serve as the breakthrough. Freshman Shane Buechele might finally be the stabilizing force at quarterback the 'Horns have been searching for. Add the Smash Brothers of D'Onta Foreman and Chris Warren at running back, rangy receivers in John Burt and Collin Johnson, and All-American linebacker Malik Jefferson leading the defense, and Strong is poised to finally push the program in the right direction.
Who's Not: Kansas Is any team in the country worse? Short answer: Heeeeeeeeeeeeeeelllllllll no. If the Jayhawks don't beat Rhode Island, they'll be enjoying 0-12 again.
Lukewarm at Best: TCU Gary Patterson was expected to make the Horned Frogs a force when they relocated to the Big 12 in 2012, and he's done just that. But the Frogs still lack a playoff appearance or an outright Big 12 title. I won't go so far as I did last year, when I said they would fall off the map quite a bit and they responded with 11 wins (thanks, Gar-Bear), but there are a few too many good teams in front of them for this to be the year TCU gets over the championship hump.
Best Player: Baker Mayfield, QB, Oklahoma I know there's a theme emerging here about the best players in the country, but with players like Mayfield, how can you blame me? The former walk-on threw for 3,700 yards last year in a run-first offense. Having Samaje Perine and Joe Mixon back will ease the transition into a new corps of receivers.
Conference Champ: Texas AGAIN, PLEASE KINDLY STOP LAUGHING. If the Longhorns beat Notre Dame in a primetime affair on Sunday night of Week 1, the rest of the schedule sets up nicely, with home dates for TCU and Baylor, and we know what Strong can do in the Red River Rivalry with OU. Keep an eye on DE Naashon Hughes.
Conference USA
Who's Hot: Southern Mississippi Senior QB Nick Mullens threw for almost 4,500 yards in winning the league's offensive player of the year. RB Ito Smith also had a big 2015 season with over 1,600 yards from scrimmage. Kentucky best be ready for the Golden Eagles in Week One.
Who's Not: North Texas Coaching legend Hayden Fry was the last man to have a career winning record with the Mean Green. That was from 1973-78. It's not getting better any time soon.
Lukewarm at Best: Louisiana Tech Back-to-back nine-win seasons but no conference title for the Bulldogs. (Pokes Skip Holtz with a stick) C'mon…do something.
Best Player: Trey Hendrickson, DE, Florida Atlantic Look, a non-quarterback! The 6'4″, 270-lb menace had 13.5 sacks last year, second best in the country, and a highlight reel that will make pro scouts hoot and holler more than the Internet did over the new Ghostbusters movie (was it really worth all that wasted time, YouTube commenters?)
Conference Champ: Western Kentucky Jeff Brohm shunned the shiny Power 5 offers to come back and try to somehow make the Hilltoppers better than last year's 12 wins. RB Anthony Wales and WRs Taywan Taylor and Nicholas Norris might just help him do it.
MAC
Who's Hot: Toledo RBs Kareem Hunt and Terry Swanson are a potential dynamite duo. The biggest challenge for first-year head coach Jason Candle is getting the defense up to speed.
Who's Not: Eastern Michigan As long as Chris Creighton's Eagles keep going 1-11, I'll have to keep using this GIF. Mr. Gorbachov, TEAR DOWN. THIS WALL.
Lukewarm at Best: Central Michigan P.J. Fleck has the Mustangs pointed in the right direction, and senior Zach Terrell is a terrific quarterback, but we'll see if this they're still not a year away from busting out. They can beat Northwestern to open the season, which would could be the start of the ROW THE BOAT Revolution. Or other teams could just use that motto as a way to make fun of the…whoops.
Best Player: Corey Davis, WR, Central Michigan One thing Fleck does have is arguably the best receiver in the country. Davis grabbed 90 catches and 12 touchdowns as a junior and came back to try and get even better. He should easily surpass the 403 yards necessary for him to set the MAC's all-time career receiving record.
Conference Champ: Toledo Having Logan Woodside return at quarterback after missing 2015 recovering from ankle surgery should give the Rockets enough stability to be the last team standing come December in Detroit.
Mountain West
Who's Hot: San Diego State Senior RB Donnel Pumphrey (ALL-NAME TEAM) was a beast with over 1,650 yards and 17 scores last year. Corner Damontae Kazee was the conference's defensive MVP after picking off eight passes. If the Aztecs' defense only gives up about 16 points a game once again, 10 wins again is also a possibility – maybe even more.
Who's Not: Wyoming Friends don't let other friends watch Cowboys football, college OR pro.
Lukewarm at Best: Nevada If the Wolfpack wants to take a step up from back-to-back seasons of 7-6, RB James Butler will likely have to become an All-American.
Best Player: Brett Rypien, QB, Boise State Pumphrey's good, but lawdy lawdy is former Super Bowl-winning QB Mark Rypien's nephew great. Brett threw for over 3,350 yards and 20 touchdowns as a freshman. The return of sure-handed wideout Thomas Sperbeck and speedy back Jeremy McNichols means Rypien could be even better and emerge as one of the nation's elite passers.
Conference Champ: Boise State This year would be as dumb as any to go against the Broncos. They might even run the table and crash the playoff party if they survive consecutive meetings with Washington State and Oregon State. Besides, picking against Boise is dumber than if a backup NFL tight end sent Olympic gymnast Aly Raisman an email asking her on a date and she said ye…(checks the Internet) WAIT WHAT
Pac-12
Who's Hot: Washington Chris Petersen wasn't going to be just mediocre for long. The Huskies are a popular playoff darkhorse, and the return of QB Jake Browning and RB Myles Gaskin will do a lot to support that theory. However, the biggest reason for the U-Dub love might be the secondary, anchored by All-American safety Budda Baker, which only gave up less than 250 passing yards per game and 11 touchdowns through the air.
Who's Not: Washington State Everyone's also raving about the Cougars' surprise potential fresh off nine wins last year. But don't forget that snapped an 11-year streak of seasons at or below .500. Mike Leach's teams give up a lot of points, and that does not bode well against the many high-powered offenses in the league. Luke Falk will keep Wazzu in a lot of games, but the defense is the one that has to win them.
Lukewarm at Best: Oregon The Ducks might win the Pac-12. They also might not. The league is so stacked with talent that not even the annual 10 wins can give college football's most fashion-forward squad a guaranteed shot at a conference crown. Plus, despite the return of bruising RB Royce Freeman, is Brady Hoke really going to be the guy that fixes a defense that surrendered 306.5 passing yards a game?
Best Player: Christian McCaffrey, RB, Stanford (Annoying Stanford Guy appears, starts to shout "HEISMAN" but thankfully gets squashed by an anvil)
Storytime! I went to the Rose Parade and the Rose Bowl Game in Pasadena, California this past January. So yes, I was there live when McCaffrey dodged, ducked, dipped, dived and dodged his way past hapless Iowa tacklers. It was jaw-dropping. I was so blown away that I was screaming in awe smack dab in the middle of a very quiet Iowa fan section (They told me they didn't like me and I still don't care). McCaffrey is a once-in-a-generational talent, a tour de force of football. Put the rock in his hands and let the magic happen. There are a number of wildly gifted players across the country that will surely contend for the Heisman, but if McCaffrey ends up being better than a season in which he set a national single-season record for all-purpose yards, then that trophy race is over. And if you're still not convinced, for your viewing pleasure…
Conference Champ: Stanford (Annoying Stanford Guy shakes anvil off, is shaped like cartoonish accordion, tries to yell "HEISMAN" again, is mercifully stampeded by rhinos)
It really isn't going to matter too much that Ryan Burns is taking over under center for Kevin Hogan. David Shaw is still a great coach, the offensive line is still huge, and the defense will be well-coached. Minimizing the damage during a brutal stretch the first six weeks and then winning at Oregon opens the door for a playoff bid.
SEC
Who's Hot: Tennessee Aaaaaallll the preseason hype resides in Knoxville, where the Volunteers are suddenly the most experienced team in the country and flush with talent. QB Joshua Dobbs, RBs Jalen Hurd and Alvin Kamara, DE Derek Barnett, LB Jalen Reeves-Maybin and CB Cam Sutton are all expected to be All-Americans. Plus, if this isn't the year Butch Jones beats Florida and wins the East division, when will it be?
Who's Not: South Carolina Outside of LB Skai Moore adding to his draft resume, Will Muschamp's first year with the Gamecocks is going to be hard to watch (and given the faces we had to see him make at Florida, that's saying something).
Lukewarm at Best: Georgia The ingredients seem to be in place for Kirby Smart's first year with the Dawgs to be special. Highly-touted recruit Jacob Eason could be the answer at signal-caller; Nick Chubb and Sony Michel make for a dynamic duo at halfback; and Smart has talented pieces like Lorenzo Carter, Reggie Carter and Dominick Sanders that he can turn the defense around in a hurry. But, for all we know, more Georgia potential could also easily go to waste. You never know, Uga's a crafty dog.
Best Player: Leonard Fournette, RB, LSU Boy, this is a tough call. Chubb, Ridley, Ole Miss QB Chad Kelly, Florida corner Jalen Tabor and Texas A&M defensive end Myles Garrett are all really good candida-
AAAAAAAAAAAAAAAAAHHHHHHHHHHHHH MY GAAAAAAAAAAAWWWWWWWWD
Nope, sorry, no contest. It's not close. He had the stiff-arming statue wrapped up midseason before Saban figured out Brandon Harris can't pass, so if Harris improves this year, and we see more of this? I don't envy the Heisman voters this year one bit.
Conference Champ: LSU HAHAHAHAHAHAHA THAT'S RIGHT I PULLED THE WOOL OVER YOUR EYES. SERIOUSLY LOOK AT THAT MAN UP THERE WEARING NUMBER SEVEN. GIVE ME ONE GOOD REASON SOMEBODY'S BEATING A TEAM WITH HIM ON IT.
(Sees the box score from LSU-Alabama last year)
Ok, so yes, Fournette has been slowed down before. But when you consider that Derrius Guice rushed for over 400 yards in spot duty, receivers Travin Dural and Malachi Dupre have yet to fully break out, and the addition of defensive coordinator Dave Aranda from Wisconsin could make the unit even tougher to score on, the only thing standing in the way is Harris not being horrible. And he can't be anywhere as bad as he was last year. Also, LOOK AT THIS.
(Fans self) See that, Bielema? THAT's borderline erotic.
Independents
Who's Hot: Notre Dame Deshone Kizer being back at quarterback to improve on a solid debut in 2015 plus a soft-ish schedule that has many of the biggest opponents coming to South Bend again puts the Fighting Irish in the playoff discussion. Don't worry, though, I'm not going to be fooled again into picking them to win it all (crosses fingers, mouth widens into evil grin).
Who's Not: Army I…I don't have anything to say about Army. I'm really just trying to finish this so I can go watch Kubo and the Two Strings.
Lukewarm at Best: BYU Taysom Hill, if he can stay healthy, is one of the most magical playmakers in the country. RB Jamaal Williams can also become a star as a senior. But if there's a tougher schedule in the country, you'd be hard-pressed to find it. The bright side for first-year head coach Kalani Sitake is that if the Cougars somehow navigate this schedule unbeaten, the case for the playoff will be near overwhelming.
Best Player: Taysom Hill, QB, BYU His 2013 stat line is one of the most shockingly underappreciated performances in the game over the last decade. If he can return to that form at age 26 and maybe even get better with the edition of former Heisman-winning Cougar Ty Detmer at offensive coordinator, Hill will once again be must-see TV. And if not, we always have Tanner Mangum.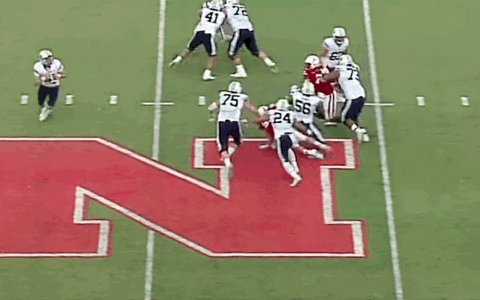 The Rankings – how they'll finish
The Rest
25. Nebraska Hey now, don't laugh so much just yet. The picks get weirder. For all the talk of Iowa as the class of the Big Ten West, the only team who had more games go down to the wire was the Huskers, which didn't nearly work out as well as it did for the Hawkeyes. QB Tommy Armstrong Jr has his best year to help Big Red get back to the Big Ten title game.
24. Boise State Keep an eye on both the Broncos and BYU. They'll play respectable schedules that, if they keep winning, will keep them in the hunt for the New Year's Six or even more.
23. Ole Miss Chad Kelly throwing to tight end Evan Engram is about the only thing that can save the Rebels from finishing at eight wins.
22. Pittsburgh Why not have a surprise team? The Panthers have one of the most inspiring stories in the country in former ACC Offensive Player of the Year James Conner returning from his battle with cancer and last year's Offensive Rookie of the Year in Qadree Ollison to run them to a Coastal division title.
21. Texas A&M Too much talent not to once again be fooled into thinking the Aggies can do something special. Christian Kirk, Speedy Noil and Ricky Seals-Jones make for perhaps the best group of receivers in the nation, and Garrett will team up with Daeshon Hall to invade quarterbacks' nightmares.
20. Oregon Dakota Prukop should settle in nicely by just handing off to Freeman as much as possible, and Darren Carrington and Charles Nelson can still be quality weapons. The defense just has to get more stops.
19. UCLA Say it with me now: Jim Mora is the most overrated coach in college football. If he doesn't win a conference title with a stud like Josh Rosen at QB and Eddie Vanderdoes and Deon Hollins wreaking havoc on defense, when will he?
18.  TCU Having Kenny Hill at quarterback does not change the fact that several skill position players will have to emerge. RB Kyle Hicks and JUCO transfer receiver Taj Williams have to become stars in a hurry.
17. Washington Browning and Gaskin will put up big numbers, but the key to winning in the Pac-12 will be stopping the run, an area the Huskies might suffer enough that they will end up only chasing nine wins.
16. Louisville Lamar Jackson has everyone buzzing as the next breakout star at quarterback. He has all of Watson's skills and a great defense led by pass rushers Devonte Fields and Keith Kelsey to make the Cardinals a force.
15. Tennessee They will find a way to lose to Florida, because that's what they do, and Alabama visiting is no cupcake, regardless of all the talent the Vols have.
14. USC Max Browne's first season as a starting QB will have him throwing to JuJu Smith-Schuster, handing off to Ronald Jones and getting the ball any way possible to Adoree' Jackson. Sweet gig for a Trojan that should win the Pac-12 South in his first year playing.
13. Baylor Seth Russell throwing to KD Cannon and handing off to either Shock Linwood or Johnny Jefferson is going to work a lot, but the defense might bend too much and end up breaking the Bears' back.
The New Year's Six
12. Houston Tom Herman is that dude you want as your next head coach, and with good reason. He's made the Cougars a national power is a little more than a year. And while they might fall short of the playoff by losing at least one game, they'll knock off Oklahoma in Week One to make a big statement and be in the conversation all year long, ending with a berth in the Cotton Bowl.
11. Georgia Kirby Smart does the logical thing and embraces Atlanta's rap communtiy, embracing 2 Chainz as the program's new ambassador. Coincidentally, the Dawgs win 11 games on a thinner schedule, including stomping Tennessee at home, to claim the East and set up a huge showdown in the SEC Championship Game.
10. Ohio State Love me some J.T., but Barrett can only do so much, especially when a trip to Norman, Oklahoma looms in Week Two for a team without any standout weapons at receiver. The Rose Bowl won't be too bad a consolation prize for one of just two double-digit win teams in the Big Ten.
9. Oklahoma Mayfield, Perine and Mixon are great, but can they carry the Sooners past such a loaded schedule? It's going to be pretty hard if the defense struggles as it did against Clemson in the Orange Bowl. Houston and Texas tag Boomer despite winning at home against Ohio State to end up with a Sugar Bowl spot.
8. Stanford That brutal six-week stretch we talked about? Brutal enough that there will be a loss mixed in there somewhere. The Pac-12 gets left out of the playoff again because of the two-loss Cardinal, but the Rose Bowl awaits again, and McCaffrey, after breaking his own all-purpose record, rightfully claims the Heisman.
7. Notre Dame Kizer and RB Tarean Folston will lead a high-powered attack that will knock off Stanford at home, but the Fighting Irish will take a tumble in Week One to the breakout team of 2016 (yep, we're going there).
6. Clemson Watson finishes a close second in Heisman voting but can't win in Tallahassee in an otherwise stellar season. If that game is close enough, we could be seeing a real argument for two teams from the ACC in the playoff (even though the 2011 Alabama-LSU national title rematch was supposed to be the last straw for the BCS way of doing things).
5. Alabama Just like Clemson, this will all come down to one game but could get two teams in if the game is an absolute barnburner. The reason I take LSU over the Tide is not quarterback uncertainty, but the lack of experience at running back, 'Bama's most important position. Will Bo Scarbrough and Damien Harris be ready to be the stars of the show for the game's biggest act? For that one night in Baton Rouge that will mean so much, I'm not quite sure they can out-shine Fournette the way Derrick Henry did.
The Playoff
4. Texas ONCE AGAIN, PLEASE STOP MOCKING ME. Buechele taking over under center helps the Longhorns gain stability and even (gasp!) break out on offense. Strong and friends stun Notre Dame on Labor Day weekend, knock off Oklahoma and go unbeaten to get the Big 12 in just ahead of the Irish, Alabama, Clemson, and Stanford. SERIOUSLY GUYS, STOP LAUGHING, THIS COULD TOTALLY HAPPEN.
3. Florida State Cook runs his way to fourth in the final Heisman ballot, and the Seminoles knock off Clemson to win the ACC behind breakout years from WR Travis Rudolph and DE Josh Sweat. Unfortunately, the committee overlooks talent ever so slightly and gives the number-3 spot to Texas and its undefeated record, which dooms FSU to a hard-fought loss in the Peach Bowl.
2. Michigan Harbaugh has a well-oiled machine already built in Ann Arbor that would have had a much more compelling case for the playoff last year if it weren't for Sparty pulling off the most bonkers ending to a game since the Kick Six. No such shenanigans will ensue this year, with a rather easy schedule getting dispatched with, capped by knocking off the Buckeyes in Columbus, winning the Big Ten and defeating Texas with ease in a 2-3 matchup in the Fiesta Bowl.
1. LSU Fournette finishes behind McCaffrey and Watson in the tightest Heisman race ever. Harris is so much better that he actually has some games near or over 300 yards passing. The defense is even better than that, with Arden Key and Lewis Neal ripping quarterbacks to pieces, Davon Godchaux clogging up run lanes and Tre'Davious White and Jamal Adams leading a top-tier secondary that shuts down all hopes of passing.
The Tigers manage their way to the night of November 5th, when Fournette is far from shut down and Harris makes enough plays to beat Alabama. After close calls at Arkansas and Texas A&M to finish the regular season, LSU edges Georgia for an SEC title and escapes Florida State on a tight-wire act as well in the Peach Bowl to reach the big game. The strength-on-strength battle with Michigan goes to the Tigers, as Fournette captures the magic of Zeke Elliot from two years ago and runs his way to a national title.