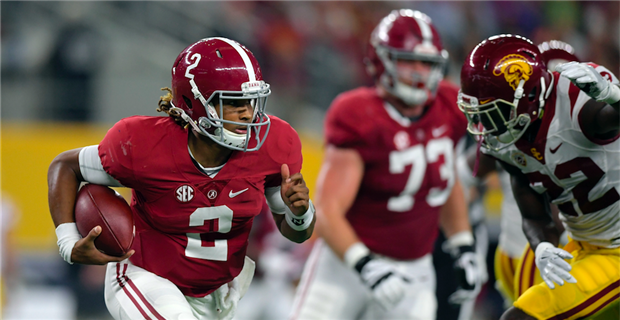 This is a weekly series of five lists of essential information for the coming college football weekend. This week, we try as hard as possible to not talk about Week Two.
Five Things We Learned from Week One
Alabama is still the best Let the warmth of the joys of the best first opening weekend in college football history wash over you, because the largest takeaway from Week One was the soul-crushing inevitability of the Crimson Tide beating everyone in their path with extreme prejudice. You can argue USC was unprepared, undisciplined and unmotivated Saturday night, and you might be right. But you can't say the Trojans aren't a talented veteran team that would have given any other opponent fits. When the Tide come calling, you not only have to be ready, you have to acknowledge that they are straight up better in every facet of the game than anybody else. That includes breaking in new quarterback Jalen Hurts, who could be the best signal caller Nick Saban has ever had, and running back Damien Harris. 'Bama's only getting warmed up, and Saban wasn't wrong when expressed disappointment in his team's performance in a game they won by 46 points. Be very afraid.
Brandon Harris is still that bad All the LSU quarterback had to do was be marginally improved in the offseason and the Tigers could contend for a playoff berth. Not too hard, right?
[Hurls]
That LSU title pick was soooo good, right?
What an unbelievable mess. As talented as the Tigers appear, Harris managed to hold them down enough to fall versus Wisconsin, and he's not getting replaced anytime soon. Good luck, Bayou Bengal fans.
Florida State is fine, better than fine actually Take away the porous start that allowed Ole Miss to grab a 22-point lead, and you have a 39-6 Seminoles victory that mostly came in the span of one quarter. Not too shabby. Once Deondre Francois settled in at QB and the defensive front seven started making Chad Kelly's life miserable, the 'Noles looked like the title contender they are.
Houston is for real It's not just that Saturday's win over Oklahoma makes for back-to-back double-digit wins over Power 5 programs, but the Cougars showed out a roster stacked with talent that could compete with any team in the country. Lance Dunbar, Steven Taylor, Brandon Wilson and, of course, Greg Ward Jr. all could play at the next level, but they're just fine with winning now and making the CFP committee sweat out what to do if the Cougs can get to 13-0.
JoeTess miiight be right that Texas is back Few things make as loud a noise as knocking off a top-10 opponent in double overtime after finishing below .500 the last two seasons. The offense looks to have shifted into another gear under new coordinator Sterlin Gilbert; Charlie Strong is wielding a dual-quarterback system like it's the sword Excalibur; and the defense has potential to get better later this year led by DE Naashon Hughes and LB Malik Jefferson. It's important to note that the Longhorns blew a 17-point lead to Notre Dame, but they way they got back up after getting knocked to the mat was an impressive potential sign of things to come.
Five (or More) Players Who Dominated Week One that You Should Watch in Week Two
All the freshman quarterbacks Francois, Texas' Shane Buechele and Georgia's Jacob Eason all made plays ranging from impressive to extraordinary in big wins and will be starting later this year in games that mean even more. How they respond from last week against mostly lesser opponents is going to be a big indicator of their maturity
James Conner and Saquon Barkley Conner's return to the field from thyroid cancer and knee injury was one of the most inspiring moments from last weekend, and he scored two touchdowns. Getting a chance to watch the Pitt star square up against the emerging sophomore from Penn State is going to be an absolute treat.
Nick Chubb Talk about announcing your presence. Chubb also came back in Week One after suffering a devastating knee injury, a game coaches were unsure he would be totally healthy for. Chubb responded with 32 carries for 222 yards. I think he's fine, and I think Nicholls is in a lot of trouble.
Mike Williams One more welcome back is in order for the towering Clemson receiver, who suffered a head injury in Week One last year when he ran into the goal post catching a touchdown. Williams made mincemeat of an improved Auburn defense with nine catches for 174 yards, and he should dice up Troy as well.
Chris Evans The 5'11" freshman ran for 112 yards and 2 TD's on just eight carries against Hawai'i, and the Wolverines have yet to really unleash the sprightly running back as a receiver or on special teams. Jabril Peppers might have some competition for best athlete on the team
Five Images of Tyrone Swoopes' Triumphant Sunday Night That Will Warm Your Soul
Five Things You Could Do Instead of Watch The Terrible Games This Week
Mow the grass Gonna be getting to fall weather soon, which means the last few precious hours spent riding on the zero-turn jamming out to Meghan Trainor are slipping away. You guys do that too, right?
Complain about the AP Top 25 poll Wisconsin all the way up to 10? LSU all the way down to 21? USC and North Carolina banished from the polls for losing to good SEC teams? No, I'm sure these decisions won't look foolish in three weeks (Synchronizes watch).
If you are of age, drink Might as well get a jumpstart, right Tennessee fans? I'm kidding (kind of). My recommendation would be Milwaukee' Best Ice, of which I found out I can buy two 30-ounce cans for $3.50 at my local gas station. I say this because I am a poor white man without any taste or culture.
Watch a movie There's apparently animated films depicting the sinking of the Titantic. They are supposedly terrible. Like, painfully terrible. You might want to take suggestion number 3 beforehand. Or you could just go buy Captain America: Civil War like a sane person.
Just watch the games Don't kid yourself, you're a degenerate who cares about Kentucky-Florida with every ounce of your being just like I do. We are all ill, and the only prescription is to feed the beast and bet the under on Tulsa-Ohio State.
Five (or More) Milwaukee's Best Ice-Cold Locks
Record on the Season So Far: 8-1
Louisville (-14.5) at Syracuse Lamar Jackson is legit, in case his eight total touchdowns didn't make that clear. At least this conference game doesn't feature South Carolina. Louisville 42, Syracuse 14
Penn State at Pittsburgh (-5) I have the Panthers as my pick to win the ACC Coastal divison (because my preseason predictions are going soooo well), so I'll stick by Conner and Quadree Ollison. Pitt 28, Penn St 17
Central Michigan at Oklahoma State (-20.5) Most of the picks made the list this week just because I think they'll be closer games than people think. The Chippewas are a veteran team that won't be daunted. Oklahoma St 48, Central Michigan 35
UCF at Michigan (-35.5) Ok, I said most of the picks. Godspeed, Scott Frost. If you don't give up the spread, you did good. Michigan 45, UCF 3
Akron at Wisconsin (-24) Here's a game worth watching to see how quickly the Badgers bounce back from a juiced atmosphere at Lambeau Field last week. Very quietly, Zips QB Thomas Woodson threw for 407 yards and six touchdowns (!!!!). Bucky has to be ready to stop the passing game that never challenged them a week ago. Wisconsin 34, Akron 28
Western Kentucky at Alabama (-28.5) The Hilltoppers can sling it, as new QB Mike White debuted last week by throwing for 517 yards (!!!!!). Still, this is 'Bama, so even if they don't have their best game, the Tide will still roll (boy, does that sound familiar). Alabama 45, Western Kentucky 21
Arkansas at TCU (-7.5) Both squads struggled in Week One against talented little guys, so they'll look to shake off the rust. Kenny Hill and the Horned Frogs should have just enough, but it feels like a toss-up. TCU 31, Arkansas 24
Iowa State at Iowa (-15) The Cyclones are not very good despite having a very good receiver in Allen Lazard, so he could make a highlight play or two. Iowa 35, Iowa St 7
BYU at Utah (-3) HELL YEAH HOLY WAR LEGGGGOOOOOO. Good to see these bitter rivals enjoyed last year's Las Vegas Bowl matchup so much that they're duking it out again. This should be the game of the weekend. BYU 24, Utah 21
Texas Tech at Arizona State (-2.5) Ho hum, Red Raiders QB Pat Mahomes threw for 400 yards in the first half last week. If he does that again, Sparky's getting shocked at home. Texas Tech 38, Arizona St 31
Washington State at Boise State (-11.5) Hehehehe, some of you thought the same Wazzu team that lost to an FCS team last week was going to win the Pac-12. Boise St 34, Washington St 24
Virginia at Oregon (-24.5) Why is this game a thing. Oregon 50, Virginia -14
Virginia Tech vs Tennessee (-11.5) This game holds the biggest draw of the weekend not because of the matchup, but because they're going to play the game at a NASCAR race track. Because, you know, the South and stuff. Tennessee should win, but you've watched them the last three years, all bets are off. Tennessee 24, Virginia Tech 10