I want you to take a good, long look at the greatest hockey player on the planet and the reigning Stanley Cup champion.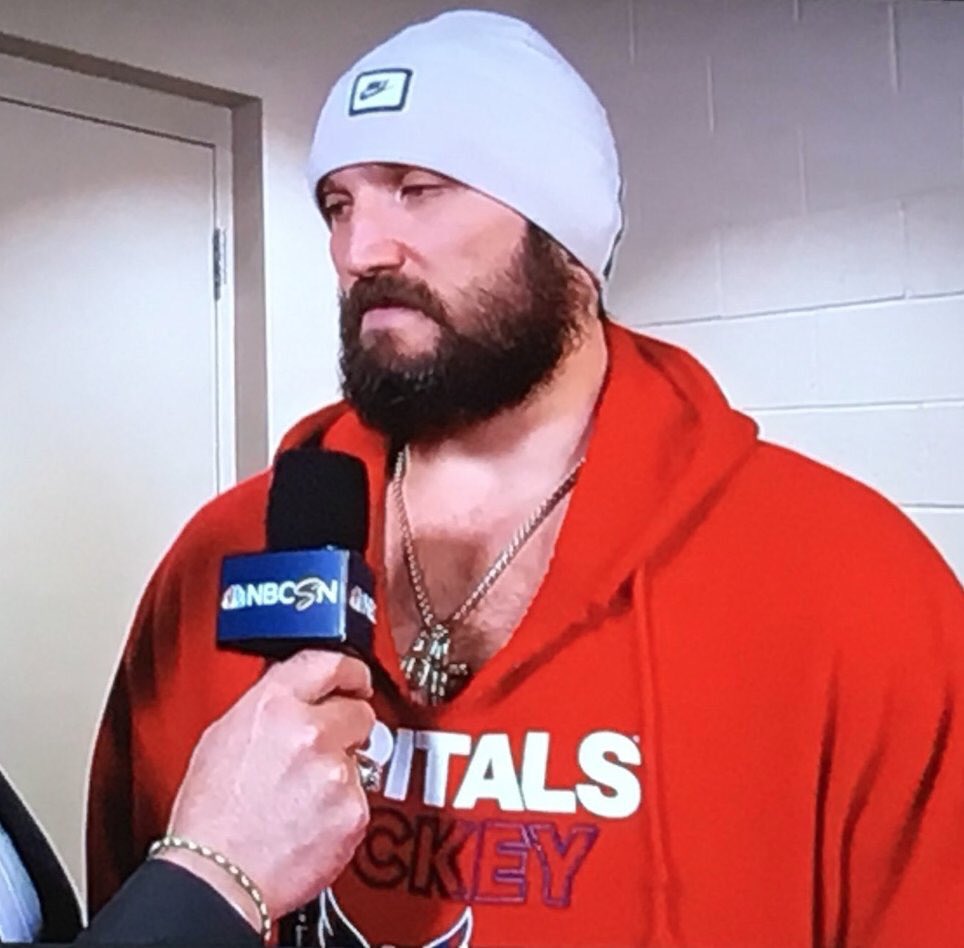 Alexander Ovechkin. Sheeeeeeeeesh.
That's not a man, that's a machine. Bulls bred for clashes with matadors aren't that hefty. 99 percent of his build isn't muscle, it's solid cement.
Four syllables making up two words do all the describing you need to do about this man. You know them well, so say it with me, kids:
Ab-so-lute unit.
In the same way that "fake news" has become a popular buzzword in political arenas, college football has developed a new catchphrase, almost in unwitting fashion. Yes, we still play the greatest hits like #collegekickers and #surrendercobra, but the lexicon of the sport is evolving just as much as the play on the field. "Clemsoning" has given way to "Auburn's gonna win the football game" in 5 short years, and coaches are less likely to be meme'd over letting you know "I'm a man, I'm 40!" than if they would restrict your consumption of chicken on account of it being a "nervous bird (And yes, that really happened)."
There was a time when college football, like the NFL now, was all about quarterbacks. Vince Young's legendary performance in the Rose Bowl to dethrone mighty USC didn't just inspire a generation of future players, it convinced a corps of up-and-coming coaches that if you found the right guy at QB, you do anything and beat anybody.
We are living in a golden age of professional quarterbacking, but that's only because we once bathed in the sunlight of (not-really-all-that) amateur signal-calling. Brad Smith, Tim Tebow, Cam Newton, RG3, Andrew Luck, Johnny Manziel, Marcus Mariota and Lamar Jackson are just the guys who won or contended for Heisman Trophies in VY's vein. The list of great college quarterbacks over the last decade-and-a-half could go on and on.
But then, as that list continued to grow, something happened. Coaches were getting star QBs but not winning star-studded games. The Vince Young's of the world weren't toppling empires on their way to championships. Instead, a new dynasty emerged in USC's place, and the rare times the new Evil Emperor wasn't on top, a lieutenant with an eerily similar plan of attack would seize power.
Forget just the College Football Playoff era's short-live history, and forget even the incredible, dynastic run that Nick Saban and Alabama extended last January. Going back to Urban Meyer's first BCS title at Florida in 2006, the national champion of the highest level of college football has looked at the formula that Young and Texas laid out on that epic night in the Rose Bowl and instead offered the alternative: why waste my energy on finding a great QB when I can build a great team with any average QB?
Chris Leak, Matt Flynn, Greg McElroy, Derron Thomas, Everett Golson, Cardale Jones and Jake Coker are names you recognize but not immediately. That's because these men, while not becoming the next Vince Young, did become eventual champions. Saban, Meyer and (for one wacky season) Les Miles all built outstanding teams around the quarterback position with the belief that loading up on all 21 other positions meant whoever took the field and commanded the huddle was poised to do anything but fail.
Even Dabo Swinney, the man who bucked the trend by reaching back-to-back title games and toppling 'Bama 2 years ago behind a great team and a great QB, seems to have gone along with the crowd by building a roster brimming with 5-star talent everywhere except one particular spot, where career backup Kelly Bryant got his chance last season and, while being predictably solid as a season-long starter, was not nearly ready for the challenge of staring down Saban and Dante's Football Infero.
Jake Browning wasn't ready for it, but Chris Petersen built a brawny-enough team around him to reach the playoff. Coaches like Mark Dantonio and David Shaw entrust their offenses to kids named Brian Lewerke and KJ Costello. Good players? Sure. Great? "We don't need them to be great, we just need to trust our system."
Trust in the system, or perhaps even a Process, comes from the results that have borne fruit for Saban. Consider that down 2 scores in last season's penultimate title game, Saban turned to a true freshman with only mop-up duty experience, and Tua Tagovailoa was the second bright-eyed gunslinger to see the field. Jake Fromm played all year for Saban protegee Kirby Smart, another coach building his program in the image of his former boss.
Alabama not only played for but won another national title, beating similar-looking programs in Clemson and Georgia in the CFP along the way, because they embody the new college football mantra. Quarterbacking doesn't matter the way it did when Vince Young beat mighty USC. Transcendent stars like Young and Deshaun Watson are once-in-a-generation, and therefore far too hard to recruit. But top-tier talent at every other position has and still does grow in bunches. It's basic farming: one crop that is rare and valuable is too hard to grow, so why not just harvest crops that come bountiful?
And so we have reached the pinnacle of this philosophy, the height of a new age in college football that looks a lot like the origins of the game. Welcome to the era of the Absolute Unit.
The best quarterback in the country in 2018 once left Florida for Morgantown, West Virginia, because he thought it was a more nuanced place. The second-best quarterback in the country is a former lacrosse player. And the guy who might earn the highest draft position of any QB has played in a bowl game once. Programs are not built on the QB, they are built around him. Alabama and Georgia reached the title game last year because Fromm could step in for the injured Jacob Eason and be joined by All-Americans at every position, but especially on the offensive line and the defensive front seven. The same beefy building plan for a program has reaped great rewards for Wisconsin, TCU and others on their path to elite ascension.
College football's superstars don't play QB, even if we still try to give the Heisman to one every year. The preeminent stars in the game play with their hands in the dirt or on their knees. Lineman, linebackers and running backs who don't mind either a good truck stick or a foot race for the end zone are the crown jewels of recruiting classes amongst the sport's blue-bloods. If you happen to come across a generational talent at QB, good for you. But you better hope there's a defensive tackle on your squad who's just as likely to be a top-10 draft pick.
As we embark on the start of the 2018 season, it worth revisiting the Clemson Tigers, the team joining Alabama as consensus playoff-berth holders and easy preseason top-5 rankings. Clemson had a historically good QB in Watson that guided them to back-to-back national championship games, a feat only Saban had been able to pull off in the modern era. But Deshaun wasn't the only star on those Clemson teams. Christian Wilkins emerged as a force to be reckoned with playing both tackle and end on the D-line right away as a freshman. Shaq Lawson and Kevin Dodd combined to be the best pass-rushing duo in the country 3 years ago, and the additions of Clelin Ferrell and Dexter Lawrence since have not missed a beat. Clemson built wildly talented teams in the trenches to go with their start quarterback, so much so that they returned to the playoff post-Watson and likely will do so again this season, where Alabama could be waiting for a fourth straight year. The reason QBs play second fiddle in college football is because the rest of the country is simply following suit.
Let's go to work.
The Conferences
Who's Hot, who's not and the stars of the season
American
Who's Hot: Navy Losing 6 of your final 7 regular-season games doesn't really count as great momentum, but consider that the Midshipmen started 5-0 and cracked the AP rankings before a 3-point loss to AAC runner-up Memphis started their slide. Plus, the Academy capped off the season by thrashing Virginia in the Military Bowl. The top 2 rushers from last season are back, and considering Zach Abey and Malcolm Perry have both played quarterback, backfield stability will not be a problem.
Who's Not: Connecticut Randy Edsall's return means they'll score a few more points. After that, good luck trying to watch them without having everything invested in the punter, sophomore Brett Graham (he averaged just about 38 yards per kick, that's quality puntin').
Mild Sauce: UCF Don't get me twisted, the Knights are still probably the best team in the conference and one of the best Group of 5 teams in the country. But do you really trust Josh Heupel in his first head-coaching job to get to the same level as Scott Frost, a guy who appears to be able to make programs as good as SEC division champions with a snap of his fing(laughs at movie reference, doesn't feel so good, fades away to ash).
Best Future Pro: Ed Oliver, DT, Houston Run. Whether it's trying to draft him or you're a South Florida back who somehow ended up getting the carry on a power counter right towards the best future Cougar alumni since Case Keenum, just run. Run very fast.
Best Player: McKenzie Milton, QB, UCF The stats might not reflect it, but he'll be better than he was in 2017 with a year of experience and more responsibility to shoulder. And this kid threw for 4,000 yards and accounted for 45 total touchdowns.
Champion: Navy While UCF will win the Eastern division again, the Knights lack the talent on defense after losing stars like Mike Hughes and Shaquem Griffin. The Midshipmen just win under Ken Niumatalolo, and they'll dethrone Memphis in the West before beating Central Florida on their way to making a case for a New Year's Six appearance.
Atlantic Coastal (and Notre Dame)
Why's Notre Dame here? No other FBS independents will be worth talking about this season, so let's get the Irish out of the way in the conference that they are already quasi-members of and won't completely join because they are COWAAAAAAAAAAAAARDS. They'll be really good. The defense will fly around and make some plays. But Brian Kelly isn't returning to a NY6 bowl with a QB the caliber of incumbent Brandon Wimbush. We said you need average quarterbacks to win these days, and Wimbush has struggled to do even that.
Who's Hot: Miami Mark Richt wins football games, something Georgia weirdly grew sick of and, weirder still, was vindicated for. Nonetheless, going home to South Beach has worked out pretty dang well, as Richt got the Hurricanes to 11-0 last year and has them not only the clear-cut favorites in the Coastal division, but also poised to truly get back to being "The U."
Who's Not: North Carolina Larry Fedora's yelling about how scientists are working on an evil plan to destroy football. Sounds like a man trying to avoid all discussion about how the Heels will be dead-last in the league.
Mild Sauce: North Carolina State Louisville's on the wrong side of being just okay, while Boston College trends upward, so let's talk about how Dave Doeren's done such a tremendous job building the Wolfpack over the last few years that when Bradley Chubb and Friends finally became draft-eligible, Doeren was left to look around and hope top QB prospect Ryan Finley can pull off some magic and somehow make the Pack again good enough to push Clemson and Notre Dame to the brink.
Best Future Pro: Christian Wilkins, DT, Clemson We really should have seen all this coming when Wilkins was out-running other lineman during the Tigers' fake punt 3 years ago in an Orange Bowl win over Oklahoma. Dudes at 6'4″ and 300 pounds shouldn't move like that.
Best Player: A.J. Dillon, RB, Boston College Steve Addazio loves him some guys being dudes, and Dillon proved to be a dude beyond his years after rushing for almost 1,600 yards as a true freshman. 4 of 5 starters return to the Golden Eagles' offensive line to pave the way for a huge second act.
Champion: Clemson Come on. You think you can stop Wilkins, Ferrell, Lawrence and Austin Bryant? And then stop 5-star recruits Xavier Thomas and KJ Henry when those guys sit down? Coastal champ Miami might have the goods to be a little more competitive this time around, but the Tigers are just too much.
Big Ten
Who's Hot: Michigan State You may have forgotten that the Spartans won 10 games last season, which is totally fine because junior QB Brian Lewerke is on the rise and has All-American senior running back LJ Scott and top senior receiver Felton Davis to go with a stingy defense only replacing 2 starters, so you'll know all about them real soon.
Who's Not: Rutgers YEEEEEAAAAAAAAA BOOOOOIIIIIIIIIIII
Mild Sauce: Penn State & Wisconsin 2 teams harboring playoff dreams have really the same problem, just inverted. The Badgers are loaded across the board but still have a question mark at quarterback in senior Alex Hornibrook. Meanwhile, the Nittany Lions have to replace almost all of QB Trace McSorley's supporting cast. Either way, somebody else is going to have just a little bit more in the tank.
Best Future Pros: Nick Bosa, DE, Ohio State & Rashan Gary, DE, Michigan Hated rivals each boast impressive defensive lines and a potential top-10 draft pick. Bosa is just older brother Joey all over again, while Gary's size means he can kick inside on occasion and help stuff the run, something he does extremely well for an edge rusher.
Best Player: Jonathan Taylor, RB, Wisconsin Running behind the best offensive line in America helps you out, but Taylor had to be pretty talented already to fall just 23 yards short of 2,000. The rest of the B1G West is terrified of what his Act II will look like.
Champion: Michigan Congrats to the Wolverines, this year's recipient of my Traditional Power that I Stupidly Think Will be a National Title Contender Award (it's worked out great for Texas the last 2 years, just ask). The addition of Ole Miss transfer Shea Patterson means Jim Harbaugh finally has a guy at QB who's proved he can be a game-changer. As long as Patterson makes a couple of big throws every game and Karan Higdon runs wild again, the defense is going to be nasty enough that this is the year Harbaugh topples rivals Michigan State and Ohio State and knocks off Wisconsin for the conference crown.
Big 12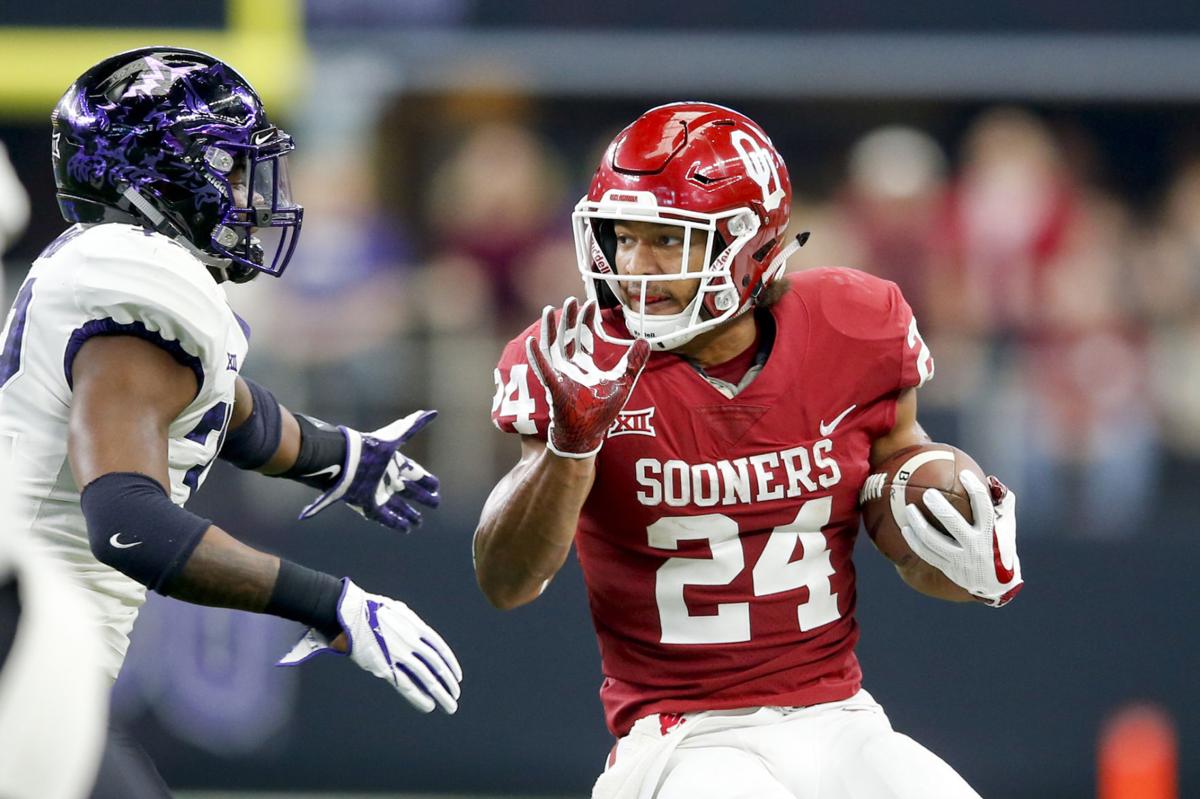 Who's Hot: TCU Take out of the equation that QB Kenny Hill and All-American LB Travin Howard are gone, and this is the same team that won 11 games last season. Defensive end Ben Banogu will cause nightmares for quarterbacks in a pass-happy league, and as long as new starting QB Shawn Robinson isn't a disaster, there are playmakers a-plenty in Forth Worth for the Horned Frogs to work with.
Who's Not: Kansas Again, YEAAAAAA BOOOOOOOIIIIIIIIII
Mild Sauce: West Virginia QB Will Grier and touchdown-machine WR David Sills V give the Mountaineers a chance to score a gazillion points, but until such time as I witness a Dana Holgorsen defense not give up those same gazillion points, I'm gonna be a bit skeptical.
Best Future Pro: Rodney Anderson, RB, Oklahoma Lost in Baker Mayfield's march to the Heisman last season was the Sooners discovering a breakout star in the backfield. Anderson can do everything and translated that into almost 1,500 yards from scrimmage. He could have Le'Veon Bell-type ability to go with similar physical build and athleticism.
Best Player: KaVontae Turpin, WR/KR, TCU Criminally underused in his college career, Gary Patterson needs to break the all-purpose threat loose. Turpin is the fastest guy on the field every week, and his game-breaking ability as a return man can be applied on offense if co-coordinators Sonny Cumbie and Curtis Luper just give him more touches.
Champion: TCU Kyler Murray should step in and help Oklahoma not miss a beat, but the Horned Frogs will reign supreme in the Big 12 this year. A Week Three win versus Ohio State in Arlington will send the message loud and clear: these Frogs are championship ready.
Conference USA

Who's Hot: Florida Atlantic The Owls were arguably the hottest team in the country to wrap up 2017, winning their last 10 games to score a whopping 568 points, finish 11-3 and claim the league title. And just who is guiding the ship of what might be the best Group of 5 program in the country? JOOOEEEEEEEEEEEEY FRRRRRRRESHWATERRRRRRRRRRRRRRRRRRRR.
Who's Not: Rice I didn't need "walk-off field goal to beat Prairie View A&M in Week Zero" to tell you these Owls would be bad, but it does save me some writing.
Mild Sauce: Florida International Butch Davis won 8 games last year and has a potentially entertaining offense, but he's only got 3 people on the planet saying Paws Up because he's coaching in the same state and division as JOOOOEEEEEEEEEEEY FRRRRRESHWATERRRRRRRRRRRRRRRR.
Best Future Pro: Azeez Al-Shaair, LB, FAU Somebody would have looked like a genius if they snagged the senior in the late parts of the first round last year, but he came back to school to seek even better draft stock. He'll probably earn it.
Best Player: Devin Singletary, RB, FAU His sophomore season just meant more explosive plays for a guy with almost 2,950 career rushing yards. Junior season means building a big-time draft reel and maybe making a sneaky Heisman run.
Champion: Florida Atlantic Florida State castoff De'Andre Johnson only makes them more explosive. Circle 2 dates: a Labor Day weekend opener at Oklahoma and a September 21 trip to UCF. Win both, and the Owls are going to talk about more than just a NY6 bowl. JOEEEEEEEEY FRRRRESHWATERRRRRRRRRRRRRRRRR.
MAC

Who's Hot: Buffalo QB Tyree Jackson is the best player you've never heard of. The junior finished last season averaging 341 yards passing and tossed 9 TDs in the final 4 games of 2017. His mobility gives the Bulls a dynamic star in the making, and a guy you might mistakenly call Lamar a few times in the process.
Who's Not: Kent State Fresh off 2-10 and breaking in first-time head coach Sean Lewis, the Golden Flashes might be tops on the Bet Against Every Week List
Mild Sauce: Western Michigan PJ Fleck's departure meant the Broncos don't #rowtheboat anymore, but Tim Lester and running back's Jamauri Bogan's presence meant they still swam steadily upstream at 6-6 and will likely do so again.
Best Future Pro: Max Scharping, LT, Northern Illinois The 6'6″, 320-lbs senior looks like a cornerstone prospect at a position where that prototype gets you drafted high and paid big.
Best Player: Anthony Johnson, WR, Buffalo Being 6'2″ and 207 lbs while still be able to sprint with the best of them makes you big-play capable, and Johnson is one of the nation's underrated gems. He posted over 1,300 receiving yards and 14 TDs as a junior and should do better with the improvement of his starting QB.
Champion: Buffalo Having the most explosive offense in the league and one of the best in the country means Lance Leipold is ready not just for his first winning season-the Bulls are good enough to take on the likes of Ohio, Northern Illinois and Toledo and win the MAC.
Mountain West
Who's Hot: Fresno State Jeff Tedford reminded us all how good he is at this football thing when his first season back in the saddle yielded 10 wins and a division title for the Bulldogs. The combo of senior QB Marcus McMaryion and senior wideout KeeSean Johnson will yield lots of points and a chance for Fresno to get back in the NY6 conversation.
Who's Not: New Mexico Just like Urban Meyer, Bob Davie still managed to keep his job after reporting uncovered serious off-field issues within the program. Unlike Urban Meyer, Davie doesn't win football games, so your guess is as good as mine as to why he's still employed.
Mild Sauce: Wyoming The belief NFL scouts had that Josh Allen is a star seemed to seep into the Cowboy coaching staff, who decided to stop running their program like a normal team and just put all the responsibility on Allen. Craig Bohl's too good a coach for that to continue, and they'll be better without Allen, but not enough to finally win the league.
Best Future Pro: Andrew Wingard, S, Wyoming Scouts who came to Cowboy tape looking at Allen probably had their eyes caught by the veteran safety who proved to be a consistent playmaker. Wingard has over 360 career tackles, 22.5 tackles for loss and 8 interceptions already on his resume.
Best Player: Brett Rypien, QB, Boise State If there were ever a season for Mark Rypien's nephew to break through and become a full-fledged star, this would be the one. The offense is loaded, and a career with 9,876 yards passing should not go so unnoticed.
Champion: Boise State The Broncos and Fresno State should meet again in the conference title game, this time with a NY6 spot at stake.
Pac-12
Who's Hot: Stanford If the defense finds a way to get a consistent pass rush against a league full of talented quarterbacks, all the pieces are in place for another title run. Bryce Love might be the Heisman favorite, the secondary will be stiff, and KJ Costello has lots of big targets to throw to.
Who's Not: Oregon State Beavers aren't going to be good, but they will have most of America rooting for them in Week One when they visit Ohio State (please somehow win please somehow win).
Mild Sauce: Washington They will be right there in the thick of things with USC and Stanford for the conference crown, but even when they won the league title with a ferocious and star-studded defense, their playoff matchup with Alabama went lopsided. This team isn't that talented.
Best Future Pro: Bryce Love, RB, Stanford His one big concern for the next level will be the tremendous level of tread that's already on the tires. He had 269 touches last season alone.
Best Player: Khalil Tate, QB, Arizona The Lamar Jackson comparison has been used most, but the junior is not quite as polished a passer as Jackson was this time last year. If he can develop under new head coach Kevin Sumlin, he's already won quite a few games for the Cats just with his legs.
Champion: Stanford The September schedule is brutal, but it may prime the Cardinal for their late-season showdown with Washington. If they have just one conference loss by that time, they can knock off the Huskies and beat USC in a title-game rematch.
Sun Belt (and Army)
Why's Army here? Jeff Monken went from wheeling and dealing at Georgia Southern in their FCS days to helping the Cadets finally sing second and beat Navy. The Black Knights won 10 games and were quietly one of the best stories of 2017, meaning there are other FBS independent besides South Bend worth keeping an eye on. Losing starting QB Ahmad Bradshaw hurts, but the defense is experienced and backs Darnell Woolfolk and Keil Walker return to give West Point a solid chance at a bowl game again.
Who's Hot: Appalachian State Even the loss of 4-year starting QB Taylor Lamb isn't slowing the Mountaineers down.
Who's Not: Texas State They're bad and they're from the Sun Belt, the deadliest of combinations for ever being on TV.
Mild Sauce: Your opinions on the league I mean, it is called the Fun Belt for a reason, but how much will you honestly watch?
Best Future Pro: Blace Brown, CB, Troy You don't come up with 11 interceptions in a 2-year span unless you can make plays, because teams generally don't throw at lockdown corners.
Best Player: Jalin Moore, RB, Appalachian State Rushing for 1,000 yards in back-to-back seasons has boosted the senior's draft stock.
Champion: Troy The Trojans have one of the nation's most underrated defenses. If they can prove stingy against Boise State in Week One, they will start to make some noise in the Group of 5.
Southeastern
Who's Hot: Mississippi State The hire of Penn State offensive coordinator Joe Moorhead as head coach to replace Dan Mullen got rave reviews, and considering Clanga has a star QB in Nick Fitzgerald and a top running back in Aeris Williams, the Bulldogs might do all sorts of clanga-ing this season.
Who's Not: LSU It does not look great on the offensive side of the ball, where the transfer of Ohio State backup QB Joe Burrow counts as adding some explosiveness to the offense. Not even top defensive coordinator Dave Aranda is going to be able to work around their scoring woes.
Mild Sauce: Missouri & South Carolina Let's slow our roll on saying that Georgia has legitimate challengers in the East. Drew Lock and Jake Bentley give the Tigers and Gamecocks a chance to score plenty of points, but Mizzou will need to prove it can stop anybody, and Cocky has to actually show it will consistently move the ball.
Best Future Pro: A.J. Brown, WR, Ole Miss While the quarterbacking class of Lock, Bentley, Fitzgerald, Jake Fromm and Jarrett Stidham is tempting to pick from, Brown looks like a game-changing, Larry Fitzgerald-type receiver when he's at his best. Like Fitz, he's worth the price of admission alone, no matter how good his team is.
Best Player: Jeffery Simmons, DT, Mississippi State If we're talking about Absolute Units, Simmons and his senior end partner Montez Sweat have to be part of the conversation. They each have pro ability, but Simmons looks like a first-round lock.
Champion: Alabama The Tide will collide with Georgia again, this time in the SEC championship game. Letting Tua Tagovailoa run the offense gives 'Bama a better chance at being explosive, and while both defenses will be doing some notable reloading, the 'Dawgs won't quite have enough in the tank this year to get over the Saban hump.
The Rankings

Not how they'll start, but how they will finish
The Rest
Honorable Mentions: Florida State, Virginia Tech, N.C. State, Georgia Tech, Boston College, Iowa, Purdue, Northwestern, Texas, Kansas State, Buffalo, Arizona, Missouri
25. Fresno State Tedford and the Bulldogs scored points in bunches but don't have enough to avenge last year's Mountain West title-game loss.
24. Central Florida Milton is a legit Heisman contender if he's better than last season, but getting stops consistently will be a problem
23. Navy The new big dogs of the American will be a dominant rushing force paired with an ever-improving defense
22. Penn State Not only does McSorely need playmakers to step up and replace Saquon Barkley, DaeSean Hamilton and Mike Gesicki, but who joins edge rusher Shareef Miller as game-changers on defense?
21. South Carolina Deebo Samuel is one of the most electrifying playmakers in the nation and the top reason that this will be the best offensive team Will Muschamp has ever had.
20. Oregon Justin Herbert is a top-flight QB prospect and will lead a top-flight offense, but first-year head coach Mario Cristobal needs defensive coordinator Jim Leavitt's unit to break out in a big way.
19. Auburn How in the world does Gus Malzahn replace all those carries for All-American back Kerryon Johnson? The defensive front 7 is stout, but Malzahn has yet to show us he's willing to run a pass-first offense.
18. West Virginia Alabama transfer T.J. Simmons joins Sills, Gary Jennings and Marcus Simms to make the Mountaineers the deepest receiving corps in the country. The key is if transfers on defense prove to be big-time as well.
17. Florida Atlantic While they'll be the second-best Group of 5 team in the country, the Owls are going to throw scares into the big boys on their schedule and boat-race the rest of C-USA. JOOEEEEEEEEEEY FRRRRRRRRRESHWATERRRRRRRRRRRRRR.
16. Notre Dame Until the Irish prove they can be balanced on offense, they'll be forced to play a lot of ugly games where their defense looks solid but they can't move the ball running behind a new-look offensive line.
15. Mississippi State They truly look like a team just on the outside looking in with the talent at the top of the SEC, so in many ways the Bulldogs might be the best team on this list not in the NY6 part of the rankings.
14. Miami (FL) Malik Rosier and Travis Homer mean they will do just enough on offense to pair with athletes like Shaq Quarterman and Joe Jackson on defense that will make the Turnover Chain prominent again, but it won't be enough to avoid at least 2 losses pre-ACC championship game.
13. Ohio State Yes, I have them undervalued, and yes, Dwayne Haskins should be a fine replacement for J.T. Barrett, but let me ask you: do you really want to see this program as a playoff favorite right now?
The New Year's Six Teams
12. Boise State The Broncos can be more than just the best Group of 5 team in the land if they roll through their scheduled without a hiccup-their name brand can give them a chance to be in the playoff discussion.
11. Washington Find me some big-time playmakers out wide for Browning in the vein of John Ross and Dante Pettis, and I'll tell you the Huskies are the Pac-12 favorites.
10. Michigan State Sparty's going to pound some teams into submission, and a favorable schedule including a home date with Ohio State makes this a potential big-time season.
9. USC Highly-touted freshman JT Daniels should step in and pull a Sam Darnold, meaning the Trojans will be in the thick of the playoff race all season long.
8. Oklahoma Murray taking over for Mayfield isn't the concern-it's a defense that was just barely in the top half of the nation last season and has some significant reloading to do.
7. Wisconsin Badger Bully Ball will yield all but one or two key wins down the stretch.
6. TCU The Frogs become the Power 5 champion left on the outside looking in, but just barely thanks to a strong schedule.
5. Georgia A winner-take-all SEC championship game ruins an otherwise perfect season for the 'Dawgs, but the Sugar Bowl and a chance to angrily stomp TCU isn't really that bad a consolation prize.
The Playoff
4. Michigan Patterson has weapons on the perimeter like Tarik Black and Donovan Peoples-Jones to pair with a fierce rushing attack of Higdon and Chris Evans. The defense stays in the top 5 in the country on their way to Harbaugh finally overcoming his rivals and claiming the Big Ten.
3. Stanford If you're fully aware that the Cardinal are coming downhill with Love and over 1,000 pounds of offensive lineman and tight ends but you couldn't stop it before, why will it work now? The defense proves to be tough as well as David Shaw reclaims the Pac-12 throne.
2. Alabama While I'd never be so boring as to actually pick the Tide to win it all (because there's nothing satisfying about being right when the sun comes up), I will get them back to the title game for the second straight year because this has a chance to be the best offense under Saban. Title-game hero DeVonta Smith joins Henry Ruggs and Jerry Jeudy out wide to give Tagovailoa plenty of options to sling it with, even if Saban wants a run-first attack powered by Damien and Najee' Harris (no relation). Still, there's concern about the youth on the back end. JUCO transfer Saivion Smith needs to be an instant-impact corner for the secondary to coalesce.
1. Clemson Excluding the large men on the defensive front, Mitch Hyatt and Justin Falcinelli power one of the nation's best offensive line, paving huge holes for Tavien Feaster and star-in-the-making Travis Etienne to run wild. What will prove to be the difference for the Tigers is once again beating 'Bama is if Dabo Swinney is willing to go from a good option at QB in Bryant to a potentially great one. Sophomore Hunter Johnson and freshman Trevor Lawrence looked the part of downfield passer in offseason workouts that Bryant hasn't, so if Swinney puts the trigger and makes a change at signal-caller, not even Saban and the Tide is stopping the Absolute Units from Death Valley.