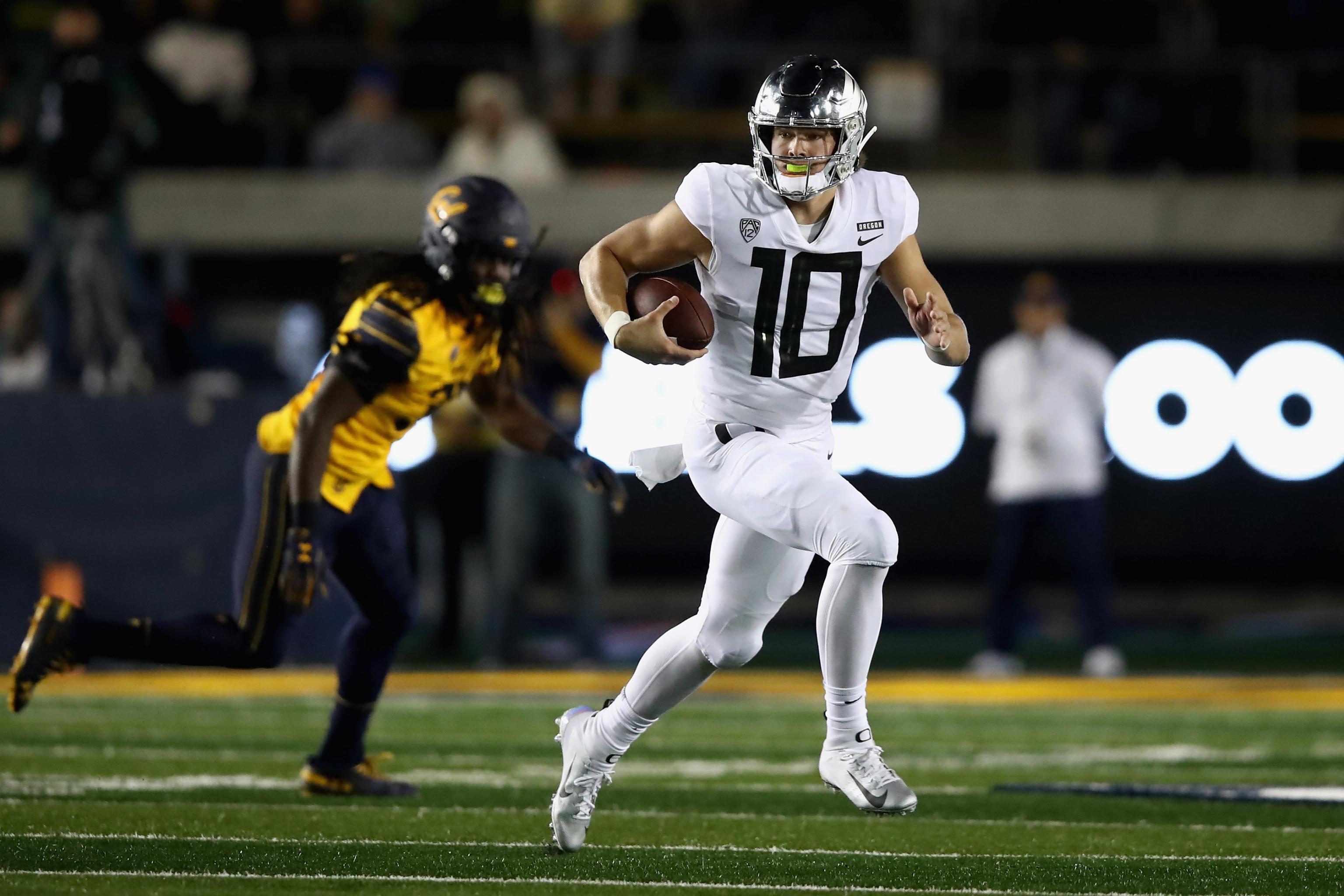 Welcome to a weekly in-season series looking at the coming weekend slate of college football games with observations and prognostications of varying degrees. This week, WE BACK.
5 Freshman Debuts to Watch
Baylor Cupp, Texas A&M Jimbo Fisher's big addition to offense in College Station was the tight end position, and he made it work so well that a first-time starter in Jace Sternberger went on to lead the Aggies in receiving and become a middle-round draft pick. Imagine what the ESPN300's second-best recruit at the position will do, especially with the ideal TE body of 6'5″ and 235 lbs.
Bo Nix, Auburn Gus Malzahn had his choice of 4-star quarterback prospects from each of the last 2 recruiting classes. The fact he went with the guy labeled as a pocket passer as opposed to the dual threat means 2 things: 1) that Nix has picked up the offense quicker than Joey Gatewood; and 2) that the offense will look a lot like it did with Jarrett Stidham. The big question is if the Pinson, Alabama native is going to take the offense to heights Stidham couldn't reach.
Noah Cain, Penn State Somebody has to take the mantle from Saquon Barkley and Miles Sanders if the Nittany Lions are going to make serious noise in a loaded Big Ten East division. A top-five recruit from 5-star factory IMG Academy is a good start.
Jordan Whittington, Texas Sam Ehlinger needs somebody else to carry the ball in big spots for the Longhorns. Placing the number-two athlete recruit in the nation at running back and pairing him with Keaontay Ingram could make the 'Horns unstoppable on the ground.
Antonio Alfano & DJ Dale, Alabama Bit of a cheat, but both guys are going to be big factors in finding the Crimson Tide's next star on the defensive line in the vein of A'Shawn Robinson, Jonathan Allen, Da'Ron Payne and Quinnen Williams.
5 Second-Year Starting QBs Trying to Take the Next Step
Charlie Brewer, Baylor Sneaky good in his first year, and he helped the Bears get back to a bowl game. But 19 touchdowns is too small a number to get Matt Rhule's guys back to contending in the Big 12.
Jack Coan, Wisconsin Highly-touted recruit Graham Mertz is breathing down his neck, but for now he's Paul Chryst's starter. 515 yards in 5 games last year is a number he must improve on to keep Mertz on the bench all year long.
Alan Bowman, Texas Tech He flashed a lot of potential in his freshman season before he got hurt, and he has plenty of exciting talent back at receiver. If he stays upright, he's got a shot at being one of the nation's best.
JT Daniels, USC A highly inconsistent freshman season needs some serious improvement, largely because a terribly difficult first half of the schedule and a young roster is looming. He might be the last shot to save the Trojans from an 0-6 start.
Joe Burrow, LSU He obviously has to take a few steps to give the Tigers a shot in the SEC West, but his responsibilities are growing if the Bayou Bengals are truly making the switch to a spread offense.
5 Teams on Flaming-Hot Upset Alert
Minnesota "This is the year PJ Fleck breaks through!" That's the refrain from a surprising amount of people who cover the Big Ten. That really doesn't mean much when you face off against FCS power South Dakota State right away in Week One.
Iowa State Just because I believe the Cyclones have good things ahead of them doesn't change the fact this team nearly lost a November game to Drake last year and opens with a much better Northern Iowa team.
West Virginia This joins Ole Miss-Memphis as one that barely counts, because James Madison is the best team in the FCS and the Mountaineers are going through a major overhaul. Unlike how the Tigers are the betting favorites against the Rebels, Vegas is too scared to put a line on this game, and they should be.
Florida State (sees that the 'Noles are 5-point favorites over Boise State, laughs hysterically to point of paralysis) FINE THEN, GUESS IT COUNTS, IT'S ON THE LIST.
USC I cannot stress this enough: the Trojans could very realistically start 0-6 and lose head coach Clay Helton halfway through the year in a repeat of the time Lane Kiffin was fired on the tarmac. This weekend is the best chance the Men of Troy have for a win in that stretch, and it's certainly the last time they'll be a betting favorite until October. Fresno State is undergoing renovations after 2 straight years near the top of the Mountain West, but Jeff Tedford got the Bulldogs there when no one saw them coming. Why not start the rebuild on the right foot?
5 Ranked Teams that Need to Put on a Show this Weekend
Michigan We know the Wolverines will be good. Jim Harbaugh has only failed to win 10 games once in his time in Ann Arbor. But we don't know if they're finally ready to leap past Ohio State into a Big Ten title and the playoff. The biggest brick wall in the way for me has been the inability to make more consistent big plays and adjust like modern offenses. It'd be nice to see that right away to open the season.
LSU The big talk in Baton Rouge is head coach Ed Orgeron claiming the Tigers will be running a spread offense this season. But this claim has been made plenty of times recently at Louisiana State.  The question becomes whether the Bayou Bengals fully commit to throwing more and if they can succeed. Doing so to score enough points early and run pesky Georgia Southern out of Tiger Stadium in a hurry would back up all that talk.
Nebraska It's a rare thing when a team goes from missing a bowl game to starting the next season ranked and then actually back up that ranking (pauses to laugh at the first time Texas lost to Maryland). But if the Huskers paste South Alabama in an early-game slot, they'll make AP voters look a lot smarter for trusting that Scott Frost is turning things around from only 4 wins in 2018.
Washington State Coooooooogs. It's worth noting that, in the run of success Wazzu is on, they tend to win 8-10 games only after losing the opener, usually to an FCS opponent. This year they get FBS little guy New Mexico State at home, and while a loss would be extremely on-brand and probably mean their superpowers are again active, imagine if starting quarterback Anthony Gordon's debut included a dominant win. A preseason ranking might not be the only nice thing we can say about Mike Leach's team.
Penn State A whole lot of new faces like QB Sean Clifford impressing right away and putting the smackdown on Idaho makes James Franklin getting to 9-10 wins again seem more attainable.
5 (or More) Stone-Cold Locks for Week One
UCLA (+2.5) at Cincinnati How bad are things when you're the underdog against a Group of 5 team that didn't win its conference title last year? About as bad as it is for Chip Kelly right now. Cincinnati 34, UCLA 27
Georgia Tech (+36.5) at Clemson Good news, Geoff Collins! Your first game as Yellow Jacket head coach will be the debut game of the ACC Network! Bad news? It's at the defending national champions and consensus best team in the country. At least people will be watching? Clemson 48, Georgia Tech 10
Utah (-6) at Brigham Young HOLY WAY, Y'ALL. Fierce, deep-seeded hatred makes this game a delight to watch every year, and Kalani Sitake really has steered the Cougars in the right direction since taking over. Utes will need every big run Zach Moss can give them. Utah 31, BYU 24
Tulsa (+22.5) at Michigan State This line either means Vegas hasn't been paying attention at all to how Mark Dantonio teams open the season, or that they've watched very closely and are hoping to get a few novices to bet on the Spartans to cover. Tulsa stinks, but Sparty always finds a way to struggle in the Friday night opener. Michigan St 27, Tulsa 14
Wisconsin (-12) at South Florida QB Blake Barnett and RB Johnny Ford are back to give the Bulls some punch on offense, and Jack Coan's not the solution at quarterback for the Badgers. But you can only slow down Jonathan Taylor for so long, and Bucky's defense will likely get off the field most of the night. Wisconsin 31, USF 14
Colorado State (+13.5) vs Colorado A delightful little in-state rivalry because it's played to open the season, meaning you don't have to think too hard about how the Buffaloes always win this game. Buffs don't cover, but Laviska Shenualt Jr. is reason enough to watch. Colorado 35, Colordao St 30
Oklahoma State (-14) at Oregon State One way to help some younger players settle in is to play a real bad team in Week One. This seems like a weird trip for the Cowboys to make until you think like that. Mike Gundy's new guys are going to do plenty of good things in their debut. Oklahoma St 45, Oregon St 20
Boise State (+5.5) vs Florida State AND NOW IT'S AT NOON [Endless hysterical laughter] Boise St 31, Florida St 21
Florida Atlantic (+27.5) at Ohio State Remember when Lane Kiffin won a Conference USA title and had the Owls riding a lot of momentum into last year's season opener with Oklahoma? Yeah, if that ended poorly, Justin Fields is going to start things in Columbus just fine. Ohio St 45, FAU 14
Mississippi (+5.5) at Memphis [Hysterical laughter] HOTTY TODDY, I GUESS. Memphis 44, Ole Miss 41
Duke (+34.5) vs Alabama Oh right, these guys. If you want to go to this game, it's not the worst idea because you get to visit Atlanta and watch a good football team play, a thing that doesn't exist in Atlanta. BOOM, FALCONS BURN. Alabama 52, Duke 10
South Carolina (-10) vs North Carolina College football's worst annual tradition is opening the season by giving a significant platform to the soul-crushing sadness of Will Muschamp football. It's so deplorable I'm willing to say Mack Brown finds a way to win his first game back with the Tar Heels. UNC 27, South Carolina 21
Northwestern (+6.5) at Stanford The only thing worse than Will Muschamp football is whatever Pat Fitzgerald is doing that he keeps calling football. I don't expect much out of the Cardinal this year, but I do beg of them: please do not be the start of another gotdamn division title for the Wildcats. Stanford 34, Northwestern 21
Virginia Tech (-4) at Boston College It wouldn't really matter much in a legit results way or even for the sake of comedy who ends up winning this game. But it's a conference game in Week One. Yay? Boston College 27, Virginia Tech 24
Georgia Southern (+27.5) at LSU This was a horrific idea for a home opener, especially when the offense is still going to be working out the kinks of running the spread full-time. The Tigers win, but they don't cover, and it's really not that stunning if the Eagles are on the cusp of a win. LSU 38, Georgia Southern 21
Georgia (-22) at Vanderbilt I think this gets a little bit more interesting than you'd expect. The Commodores have some playmakers like TE Jared Pinkney, RB Ke'Shawn Vaughn and WR Kalija Lipscomb who could strike at home against a Bulldog defense working with some new parts. But Vandy's not getting enough stops to actually pull this off. Georgia 34, Vanderbilt 24
Middle Tennessee (+34) at Michigan Blue Raiders have often been pesky like Georgia Southern. Don Brown's defense reminding you how great it can be and big days running the ball from Christian Turner and Tru Wilson will be enough for the Wolverines. Michigan 42, MTSU 7
Missouri (-18) at Wyoming Why the heck the Tigers agreed to this home-and-home is beyond me, so if they reap what they sowed, don't look sideways. Larry Roundtree will make enough plays on the ground. Mizzou 31, Wyoming 14
Virginia (-2.5) at Pittsburgh Another conference game in a year with more of them than ever to open the season. Would it be really funny if the Cavaliers responded to being the media pick to win the Coastal division and then promptly lost to Pitt? Extremely. Will it happen? Who the hell knows, man, the Coastal's a tire fire and the winner's going to get obliterated by Clemson. Virginia 24, Pitt 11
Louisiana Tech (+20.5) at Texas We have to put this here because I am legally obligated to remind you that the 'Horns lost to Maryland in the opener each of the last 2 years. TWO-TIME TERP LOSERS. Texas 41, LA Tech 17
New Mexico State (+31.5) at Washington State Another line where Vegas doesn't know its history or they know something the rest of us don't about the present. . I'll say a little bit of both. Washington St 51, New Mexico St 21
Fresno State (+13) at Southern Cal It's soooooooo bad in L.A. these days, folks. Fresno State 31, USC 28
Oregon (+3.5) vs Auburn Game of the week? Nah, we'll get there. Mario Cristobal is a former line coach and will obviously be aware of how fellow Pac-12 North team Washington got wrecked by the Tigers' nasty defensive line in the opener last year. The problem? Auburn's just that good up front to where they'll still get to Justin Herbert, and the Ducks have legit questions about if they'll get enough stops. This thing will be ugly like Auburn-Washington last year, but with a little bit more of a clear picture of the better team. Auburn 34, Oregon 19
Houston (-23) at Oklahoma Now this is the game of the week. D'Eriq King and the Cougar offense are going to score plenty of points and hang around. This line either isn't taking that into account, or Vegas bets way too heavily on the Sooner defense to improve in a big way from a mostly wretched 2018. Not happening in Week One. Jalen Hurts makes enough plays to hang on, but a close loss is all Houston needs to make their presence felt to the rest of the nation. Oklahoma 52, Houston 48
Notre Dame (-20.5) at Louisville This is a horrific way to cap the weekend unless the Cardinals pull a stunner. In which case, it's the most hilarious thing ever and probably knocks the Irish out of the playoff already! What a wonderful world that would be! Good thing humanity always gets all of the nice things, right?!? Sigh. Notre Dame 38, Louisville 14