Welcome to a weekly in-season series looking at the coming weekend slate of college football games with observations and prognostications of varying degrees. This week, big games, YUGE games.
5 Games this Week with Playoff Implications
Oklahoma-Texas The Longhorns' playoff chances are down to slim if they drop this game, but they'll also have 2 of the highest-quality losses in the country, so at least hanging around and getting to a Big 12 title game rematch at 10-2 is paramount. For the Sooners? The question of strength of schedule gets thrown around a lot more if they lose.
Michigan St-Wisconsin It's not a bad loss, but a trip to Ohio State still looms for the Badgers, so racking up all the wins they can, especially against well-regarded teams, is crucial.
USC-Notre Dame It feels like the Irish are still significantly behind the 8-ball in the playoff chase, even with just the one quality loss at Georgia. Drop a second game and they get dragged down here with the rest of us.
Penn St-Iowa If the Nittany Lions are legit, they'll win this game. Doesn't even have to be pretty, just survive Kinnick Stadium at night.
Florida-LSU Undefeated SEC teams ranked in the top 10? Of course it's a big game. But why it will matter down the road is due to both teams still having challenging schedules ahead. If you're going to lose a game, delay it as long as possible.
5 Reasons the Highest-Ranked Teams in Action Could Get Upset this Week
Alabama's run defense Texas A&M's been average running the ball so far, but the Crimson Tide have been average stopping the run, allowing a little less than 135 yards per game. If the Aggies can let Kellen Mond loose as a runner, they can generate something on the ground and try to hit some shots on play action.
Clemson's…passing game? What's up with Trevor Lawrence? He's 60th in the nation in passing yards and has thrown 5 interceptions against just 8 touchdowns. The guy he usurped, Kelly Bryant, is having a better start to the season at Mizzou. While he didn't look terrible against North Carolina and made the throws when he had to, Florida State should look into what's gotten the All-American in a tizzy.
Georgia's receiver youth Outside of Tyler Simmons, none of the 'Dawgs' wideouts have played much up to this season. It's true they're talented, but inexperience can always bite you. It's probably not going to this week against South Carolina, but this sport's dumb.
LSU's run offense The switch to slinging the ball all over the place seems almost necessary for the Tigers. Maybe circumstance and play calling has them ranked 75th in the country in rushing yards, but if Florida can find a way to slow up their air game, there's not a lot outside of Clyde Edwards-Helaire that's proved intimidating when LSU runs the ball.
Oklahoma's run defense Improvement under new defensive coordinator Alex Grinch doesn't mean the Sooners are invulnerable. OU still ranks 64th in the nation in rush yards per game allowed, meaning Texas has a chance to move the ball if Keaontay Ingram is recovered from getting nicked up against West Virginia.
5 Important "Little Guy" Games this Week
App St-Louisiana The Ragin' Cajuns can flat sling it. These are the unquestioned 2 best teams in the Sun Belt so far this season.
Memphis-Temple The Tigers are finally rightfully ranked, as they make up a crowded field of contenders atop the American. Speaking of which, what happened to the last ranked team to come to Philadelphia and face the Owls?
Cincinnati-Houston This is a classic trap game after the Bearcats' impressive win over UCF. Don't just assume that D'Eriq King's redshirt means the Cougars are folding, as this would be an important win to at least get to a bowl in an ever-toughening conference.
Wyoming-San Diego St 2 Mountain West head coaches who just win are back at it. It's a must-have, even in a cross-division matchup between Craig Bohl and Rocky Long.
Hawaii-Boise St These might be the 2 best teams in the Mountain West, and yes, I'm aware that places some level of expectation on freakin' Hawaii. Like Wyoming-San Diego State, it's a possible conference championship preview.
The 5 Best Memes from Week Six
Kansas
This gets even better when you consider that the fan in question, Hailey Solomon, was only there to see one of her professor recognized for receiving a faculty award. YOU HEAR THAT, LES MILES, KANSAS STUDENTS CARE MORE ABOUT THEIR STUDIES AND CROCHET THAN FOOTBALL. WHAT A JOKE. GET SNOOP DOGG OVER FROM THE ACROSS THE STREET AND START BLASTING THAT MONEY CANNON.
"I take full responsibility for not understanding what acrobatic dancers are in today's entertainment world and offer my personal apology to anyone who was offended."

Kansas AD Jeff Long on Snoop Dogg's performance at KU's "Late Night in the Phog."pic.twitter.com/sWbmrJVIPQ

— Sporting News (@sportingnews) October 5, 2019
SMU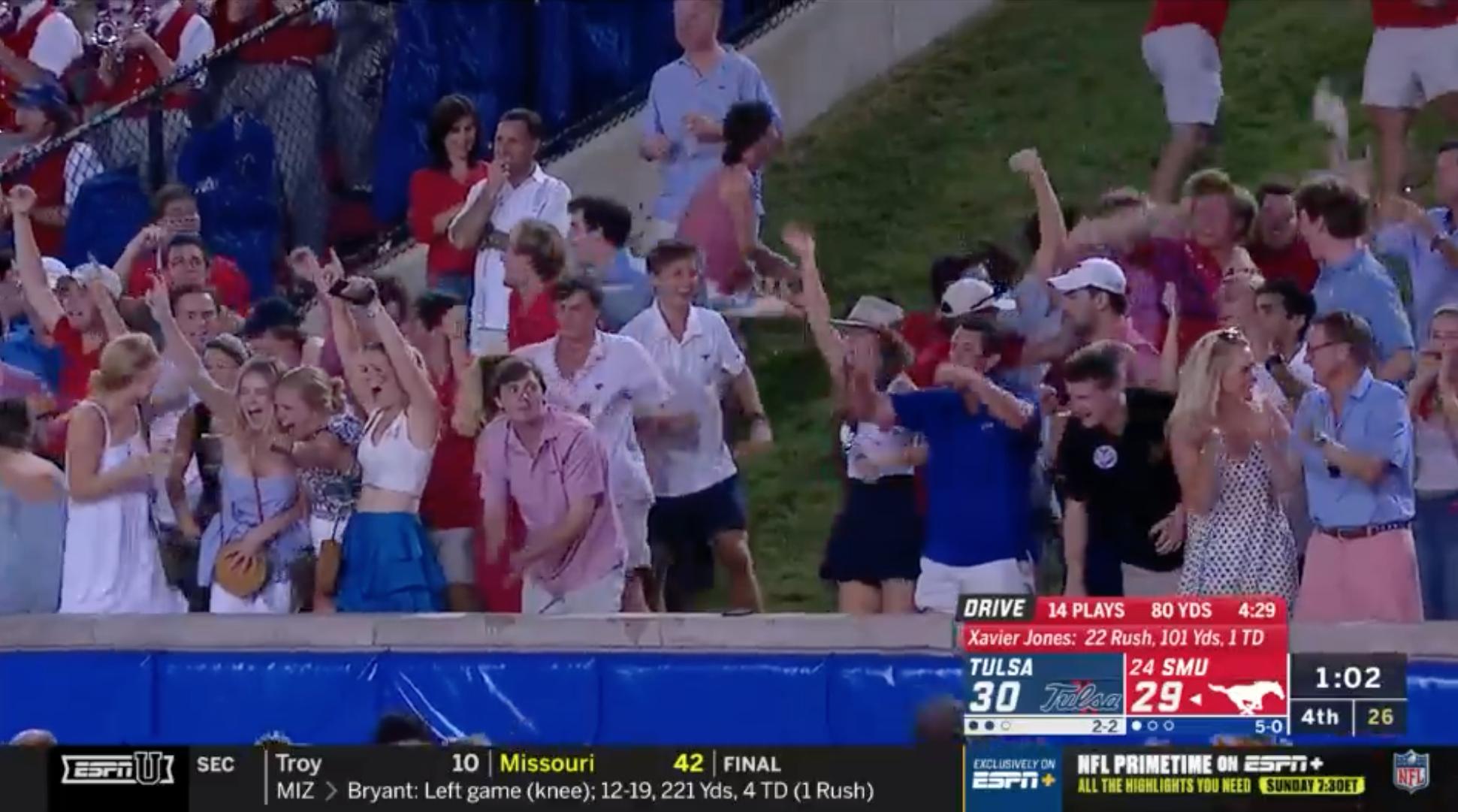 Look at all that country club. Congrats on bringing back the look, Mustangs.
Stanford

Don't do drugs, kids.
Virginia Tech A season in one video:
Little worried about that Va Tech linebacker pic.twitter.com/PMt9ueYNRQ

— Farmer Jones (@thefarmerjones) October 5, 2019
New York Knicks This might be cheating, but am I just supposed to not show you this video?
boop! pic.twitter.com/5i4j8riwd9

— scary harry (@harrylylesjr) October 8, 2019
5 (or More) Stone-Cold Locks for Week Seven
Record last week – Straight up: 14-11; ATS: 10-14-1
Appalachian State (+1) at Louisiana Kinda wild that the Mountaineers are underdogs in a conference game with the success they've had the last couple years. But there's always at least one or two Sun Belt losses mixed in there, even with all the success. While I think there's a Round Two coming in the #FunBelt championship, let's say the Ragin' Cajuns continue to move the ball at will and get a big win this go-around to cement a fast start. Louisiana 38, App St 35
Syracuse (-4.5) at North Carolina State This sure is…a conference game. If the Orange don't win here, whatever hopes they might still have of a big season are out the window. It won't be pretty, but the 'Cuse isn't the rebuilding program, and that's enough. Syracuse 38, NC St 31
Virginia (+2) at Miami (FL) It's almost an achievement that the Cavaliers are the ranked team and yet still a road 'dog to these 'Canes, a team that just lost at home to the worst version of Virginia Tech in years. But it also means Vegas is watching; like Cal, there's never a game that isn't close and a little bit ugly with the 'Hoos. Virginia 24, Miami 21
Colorado (+21) at Oregon The Buffs have gone into Eugene and stunned the Ducks in recent years, but those weren't teams that looked dominant for long stretches and maybe even Rose-Bowl bound. The team Mario Cristobal is running out these days looks like they belong in Pasadena. Oregon 38, Colorado 14
Memphis (-6) at Temple Are the Owls about to join the cluster of teams atop the American? If the Tigers were ever going to get their first loss, this is an ideal, tough-road-test spot. Temple 35, Memphis 34
South Carolina (+24.5) at Georgia Not gonna lie: this would be the funniest possible pre-November loss for the 'Dawgs. But the best comedy scripts never get made and life isn't fair. Georgia 45, South Carolina 17
Michigan (-22) at Illinois The Wolverines got back to stomping folks against Rutgers, but they had to gut it out against Iowa on their home field on BIG NUDE SATURDAY. So at this point, it seems like the Maize and Blue will struggle with a decent, 8-to-9-win team but eat up any team that's definitely below average. The kind that, say, gets blown out by Minnesota. Michigan 31, Illinois 7
Oklahoma (-10.5) vs Texas PEW PEW. Red River Rivalry is an equal-footing game again, so we don't have the pleasure of this game being one where one team is clearly better than the other and still loses by 30.
…although, the Sooners seem to be better enough on defense to where they're the more complete team. So the rivalry trend says the 'Horns win this game. Except the holes on defense for UT seem too deep to get fixed in time for this game. You can see why there's a lot of PEW PEW in this rivalry.
There's not really a sure thing in a lot of directions with this matchup, so I'll go with this: one of these 2 teams sure look like they'll be able to run the ball at will, and that will determine who has the ball longer and can sit on the lead when they get it. That team also can be more explosive in the run game, ripping off big plays on the ground to go with longer possession drives. That team will wear out the other enough to win. That team is going to win. That team, thanks to Jalen Hurts, is unquestionably OU. Oklahoma 38, Texas 35
Cincinnati (-7.5) at Houston The Coogs are going to be fired up to beat everybody else in the American, since the rest of the conference is getting the attention they feel was going to be their's at the start of the season. But being enthused to beat a team that is in trap-game mode doesn't mean you get the job done. Cincinnati 31, Houston 28
Washington State (EVEN) at Arizona State Not only am I picking this game because it gets me a much-needed win versus the spread (you are flat stupid if you have taken my gambling advice), but it's also a nice reminder that, for all the nice things the Sun Devils are doing, we're never going to fully trust them. Which…kinda seems like that's how Herm Edwards likes it. Arizona St 49, Washington St 42
Texas Tech (+11) at Baylor Okay, Bears. You're finally playing with some expectations, and the Red Raiders just pantsed Okie State when they dealt with the same thing. Are you more prepared than Mike Gundy? It's harder than it sounds. Baylor 45, Texas Tech 31
Florida State (+27) at Clemson Remember all those things I said earlier about top-five teams' weaknesses? Yeah, the Tigers' weakness is just not completely obliterating inferior opponents. Good problem to have. Clemson 49, Florida St 17
Iowa State (-10.5) at West Virginia The Cyclones got back to looking the part of a top-25 team by thrashing TCU. Now you get the scrappiest bunch of Mountaineers. This is honestly another chance for a statement that ISU is much better than the goofy losses early. They'll make that statement. Iowa St 35, West Virginia 17
Michigan State (+10.5) at Wisconsin There were encouraging moments for the Spartan offense against Ohio State, particularly in the passing game. But they were only moments, and that's obviously not going to be enough against the nation's best defense. Wisconsin 24, Michigan St 10
Alabama (-17) at Texas A&M Jimbo Fisher's going to have the best 7-5 team in the nation unless they pull an upset in this game or against LSU or Georgia. For all the fight they might show, it ain't happening this week. Alabama 42, Texas A&M 24
Mississippi (+11.5) at Missouri The Tigers might be the best unranked team in the country. Even after the loss of All-American-caliber linebacker Cale Garrett, MU still has Kelly Bryant at the controls, and that's certainly enough this week. Mizzou 35, Ole Miss 20
Louisville (+6.5) at Wake Forest If you're the real thing, Demon Deacons, you'll waltz right through this thanks to another huge game from QB Jamie Newman. But you're also new at this, so I'll forgive you for making it a little harder than it probably should be. Wake Forest 38, Louisville 28\
Southern California (+11) at Notre Dame Kedon Slovis back at quarterback for the Trojans is a big plus, as the Irish defense continues to just wear out opponents. I think Southern Cal gives them some fits moving the ball, and maybe Ian Book makes too few big plays. But the best I can see the Men of Troy doing is hanging in to the end. Notre Dame 31, USC 27
Army (-4.5) at Western Kentucky The Black Knights are another 2-loss team who's only dropped games to quality opponents. This is not the clash of style it once would have been, as the Hilltoppers are a lot less potent on offense than in years past. I'd bet the Cadets can get up 2 scores and either just sit on it or keep running at will. Army 35, Western Kentucky 21
Penn State (-3.5) at Iowa Penn State? Going to Kinnick at night? Oh, this will get good and weird. A properly tight game with a strange score (because that's what this rivalry is built on), but the Nittany Lions find a way. Penn St 27, Iowa 26
Nebraska (+7.5) at Minnesota Maximum comedy potential, as either the Huskers continue to underachieve while the Golden Gophers keeping marching to inexplicable glory. And if Nebraska wins, well, Husker Nation convinces themselves they're actually great because they beat an unbeaten team. No wrong answers, just deluded fan bases ignoring the obvious! Nebraska 28, Minnesota 21
Florida (+13.5) at Louisiana State This game can get weird because that's the essence of the Bayou Bengals at all times in history and in all places, but there's 2 key facts to remember: 1) Tiger Stadium at night for a really-good version of the home team works against every opponent except Nick Saban; and 2) the Gators are walking into that type of environment with a really average QB situation. It might look like the game of the week on paper, but Joe Burrow will make sure one side pulls away in the end. LSU 31, Florida 17
Wyoming (+3.5) at San Diego State The Cowboys' 4-1 start seems too good to be true. Spoilers: it definitely is. San Diego St 31, Wyoming 21
Washington (-6.5) at Arizona The Pac-12 South pick from yours truly...is on track? Yeah, that gets derailed a bit this week, lest the Huskies just truly tank this season. Washington 38, Arizona 28
Hawai'i (+12.5) at Boise State The question with the Rainbow Warriors is always if they'll get any stops, let alone enough. I love what Nick Rolovich is doing in Honolulu, but it's not enough just yet to dethrone the kings of the Mountain West. A good learning tool for a potential rematch in the conference championship game. Boise St 49, Hawaii 42